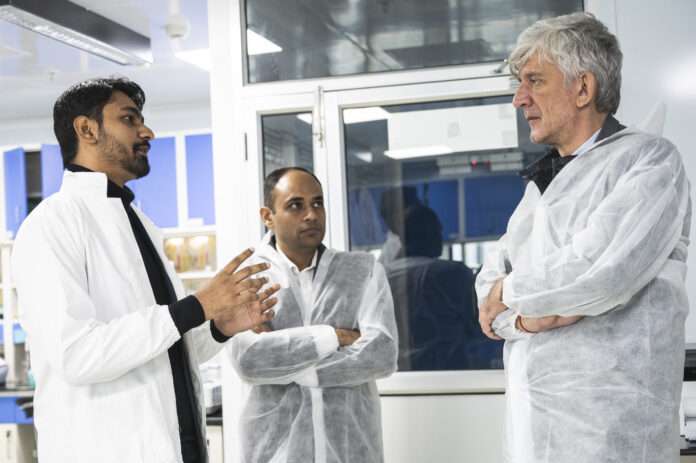 Delhi/NCR, India (May 25, 2023) – Agam Khare, the Founder and CEO of Absolute, joins the esteemed Scientific Advisory Council of the Tata Transformation Prize run by the renowned New York Academy of Sciences (NYAS) and Tata Sons. Tata Transformation Prize is a prominent recognition and support program aimed at honoring visionary scientists in India in the area of food security, sustainability, and healthcare.
ALSO READ: Unravelling the complexities behind why people smoke
In the press release by Tata Group, Professor Nicholas Dirks, President and CEO of the New York Academy of Sciences shared his viewpoint that "This prize is focused not only on science, but on innovative discoveries that put science to work for the betterment of society, to solving major global challenges in three core areas – food, healthcare and sustainability"
Tata Transformation Prize is introduced at a point when the world is moving towards bioabled solutions. India's bioeconomy is booming and expected to reach $270-300 Bn by 2030. The Prize aims to leverage the immense potential of Indian scientists to tackle pressing issues in three areas—Food Security, Sustainability, and Healthcare—and generate improved quality-of-life outcomes in India and Globally.
The New York Academy of Sciences has been enhancing scientific cognition through the progression of scientific investigation and understanding, bolstering scientific literacy, and advocating for science-driven resolutions to global challenges.
Past members of the organization include scientific luminaries such as Louis Pasteur, Charles Darwin, Alexander Graham Bell, Thomas Edison, and Nikola Tesla.
Commenting on the occasion, Agam Khare, Founder and CEO of Absolute said "I am grateful to both New York Academy of Sciences & Tata Sons for creating the Tata Transformation Prize. Our world needs such initiatives to advance scientific developments to solve some of the grandest challenges humanity faces today. I look forward to contributing to the council and advancing our shared mission"
Agam started Absolute in 2015 with a similar mission of creating a shared future where people and planet win as one, driven by rapid scientific advancements.
The idea of Absolute is inspired by the call of Dr. APJ Abdul Kalam's (11th President of India & world-renowned scientist) for the next big revolution in solving some of the grandest challenges humanity faces.
Today, Absolute is fast evolving into a generation-defining bioscience company leveraging billions of years of nature's evolutionary intelligence to reimagine what's possible across BioAgriculture, Biomaterial & Healthcare.
About the New York Academy of Sciences The New York Academy of Sciences is an independent, not-for-profit organization that since 1817 has been committed to advancing science for the benefit of society. With more than
20,000 Members in 100 countries, the Academy advances scientific and technical knowledge, addresses global challenges with science-based solutions, and sponsors a wide variety of educational initiatives at all levels for STEM and STEM related fields. The Academy hosts programs and publishes content in the life and physical sciences, the social sciences, nutrition, artificial intelligence, computer science, and sustainability. The Academy also provides professional and educational resources for researchers across all phases of their careers.
About the Tata group
Founded by Jamsetji Tata in 1868, the Tata group is a global enterprise, headquartered in India, comprising 30 companies across ten verticals. The group operates in more than 100 countries across six continents, with a mission 'To improve the quality of life of the communities we serve globally, through long-term stakeholder value creation based on Leadership with Trust'.
Tata Sons is the principal investment holding company and promoter of Tata companies. Sixty-six percent of the equity share capital of Tata Sons is held by philanthropic trusts, which support education, health, livelihood generation and art and culture.

In 2021-22, the revenue of Tata companies, taken together, was US $128 billion (INR 9.6 trillion). These companies collectively employ over 935,000 people.
Each Tata company or enterprise operates independently under the guidance and supervision of its own board of directors. There are 29 publicly-listed Tata enterprises with a combined market capitalisation of $311 billion (INR 23.6 trillion) as on March 31, 2022. Tata group companies include Tata Consultancy Services, Tata Motors, Tata Steel, Tata Chemicals, Tata Consumer Products, Titan, Tata Capital, Tata Power, Indian Hotels, Tata Communications, Tata Electronics, Air India and Tata Digital
About Agam Khare
Agam Khare, the Founder and CEO of Absolute, a pathbreaking Bioscience company reimagining what's possible across sustainable agriculture, and extending to Biomaterials and Biocare. Absolute is powered by cutting-edge research at Xenesis Institute, its R&D arm. Xenesis is building remarkable platforms and solutions using biological data captured in its Nature Intelligence PlatformTM – an all-encompassing approach to discover powerful biomolecules, enzymes and microorganisms in nature.
Prior to Absolute, Agam ran India's leading Industrial Robotics & Factory Automation company working across various sectors – Food & Beverage, Pharma, Auto, Oil & Gas, Steel & Cement. Between 2010 & 2012, Agam worked very closely with the 11th President of India & World Renowned Scientist- Late Dr. APJ Abdul Kalam on building moonshot innovations to solve some of the grandest global challenges faced by humanity.
Agam also advises the Chairman & CXOs of several billion-dollar legacy companies worldwide in business transformation. He is a part of YIPP, Young India Philanthropic Pledge, where he has pledged 25% of his wealth towards humanitarian causes
This year educate yourself and develop your career with EasyShiksha