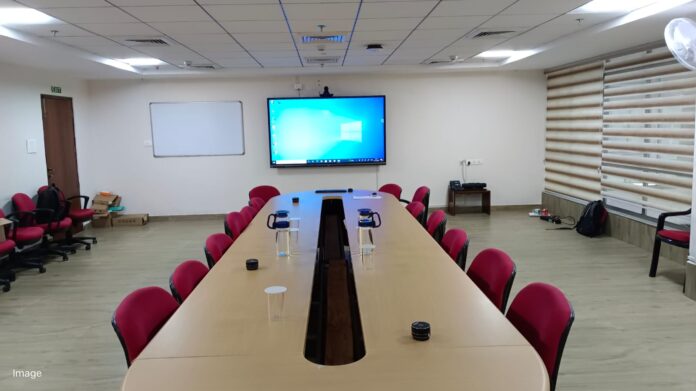 March 2023: Globus Infocom the leading EdTech brand in India has successfully implemented its advanced, feature-rich digital learning solutions in one of the leading management institutes of the country, IIM Shillong.
IIM Shillong envisioned and is committed to nurture cutting-edge knowledge, accelerate innovations, and groom leaders in values & purpose to impact a dynamic world. Committed to the mutual goals of bringing digitalization into the learning ecosystem, Globus Infocom has ensured easy, accessible, and effective integration of Digital Learning Solutions at IIM Shillong. These include Interactive Displays, LED Display Walls, Professional Displays, Recording & Streaming Devices, and Video Conferencing Cameras among others.
ALSO READ:More than 65% of Men tested in Bangalore have elevated levels of homocysteine in blood: Tata 1mg Labs
In the journey of transformation, Globus Infocom with the help of IIM Shillong has taken a step ahead to create a deeper impact on learning. Creating successful implementation, Globus Infocom Ltd developed hybrid classrooms and smart classrooms to increase access to education, facilitated devices to modify the auditorium halls, and simplified the process of meetings. In addition, the EdTech leader digitalized the faculty lounge to increase collaboration and modernized the reception area with vertical signages for easy access to information.
Ms. Kirandeep Dham, CEO of Globus Infocom Limited said,

"Our continuous efforts and strong determination have enabled us to develop more impressive outputs in digitalizing education. Globus Digital Learning Solutions are extremely comprehensive and user-friendly and aim at making technology an integral part to ensure effective learning outcomes. We focus a lot on effective training to users for proper usage of these solutions in order to make a difference in the pedagogical methods."
"We ensure to make education accessible to one and all for a better tomorrow."
About the Globus Infocom:-
Globus Infocom Limited offers a comprehensive suite of digital learning solutions ranging from classroom solutions to online learning solutions. Our innovative range of offerings includes Smart Learning Solutions, Virtual Classroom Solutions, Digital Language Lab Solutions, Digital Content (K-12), Smart Security & Surveillance, Collaborative Conferencing & Professional Displays, and Institutional furniture.
We envisioned making education accessible to one and all. The motive of transforming education has helped us to achieve all-new levels in this field. We are innovating more & digitalizing more to enable impactful positive consequences in education. Our continuous commitment has created a strong path for us unlocking the doors to unlimited possibilities making digital education accessible to one & all, that is what Globus Infocom envisioned.
This year Educate yourself and develop your career with EasyShiksha