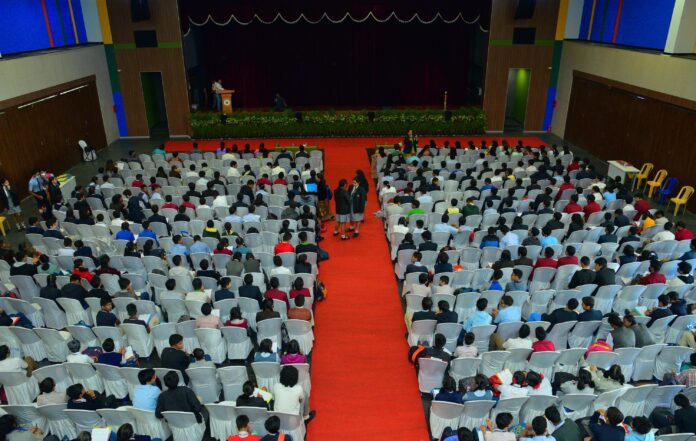 Bangalore, December 19, 2022: Greenwood High International school, Sarjapur has won the national level quiz competition – WISSEN 2022. The first place was won by Greenwood High- Sarjapur, Bangalore, taking home a cash prize of Rs 1,00,000 lakh, Christ Academy Junior College, Bangalore won the second place and a cash prize of Rs. 50,000 while Sri Kumaran Public School (ICSE), Bangalore, won the third place with a cash prize of Rs. 25,000. St. Thomas Residential School, Trivandrum, Kerala won a special award as the best outstation school, with a cash prize of Rs.7,500. The 7th edition of WISSEN 2022 was hosted by Greenwood High International School, Bannerghatta Road.
The quiz, which witnessed overwhelming participation of over 50 schools from all over India, was curated and conducted by quizmaster Vinay Mudaliar. The quiz was open to students from grade 8 to 12 and revolved around current affairs, history, sports, entertainment, India etc with special focus on the environment and air pollution as GO GREEN is the core theme of WISSEN.
Also Read: Binance Boosts its Global Law Enforcement Training Program to Meet Growing Demand
"Greenwood High is consistently dedicated to the cause of inculcating values of sustainability among younger generations. The theme of WISSEN 2022 is to get students to engage in proactive practices of environmental conservation and to adopt renewable energy practices and green strategies to live in a healthy environment. Urban living has become synonymous with environmental pollution and hence there is a need to devise methods to create a green atmosphere. Training students in this domain will prove to be a great benefit to society," said Ms. Niru Agarwal, Trustee, Greenwood High International School.
WISSEN – The Quiz for Young India has always proved itself to be a quiz that unlocks students' potential. Through WISSEN, students "think outside the box" from diverse perspectives. The response to the event from students of prominent schools in Bangalore and across India was overwhelming.
Visit EasyShiksha for skill development courses