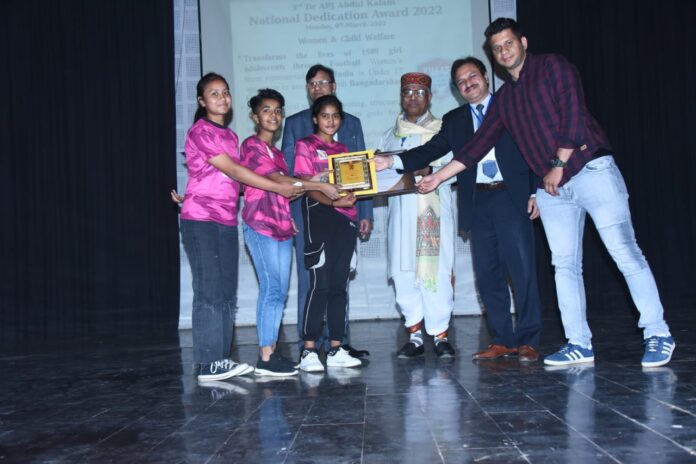 The 3rd Dr. APJ Abdul Kalam National Dedication Award 2022, held at Hansraj College, felicitated the 'Village Soccer Academy' for their outstanding contribution to the welfare of women and children in sports. The academy is relentlessly working towards up-skilling the performances of women players and giving them diverse platforms to showcase their talents.
Shri Shankaranand, National Joint Secretary, Bhartiya Shikshak Mandal, was the chief guest at the event. Throwing light on the glorious journey of former Indian President, Dr. APJ Abdul Kalam at the occasion, he affirmed, "We need to work and excel in our respective fields to strengthen the roots of the nation. We must honor people who are selflessly devoted to serving the nation and also contributing towards removing social inequalities."
The other dignitaries present at the event were Shri Rishi Bhatnagar, N C Maheshwari, J P Aggarwal, and jury members like Professor Rama, Principal, Hansraj College, Vivek Chauhan, D Y Commissioner, Income Tax, and Dr. Jatinder Singh, Director, Ph.D. Chamber of Commerce.
On receiving the award, Hemant Panwar, Founder & Head Coach, Village Soccer Academy, said, "We are deeply grateful for the award that has been bestowed upon us. It will encourage us to do better work in this sphere. The spectacular performances shown by the women players on the field will also be a great source of inspiration for young players across the world."
ALSO READ : How E-Governance will play an important role in India's infrastructural development
Want to boos your knowledge join EasyShiksha