November 2022 :Winter is always a tough season on the skin, but the right skincare routine can make all the difference. Itchy, dry, and generally unhappy-looking skin can all be because of the lack of external and internal nourishment. It's essential to take extra care of our cracked skin and stick to routines that can make our skin glowing, soft, and healthy obtained with time and effort. Here are some winter essential products by Blossom Kochhar Aroma Magic.
Aromatherapists/ Environmentalists/ Naturalists
Dr. Blossom Kochhar says "our skin tends to lose its natural moisture, take extra care of our cracked skin on our hands, feet and face and stick to routines."
ALOE VERA CLEANSER (https://aromamagic.com/products/aloe-vera-cleanser)
A creamy soap-free cleanser that gently sloughs away the day's dirt, grime, and make-up. This provides adequate moisture without stripping the skin and its essential nutrients.
Size: 100 GM
Price: INR 310
ALMOND MOISTURIZING LOTION (https://aromamagic.com/products/almond-moisturising-lotion)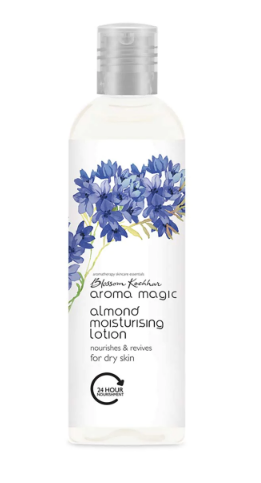 Enriched with SPF 15, this lotion protects, moisturizes, and rejuvenates your skin. It revives the skin leaving it with a lustrous and healthy texture.
Size: 100ml /200ml
Price: INR 195 / INR 325
NEROLI (https://aromamagic.com/products/neroli-essential-oil)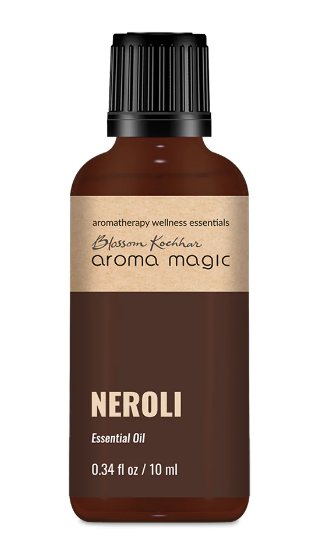 Neroli essential oil is Anti-aging oil. Ideal for dry skin, known to uplift mood while helping to relieve insomnia and anxiety.
Size: 10 ml / 20 ml
Price: INR 510 / INR 875
COLD CREAM (https://aromamagic.com/products/cold-cream)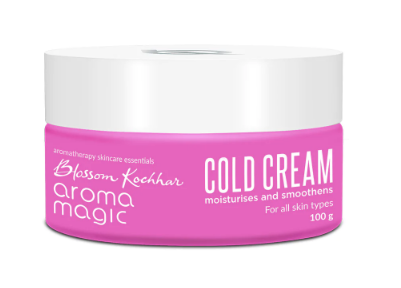 This cream deeply moisturizes and hydrates your skin during the winter season. It also helps relieve dry and itchy skin, making the skin youthful and clear.
Size: 100 ml
Price: INR 175
GOLD KIT (https://aromamagic.com/products/gold-facial-kit)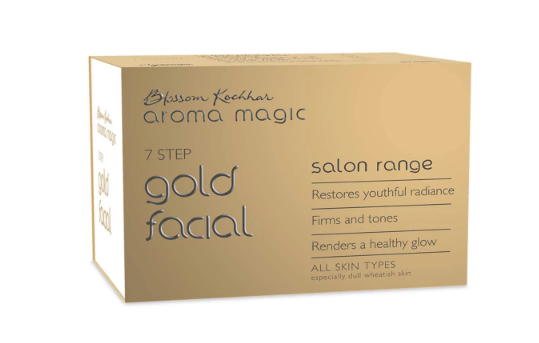 7- step facial to revive and restore youthful radiance to dull wheatish skin. This facial firm, tones and renders a healthy glow to the skin. It effectively lifts away dullness caused due to pollution and stress, thus making your client discover a fresher, brighter face.
Size: Salon Kit
Price: INR 1500
ABOUT BLOSSOM KOCHHAR AROMA MAGIC
In 1994, to inspire society for a holistic approach to life, Dr. Blossom Kochhar, along with her husband, the late Col V Kochhar sowed their seed of faith in Blossom Kochhar Aroma Magic giving the world the healing power of nature through the best of Aromatherapy in India. The brand prides itself to be one of the pioneers of Aromatherapy products in India committed to giving people a touch of nature in a world taken over by artificiality. Today, Dr. Kochhar's daughter, Ms. Samantha Kochhar who preserves the roots while driving the company to new heights, spearheads the company's affairs. Currently, the Earth to Bottle 200+ signature Aromatherapy skin, hair, & wellness products are present in over 100 cities in India. All the essential oils are 100% organic & every product is cruelty-free with eco-friendly & recyclable packing.
Also Read: Quotes around World Youth Skills Day 2022
As the company takes from nature, it holds itself obliged to give back to nature too. It engages itself month on month in a plethora of tree plantations & conservation drives in collaboration with 'Give Me Trees (GMT) Trust.' With a pledge of planting at least one tree a day since 2015, the Blossom Kochhar Group has planted over 6000 trees. The company also contributes and works closely with Cankids Kidscan an NGO specialized in childhood cancer, Indian Cancer Society, and Festival of Hope. Education and skilling, that is from where Dr. Blossom Kochhar started & since then has provided free training and livelihood to economically backward youth & women, specially-abled youth & widows in the last 3 decades.
Availability:   https://aromamagic.com and https://www.nykaa.com   https://aromamagic.com/collections/all-products
Want to become Master the Art of Henna Mehendi Designs visit EasyShiksha