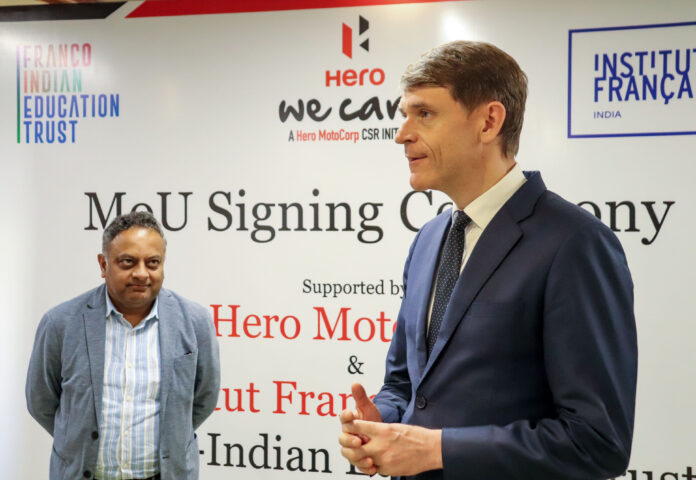 Hero MotoCorp, the world's largest manufacturer of motorcycles and scooters, is collaborating with French Institute in India (IFI) to promote the learning of French language among school children.
The support to IFI has been extended under 'Project Shiksha', which is being implemented under Hero MotoCorp's corporate social responsibility (CSR) platform 'Hero WeCare' and fulfils its larger mandate of empowering communities.
As part of this new collaboration between Hero MotoCorp and the IFI (Institut Français en Inde) – the educational, scientific and cultural department of the Embassy of France in India – French classes have begun for 2,700 students in 24 schools that are affiliated to the Delhi Board of Secondary Education (DBSE).
Through its unique 'Train the Trainer' initiative, IFI is assisting DBSE to train the teachers and resource persons in communicative French. Under this collaboration, IFI is offering access to its cultural and academic platforms to DBSE school students. The French Institute is also organising informative workshops and seminars to help students become aware about how to pursue higher education at universities in France as well as scholarship programmes that they can benefit from.
Appreciating the company's contribution, the Ambassador of France to India, His Excellency Mr. Emmanuel Lenain, said, "I take this opportunity to express my gratitude to Hero MotoCorp for partnering with us on this initiative. Learning French will be a life-changing experience for the students of Delhi government schools and provide them new academic and professional opportunities. Hero MotoCorp's contribution is invaluable for boosting academic and youth exchanges between our two countries, which is a priority of Indo-French relations."
Mr. Bharatendu Kabi, Head – Corporate Social Responsibility (CSR) & Corporate Communication, Hero MotoCorp, said, "We have been at the forefront of creating a greener, safer and equitable world by promoting education, healthcare, skilling and biodiversity conservation in the country. One of the main priority areas of our community outreach initiatives at Hero MotoCorp is to provide children access to education and teachers with impactful training programs. In keeping with this commitment, we are happy to partner with the French Institute of India (FII) in providing an exemplary French language-learning course, which will offer the students enhanced career prospects. This initiative resonates well with our Mission at Hero MotoCorp to Create, Collaborate and Inspire."
About Hero We Care
For Hero MotoCorp, corporate social responsibility (CSR) is a commitment towards this precious planet and its people, and the core values of this commitment are integrated into its way of doing business. The company abides by the core principles of environment conservation, shared social value, and doing business ethically.
Under the We Care platform, the company has initiated and scaled up focused social and environmental programmes that align with the company's CSR vision of contributing towards building a Greener, Safer and Equitable World.
Project Shiksha is driven by the larger goal of helping create an enabling, encouraging and motivating environment for dissemination of quality education at government schools in rural India. Conceptualised to complement the Right to Education Act, the programme focuses on creating permanent infrastructure as well as putting together the elements needed for an ecosystem that will pave the way for government schools in the rural to eventually match the performance and outcomes of their privately run counterparts.
Top Medical Science Online Courses
More Courses With Certification
About the French Institute in India
The French Institute in India (Institut Français en Inde) is the educational, scientific and cultural department of the Embassy of France in India. It facilitates academic and scientific exchanges between higher institutes of learning and research, enables student mobility, and promotes the French language as well as artistic and cultural dialogue. Cooperation between India and France takes place through several sectors: Arts and Culture, Books and Ideas, French Language and Education, Study in France programme, Academic Partnerships, Science and Technology, as well as Innovation and Multimedia
Also Read: Bayer partners with Small Farmers' Agri-Business Consortium to form 50 Specialized Farmer Producer Organizations
About the Franco-Indian Education Trust
The Franco-Indian Education Trust, a non-profit charitable and educational Trust, is a joint initiative of the Embassy of France in India and Mr. Prshant K Lahoti, Managing Trustee of Krishnakriti Foundation. It was established in August 2017 and was unveiled in March 2018 during the State visit of President Emmanuel Macron to India.
About Hero MotoCorp
Hero MotoCorp Ltd, with headquarters in New Delhi (India), is the world's largest manufacturer of motorcycles and scooters in terms of unit volumes sold by a single company in a year — a coveted position it has held for the past 21 consecutive years. The company has sold over 100 million motorcycles and scooters in cumulative sales since its inception. Hero MotoCorp currently sells its products in more than 43 countries across Asia, Africa, Middle East, and South and Central America. Hero MotoCorp has eight state-of-the-art manufacturing facilities, including six in India and one each in Colombia and Bangladesh. Hero MotoCorp has two world-class, state-of-the-art R&D facilities — the Centre of Innovation and Technology (CIT) in India, and Tech Centre Germany (TCG) near Munich. Hero MotoCorp is one of the largest corporate promoters of multiple disciplines of sports, including Golf, Football, Field Hockey, Cricket and Motorsports. Fifteen-time Major Winner Tiger Woods is Hero's Global Corporate Partner.
Visit EasyShiksha for skill development courses