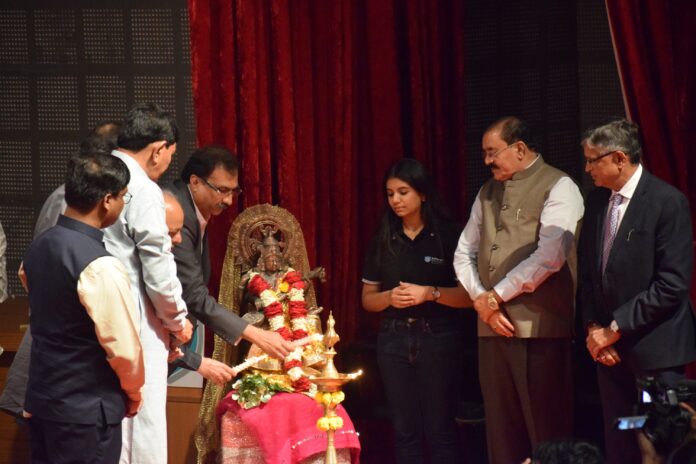 ~Emphasized that all students today need to do away with textbook attitude, the Minister praised the startup incubation infrastructure at the university~
New Delhi, October 12th, 2022: Hon'ble Union Minister of State for Electronics & Information Technology and Skill Development & Entrepreneurship, Rajeev Chandrasekhar visited Marwadi University (MU) — the youngest institution to be recognized as a Centre of Excellence (CoE) by the Government of Gujarat — as part of a two-day official visit to the state earlier this week.
The Minister held interactions with students, startups, innovators and academia and visited the state-of-the-art Marwadi University Innovation and Incubation Research (MUIIR) Centre. While appreciating innovations and incubations at the centre built to foster a self-reliant startup ecosystem in Gujarat, he suggested that local-level universities need to model after MUIIR so that the startups grow ahead of the incubation level and are seen as entities with commercial products/services.
Along with the felicitation of startups and hackathon winners, the event also entailed a Fireside Chat with Mr Rajeev Chandrashekhar, wherein students engaged in an interesting question-and-answer interaction session. During The Hon'ble Ministers' address he mentioned the recent 5G technology launch in India. Speaking about a student's checklist for success, Mr. Rajeev Chandrashekhar encouraged students to focus on developing skillsets and knowledge relevant to tap opportunities at a global level, shed a textbook only attitude
In his address, Prof. (Dr) Sandeep Sancheti, Provost, MU briefed the attendees on the growing access to world-class infrastructure and innovation culture at Marwadi University. He said, "Mr Chandrashekhar has been an entrepreneur, politician, policy planner and an active individual who has done various significant societal tasks from time to time. This is an excellent opportunity for us to catalyze our efforts and help people of the region to further scale up, perform exceptional, accomplish better quality and mark our presence nationally and internationally."
Notably, MU is the first university in the region, to house the Energy Swaraj Ashram (ESA), and has also tied up with the Technology Hub Foundation (T-Hub) and IPR Cell. Being one of the most prominent universities in Gujarat, MU has a strength of 10,000+ students in various programmes offered at the UG, PG and PhD levels. MU is also equipped with the PARAMSHAVAK supercomputing facility, utilised to aid in running complex calculations and scientific modelling.
Also Read: Lucky winners of Fly Me to Yas competition
"It was an honour to host Mr. Rajeev Chandrashekhar at Marwadi University and introduce him to the various cutting-edge innovations at MU. We pride ourselves on our vision of a connected and future-ready student base as well as of making sure the futuristic learning is student-centric, where we promote Skills & Innovations as per the industrial needs. Indeed it was an excellent opportunity for students to interact with a notable policymaker and public personality, who has seen it all, be it entrepreneurship, Tech development." said Dr R B Jadeja, Dean, Faculty of Engineering, MU.
Among the other noted dignitaries present were; Mohanbhai Kundariya, Rambhai Mokariya, Ketanbhai Marwadi, Jitubhai Chandarana, Jeetubhai Marwadi, Hiranmay Mahanta and Naresh Jadeja.
Visit EasyShiksha for skill development courses