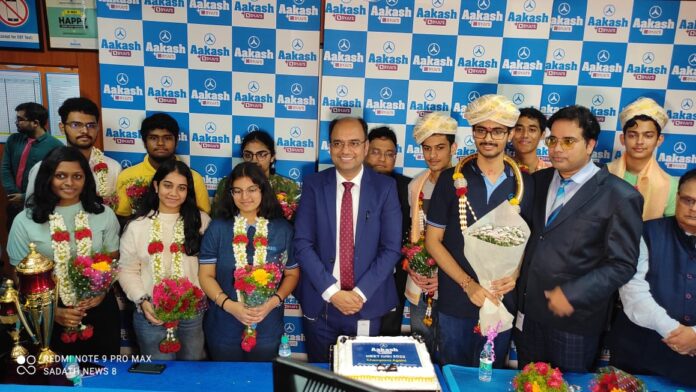 Bengaluru, September , 2022: Hrishikesh Gangule, a student of Aakash BYJU'S, Bengaluru, became a topper in NEET UG 2022 by scoring 715/720, and securing AIR of 3. With his brilliant performance, Hrishikesh is all set to join AIIMS Delhi.
In his case, it all looked like a foregone conclusion. Hrishikesh never doubted for a moment that he would become a doctor. At the age of 9, he told his parents, both of whom are software engineers, that he would study medicine when he grew up. His reasoning was that the medical profession is the noblest of all professions. "When doctors do a good job of taking care of the health of the people, they in turn will have better opportunities to contribute to the society and the nation in their own ways. Happy with my choice and belief, my parents have always been supportive in my journey for NEET preparation," he says.
Hrishikesh wants to specialise in cardiology. When questioned about his choice, he answers: "Cardiovascular diseases are today the biggest cause of concern in public health. I hope to become a cardiologist or a cardiac surgeon so that I can save or make a difference to many lives."
Determined to crack the NEET exam, Hrishikesh appeared for the Aakash National Talent Hunt Exam, a national scholarship exam of Aakash BYJU'S, when he was in tenth grade, and obtained an all India rank of 19 in the medical stream. With almost a 100% scholarship, Hrishikesh joined the two-year NEET coaching program. "Initially, I feared that the intensive program would be a gruelling and stressful one. However, to my pleasant surprise, it was not. Our teachers made sure that we were as comfortable as possible with our preparations. The program might be tough if a student is not into it wholeheartedly. Otherwise, it is a boon," he says. 
ALSO READ : NEET Results:five students of Motion Education Kota among top hundred
Hrishikesh regards the mock tests of Aakash BYJU'S proved to be a game changer. "You will never have the situation where you will be 100% ready for an exam. It is not humanly possible for a student to be thorough with each and every line of every text book. Hence, one should not hesitate to give exams, thinking that they have not prepared adequately. Exam results give us an opportunity to know where we stand. Every exam I gave at Aakash BYJU'S was an eye opener. It revealed something unique about the state of my preparation. Hence, I looked forward to the exams and improved by preparation for the final NEET exam," he remarks.
Throughout his days of preparation, Hrishikesh had almost zero distractions – though he was okay with taking rejuvenating breaks every now and then. For him study breaks meant reading PG Wodehouse novels or watching wildlife documentaries.

Congratulating Hrishikesh on his excellent NEET score, Mr. Aakash Chaudhry, Managing Director, Aakash BYJU'S, said, "Hrishikesh is a lucky student – for, he had no confusion with his aim. He started visualising himself as a doctor at a very young age. What also makes Hrishikesh special is that he wants to take up the profession only to be of service to humanity. But dreaming is one thing and working for it is another. Hrishikesh made conscious attempts to realise his goals. At Aakash BYJU'S, he was a sincere student. He turned in his assignments on time. He was obedient as well. With his incredible score, Hrishikesh made Aakash BYJU'S and his parents proud. We need more aspirants like him. We wish Hrishikesh all the best with his future endeavours."
About Aakash+BYJU'S
Aakash+BYJU'S provides comprehensive test preparatory services for students preparing for Medical (NEET) and Engineering Entrance Examinations (JEE), School/Board Exams and Competitive Exams such as NTSE, KVPY, and Olympiads. The "Aakash" brand is associated with quality coaching and a proven student selection track record in various Medical (NEET) and JEE/Engineering Entrance Examinations, Scholarship exams & Olympiads.
With over 33 years of operational experience in the test preparatory industry, the company has a large number of selections in Medical & Engineering Entrance Exams and several Foundation level Scholarship exams/Olympiads, a pan India network of 285+ Aakash+BYJU'S Centers (including franchisee), and an annual student count of more than 3,30,000.
The Aakash group has investment from Think & Learn Pvt Ltd (BYJU'S) as well as by world's largest Private Equity firm Blackstone. 
Visit EasyShiksha for skill development courses.