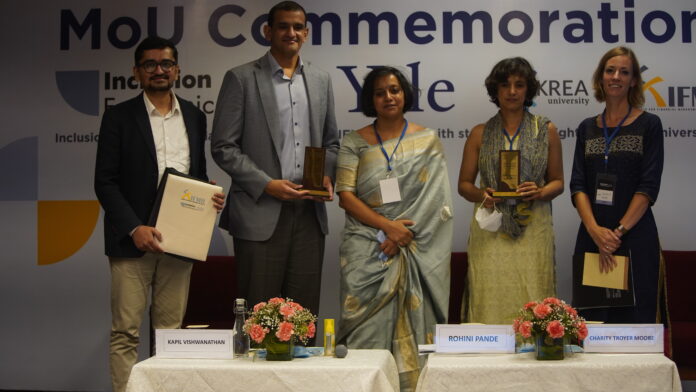 July 22, 2022
The Institute for Financial Management and Research (IFMR) and Inclusion Economics at Yale University signed a memorandum of understanding to conduct policy-engaged research that promotes inclusive economies and societies. The collaboration will focus on innovative data collection, cutting-edge research, close engagement with policymakers, and communication of data-driven insights to inform and encourage evidence-based dialogues on economic and social inclusion. housed at IFMR, will be a close collaborator in this important endeavour, and Krea University will provide strategic oversight.
The collaboration was announced at an event today at Jacaranda Hall in India Habitat Centre, New Delhi. Representatives from IFMR, Krea University, Yale University, and Inclusion Economics India Centre shared their vision for this collaboration with staff and other stakeholders involved in the collaboration.
The event was followed in the evening by Inclusion Economics India Centre's inaugural policy dialogue, "Mahamaari aur Auraton ki Aapbeeti" (Women, Ordeal & Opportunity through the Pandemic), which featured evidence-based insights from the group's recent work on how the Covid-19 pandemic affected Indian women's economic empowerment and well-being.
Shri Nagendra Nath Sinha, Secretary, Ministry of Rural Development, Government of India, was a distinguished speaker at the event and said "The Government is making significant efforts to empower and engage marginalised women in the economy. Inclusion Economics India Centre has been a valuable partner in that endeavour. They have helped in ensuring that our policies and programs are informed by data and evidence, and we look forward to deepening this engagement in the coming years."
Also in attendance at the event were: Mr Kapil Viswanathan, President of IFMR and Chairman of the Executive Committee and Member of Governing Council of Krea University; Professor Rohini Pande, Henry J Heinz II Professor of Economics at Yale University and co-lead of Inclusion Economics at Yale University; Dr Charity Troyer Moore, Director for South Asia Economics Research at Yale MacMillan Center and co-lead of Inclusion Economics at Yale University; and Vinay Nagaraju, Executive Director of Inclusion Economics India Centre. 
ALSO READ – https://news.easyshiksha.com/yas-islands-yas-yas-baby-goes-viral-with-over-20-million-views-in-less-than-48-hours/
IFMR is the sponsoring body of Krea University, whose mission is to help humanity prepare for an unpredictable world by developing a view of the future through rigorous and interdisciplinary research and education.
Inclusion Economics at Yale University is a collaboration of the Yale Economic Growth Center and the Whitney and Betty MacMillan Center for International and Area Studies, a research initiative that works with Inclusion Economics India Centre, and Inclusion Economics Nepal at Governance Lab – as well as colleagues at other universities. Directed by Professor Pande and Dr Troyer Moore, the initiative builds on a number of multi-year studies and policy engagements that began at Evidence for Policy Design at Harvard Kennedy School, as well as new projects. Inclusion Economics currently spearheads research and engages policymakers in three broad areas – governance and social protection, environmental justice in an era of climate change, and building an inclusive society, with a focus on women's economic opportunities – as well as conducting training and other capacity-building activities for policymakers.
Attendees at the event spoke of the memorandum's importance to current economics research.
"IFMR and Krea University are embarking on a number of research initiatives focused on addressing the grand challenges facing the world today. This collaboration of Inclusion Economics at Yale University is one such initiative, working towards more inclusive societies and economies," Mr. Viswanathan said.
"We are thrilled to formalise a collaboration with Inclusion Economics India Centre at IFMR. We look forward to working together to promote an inclusive, accountable, and sustainable India that leads the world in its approach to solving some of the twenty-first century's most intractable challenges," Dr. Moore said.
Others echoed these sentiments, elaborating on the wide-reaching impact of the collaboration.
"The movement of development economics over the past few decades has influenced public policy like perhaps no other time in the modern era. In our work at Inclusion Economics India Centre, we have resolutely placed the challenges that policymakers face at the heart of our research," Mr. Nagaraju said. "Over the years, government partners at the state and national level have been ardent partners, and together we aim to impact the policies that are targeted at historically disadvantaged groups in India, and South Asia in general."
"Enabling inclusive and sustainable growth will require collaborations that bring together multiple tools and perspectives: research insights and data analysis, insights of policymakers, and input on priorities from poor and marginalised people themselves. Our hope is that this cross-national effort can support such collaborations," Prof. Pande said. 
Visit https://easyshiksha.com/online_courses/ for skill development.