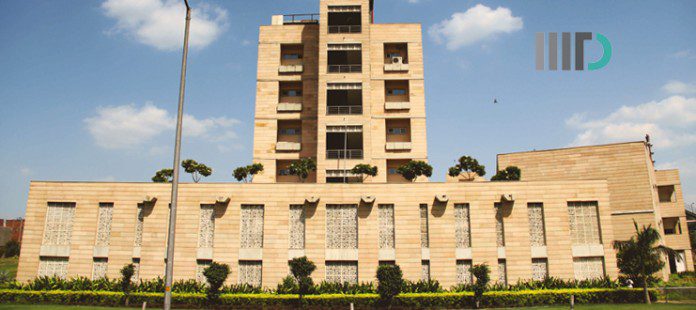 New Delhi, 1st June 2016: IIIT-Delhi (Indraprastha Institute of Information Technology, Delhi) organized a press briefing to apprise and discuss on the milestones achieved by the institution in the last academic year. IIIT-Delhi is a State University created by an act of Delhi Government (The IIIT-Delhi Act, 2007) empowering it to do research and development and grant degrees. The press briefing was held on the campus of IIIT-Delhi – Okhla Industrial Estate, Phase-III, New Delhi addressed by key speakers of IIIT-Delhi; Mr. Kiran Karnik, Chairman, IIIT-Delhi, Prof. Pankaj Jalote, Director, IIIT-Delhi and Prof. Dheeraj Sanghi, Dean of Academic Affairs and External Relations, IIIT-Delhi.

Important Announcement – EasyShiksha has now started Online Internship Program "Ab India Sikhega Ghar Se"

Following are the snapshots of the discussion:
Infosys Grant to IIIT-Delhi of INR 24 crore for setting Artificial Intelligence center at its campus
4th April 2016 was a historical day in IIIT Delhi as Infosys Foundation (the philanthropic arm of Infosys) provided IIIT-Delhi a 24 Crore Rupee three-year corpus grant to establish the Infosys Center for Artificial Intelligence at IIIT Delhi campus. Mr. Pravin Rao, Chief Operating Officer of Infosys, inaugurated the Infosys Center for Artificial Intelligence and also unveiled the website of the center: http://cai.iiitd.ac.in.
This is one of the largest endowments that industry has provided to academia for research in India. This was possible due to our extensive achievements: IIITD has one of the best Ph.D. programs in the country and has attracted the best faculty from top institutions in India and abroad.
Delhi Govt.'s Grant to IIIT-Delhi of Rs. 1.5 crore for promoting entrepreneurship in the capital
The Indraprastha Institute of Information Technology, Delhi (IIIT-D), received funding of Rs 1.5 Crore from the government as per its incubation policy to promote entrepreneurship in the Capital. Deputy Chief Minister and Education Minister, Manish Sisodia has granted the seed money.
IIIT-Delhi's accelerator programme – Innovate Delhi Boot Camp for prospering startups
Indraprastha Institute of Information Technology, Delhi (IIIT-D) is organizing an accelerator program "Innovative Delhi 2016". Innovate Delhi is a 6 week boot camp to provide an opportunity for early stage start-ups to hone their business propositions and pitch before investors at the end of the program.Innovate Delhi will accelerate selected 10 start-ups from 23rd May to 2nd July.
Top Software Engineering Courses
Innovate Delhi 2016 have an Advisory Board consisting of eminent and experienced individuals from the start-up ecosystem. There will also a board of mentors who will guide these start-ups in improving their product, traction and funding status. Mentors have been identified from amongst prominent names in the entrepreneurial ecosystem, successful entrepreneurs, angel networks, angel investors, and VCs.
New Courses Launch: New Ph.D. course (Ph.D. mathematics), New B.Tech course (Computer Science and Applied Mathematics) and M.Tech Program in Computational Biology
B.Tech. in 'Computer Science and Applied Mathematics is introduced from this year The program will be helpful to make students understand about the sophisticated mathematical tools and techniques in tandem with computational tools in several areas such as computational finance,biology, e­commerce, weather forecasting, and data science motivates the need for a program that will produce graduates with computational skills as well as the ability to use sophisticated mathematical concepts and tools in order to tackle these problems. In addition, the graduate of this program should also acquire the general skills that are common with other B. Tech programs.
We also introduced M. tech in the computational biology program. IIIT-Delhi, with its strong focus on research, and already having a good faculty in various CS and EE, is well suited to build a strong theoretical MTech program in Computational Biology.The genomic revolution in biology enables one to answer many questions in medical sciences like personalized medicine, the etiology of diseases like cancer, HIV, etc. However, the answers to these questions are impossible without a support of powerful computational and statistical tools that help to understand and uncover the underlying network design principles responsible for these diseases.
15 Students of IIIT-Delhi selected for Google summer of code
15 ingenious and promising students of IIIT-Delhi has been selected for Google Summer of Code Program. With this selection, IIIT Delhi has come into the league of India's most preferred and reputed engineering institutes. Google Summer of Code (GSoC) is a universal program that offers a stipend to the student developers who write code for various open source coding projects. These selected students will receive a stipend of $5000. It is a heartwarming and rewarding moment for IIIT- Delhi. This year, Google has selected 1000 applications worldwide from which 15 peerless students are from IIIT-Delhi whose submissions have been approved.
100 + PhD scholars
We take immense pleasure in announcing that our Ph.D. scholars have crossed a remarkable head count of 100 this semester. This is a proud moment for all of us who have worked hard to provide all the necessary facilities to achieve this breakthrough. For a young institute like IIIT-Delhi, it is remarkable of having achieved this number in such a short span of time.
IIIT-Delhi first introduced the doctoral programme in 2009 with the goal to train students to become both skilled scholars and conscientious teachers.
After Computer Science and Engineering, Electronics and Communications Engineering and Computational Biology; we are adding the doctoral programme in Mathematics as well by this year.
Research and awards won by faculty and students of IIIT-Delhi this year
Dr. VinayakNaik received Google's Internet of Things (IoT) Technology Research Award. Here is a link containing information about the award
Yashovardhan Sharma, our 3rd-year BTech student, who is currently working withSomitra K Sanadhya and DrDonghoon Chang on some projects on Cryptology has been awarded IUSSTF fellowship for working with Prof ManojPrabhakaran at UIUC
Maneet Singh, Deepali Kishnani, and Nikita Gupta (Ph.D. Students) receive the prestigious Google Anita Borg Memorial Scholarship 2015for Asia Pacific Region.
Shuktikajain (BTech 4 the year) wins first prize in the student research competition organised by FSE 2015
Mentor-– Dr. VinayakNaik, Student Innovators -Shuchita Gupta and YashovardhanSharma awarded Gandhian Young Technological Innovation Award, 2016 under the category of MLM (More from less from Many) for their innovative app mSleep -Measure your Sleep which, measures the quantity and quality of sleep.
And much more
IIIT-Delhi joined hands with Google India in the 'Code to Learn Contest 2016
To support all initiatives that spread the programming skills in our country, IIIT-Delhi joined hands with Google India in the 'Code to Learn Contest 2016'. The contest has been adopted by the Ministry of Human Resource Development, Government of India under the RashtriyaAvishkarAbhiyan and it is open for students in classes 5 to 10 from any school in India.
Code to Learn is co-organized by IIIT-Delhi, which is one of the leading research-oriented universities of India, based in Delhi. For the participation of their wards in Google India Code to Learn contest 2016. Parents or Legal Guardians of students can register on the students' behalf on the contest website. Students can create their projects in Scratch, or App Inventor and submit them to the contest site.
About IIIT Delhi:
Indraprastha Institute of Information Technology, Delhi (aka. IIIT-Delhi or IIIT-D) was created as a State University by an act of Delhi Government (The IIIT Delhi Act, 2007) empowering it to do research and development and grant degrees. IIIT-Delhi was officially established on 10th June 2008 as per this notification in the Delhi Gazette. First class (for BTech (CSE) students) was held on 8th September 2008.
In a relatively short time, it has earned a good reputation in India and abroad for being a center of quality education and research in IT. 2012 turned out to be the most remarkable year because, during the summer of this year, the institute started functioning from its permanent campus in Okhla. Smt. Sheila Dikshit, Chief Minister of Delhi, inaugurated the campus in October 2012.
Empower your team. Lead the industry
Get a subscription to a library of online courses and digital learning tools for your organization with EasyShiksha
Request Now
ALSO READ: mbta bags best physical education program award
Get Course: Introduction to Cell Structure and Function