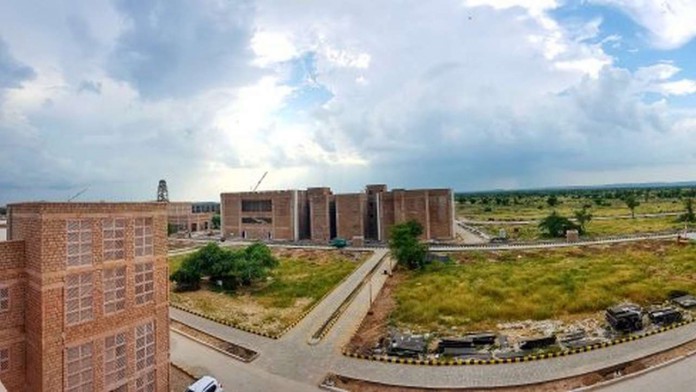 IIT Jodhpur announces establishment of a new 'School of Management & Entrepreneurship' (SME) and launch of several academic programs, including MBA under this entity, from the ensuing academic session starting from July 2020. Below describes the reasons, purpose and further specifics about the school.
Current Trends?
Time has changed drastically. The classical MBA program is losing its charm worldwide as widely reported in media. The reasons are following:
Future of corporations: Corporations of the world are also changing in character. Many in fortune 500 list of companies exist purely because of their business operate over digital landscape, particularly 'Internet'. Innovations keep them alive. Google, Amazon etc. clearly proves a point that ccorporations have to constantly innovate for longevity. Further Artificial Technologies (AI) and assorts are going to create a work place with a near perfect integration of diverse manufacturing bases leading to industry 4.0. It is predicted that by 2022, 9 percent of the workforce will be deployed in new jobs that do not even exist today, 37 percent would be in roles that have radically changed skill sets, and 54 percent would have their job unchanged. Hence academic programs have to offer new set of content
Opportunities of Digital Economy: Technology trends are irreversible. These create a new economic environment called digital economy – an economy based on digital technologies. This is predicted to be much larger with 8% current share of the overall economy and more widely spread than previously thought. Its spill over effect is at unimaginable scale. This casts a new light on how to make plans for the future corporations.
Start-up Trends: driven by ICT led innovation, start-ups are being encouraged by governments across the globe. On the occasion of 72th Independence Day, Prime Minister laid out plans to achieve a 5-trillion dollar economy by 2024. A continued economic growth is feasible provided the intellectual economy is expanded through innovation and technology development. This is largely possible by growth of start-ups enterprises. As per GoI, there are 50,000 registered startups in India, and there will be 50,000 more by 2024 at this pace. In 2018, India had 18 tech unicorns valued at more than $1 billion. The combined valuation of unicorns in India grew to $71 billion in 2018 from $38 billion in 2017. The country is likely to have 54 tech unicorns by 2024.

Important Announcement – EasyShiksha has now started Online Internship Program "Ab India Sikhega Ghar Se"

Top Virtual Reality Courses
More Courses With Certification
Government Programs: Government have announced some very ambitious programs in the form of 'Make in India', 'Digital India', 'Unnat Bharat', 'Swatchh Bharat' 'River Linking Project' 'Increasing FDI various sector for high growth' and '100 smart cities project'. Realization of these will transform the country. They need intellectual input on standards, tools and frameworks; regular assessment and white paper. Where is relevant 'Think Tank'? Emerging e-society is throwing some extraordinary issues where every nation is grappling with. West is struggling to retain ownership on 'Internet'. Privacy, unruly social media, cyber war, crypto-currency and critical infrastructure protection are some of the new faceless challenges. What is the position India should take? Do IITs have any input to give here?
How IIT Jodhpur can capitalizing on these opportunities?
In today's scenario, IIT campuses are much closer and capable to play a bigger role in realizing ambitious national goal, pertaining to – making corporations ready for industry 4.0, opportunity arising out digital economy, augment start up movement and feed into national programs. What they need is to diversify academics to newer disciplines where technology influence is deep and wide – Business, Liberal Arts, Public Policy and Law. Among these, management discipline connects to all. Most of the older IITs have Management departments but operate at very modest level, hence impact is miniscule. However, scenarios projected above calls for IITs to be operating with a more ambitious agenda around these disciplines.
Indian Institute of Technology Jodhpur is one the second generation IITs established in 2008 in the expanding horizon and giving access of high quality education to the aspiring young talents. As is known, IIT as brand earned high reputation worldwide because of its graduates who are doing wonders in the professional world. Continuing this tradition, IIT Jodhpur strives with technological thought and action to benefit the economic development of India. Scholarship in teaching and learning; Scholarship in research and creative accomplishments; and relevance to Industry are chosen as three driving forces for IIT Jodhpur. The Institute is committed to multidisciplinary approach and in pursuits of the same, a new School of Management & Entrepreneurship (SME) has been established to provide unique proposition to and complement already existing technology programs. The sprawling 852 acres residential campus is meticulously planned and envisioned to stand as a symbol of academics – simple, but deep.
Top Software Engineering Courses
Top Software Engineering Courses
Why Management discipline at IIT Jodhpur?
There are plenty of Business Schools in the country anyway. What purpose a new school of Management at IITJ will serve at this stage? IITJ is still in early stage of evolution and rightly need to focus on stabilizing technology programs. Economy is also slowing down. So another off-track program would be a burden on infrastructure and resources. It would be a distraction.
Yes these seem so, however………..
Economy slowdown doesn't affect top tier institutions. It only affects lower tier institutions. So programs offered by IIMs and IITs are still sought after and will remain so since they still remain most trusted brand among the aspirants

Yes, there are plenty of MBA programs in the country. In fact, there are at least 5,500 B-schools in operation now, as per ASSOCHAM report (2016), offering a total of 5,20,000 seats (more than CAT aspirants) in MBA courses, compared to 3,60,000 in 2011-12. However, barring a handful of top business schools like the government run IIMs, IITs and few others, most of these B schools are producing sub-par graduates who are largely unemployable; only 7 per cent of the MBA graduates are actually employable; and hardly 1% jobs are managerial levels.

Given the current undergoing disruption in industry, job market requires new kind of specialized and versatile professional, are not being produced by these Business Schools. There is clear mismatch between MBA being produced and the needs of the corporate world.

We are referring to quality MBA

Further, 'future of jobs' need to be deciphered which will be more driven by trends of Industry 4.0 and emerging technologies (IoT & AI). Table-3 presents an analysis of 'Future of Jobs Survey 2018' released by World Economic Forum

It is now clear that opportunity lies for a new class of professionals – specialized MBA graduates

Start-up culture is picking across the globe, which requires different approach
In view of the above, IIT Jodhpur will be on right track by responding to a clear demand of MBAs having adequate specialized knowledge and understanding of scenario around industry 4.0. MBA program will also augment 'Entrepreneurship learning' which is emerging as major agenda for any institution of higher learning.
Where IITs stand in management education today?
Today IITs are better positioned to respond to changing needs than a stand-alone B-School, as they have expertise of technology anyway. MBA in IIT campuses will be rightly complimented by the existing academic unit viz. Computer Science, Communications & Smart Technologies, AI & Robotics, Manufacturing & Industrial Engineering and Mathematics. These are not possible in stand-alone B-School settings. The only challenge is the scale at which IITs operate and resources flow on sustainable basis.
Top Quality Management System (QMS) Courses
More Courses With Certification
Top Project Management Courses
More Courses With Certification
What would differentiate IIT Jodhpur in Business School space?
IIT Jodhpur has several advantages to venture into management education. Competency on diverse technology disciplines, a most sought after UG programs around STEM, increasing faculty size, a vibrant research culture, a strong doctoral program – all with a globally respectable brand.
Technology feeds Management, which in turn feeds Technology. Hence, IITs are more relevant today to respond to need of emerging corporations in the wake of industry 4.0. We need to visualize and leverage this to respond to current realities of modern society and challenges industry is facing. Two things are vital here-new knowledge and people ready with the same. What would differentiate a management graduate in today's world? Business leaders of future corporations would be differentiated by certain qualities:  
who understand the nuances of emerging technologies.

can foresee the role of technologies in defining the business of future

understand and thrive in diverse cultural settings.

develop ability to work and lead teams.

possess strong personal belief in ethical practices. 

displays a sensitive person and responsible corporate citizen.
IIT Jodhpur is venturing into management education with a proposition to inculcate all the above qualities via various programs – regular MBA, Tech-MBA, executive programs, leadership programs, international programs and doctoral program. These are being conceived under a new School of Management & Entrepreneurship. The school is going to offer several programs for aspiring entrepreneurs and guide them through incubation and further commercialization. It is positioned to feed the state of Rajasthan in designing policies, projects and capacity building. With such a clarity and focus, IITJ is comparable to MIT and Sloan School of Management within MIT premises which co-existed for a long time and have been guiding the entire world via high quality research and also producing deserving business leaders. There is no similar example in India so far.

Top Personal Development Online Courses
More Courses With Certification
Top Networking Online Courses
More Courses With Certification
What are the distinguishing features of SME IIT Jodhpur?
The new school is also going to have several distinguishing features that would differentiate it from the rest.
Value Proposition
Variety of academic programs suited to seeker-stakeholders (regular, working professional, international students, public sector and policy officers); partial to full engagement with corporate world in dealing with business opportunities and challenges; policy feeds via strategy papers and a directed research to feed national programs; nurturing international partnership and address global issues; engage with local community; become resources rich.
School with adequate autonomy
School is conceived to operate with adequate financial autonomy. A significant part of fee collected will stay back with the school to utilize in its growth agenda. In IIT system, established academic units are mostly departments which, by statute, are dependent models. That means they receive government grants and survive on the same. This school, unlike departments, is being conceived as an entity enjoying adequate financial and academic autonomy. Autonomy is bedrock of high performance and with this belief SME will be run notionally as a profit centre with appreciable corpus in due course of time. Academic freedom would include a choice of designing course, offering programs, in collaboration with world reputed business school from the academic world, and recruit faculty where majority of them will be either from practice world or from international places.
Corporate centric culture
The school will have all possible corporate avenue ie. more faculty from practice world, access to live projects, leadership lectures, regular workshop on emerging issues etc.
Internationalization
Today, opportunity of growth lies into internationalization of the program. Business School should aim to create the types of business leaders with a broad vision, who understand the intricacies of the interconnectedness of the world and fulfill the dream of India as an aspiring nation. Global layering efforts has to be more aggressive: foreign faculty recruitment; campaign for international student's enrolment; invite global faculty for teaching, and enhance global immersion program. International accreditation (AACSB, EQUIS, and AMBA) will make it easy to achieve these goals.
International Accreditation
The three most-coveted, international accreditations for Business Schools are AACSB, AMBA, and EQUIS. They evaluate the standards of a business school's teaching, faculty, services, and students, among other things. There are several advantages of accreditation. It creates a gateway for students as their MBA degree gain recognition worldwide by industries and institutions. Influence of MBA graduates increases in the job market as the best employers prefer students from only those that carry such a tag. Students from accredited institutions can avail several avenues at the global level, i.e., attend conferences, participate in exchange programs, become eligible for fellowships and higher education, etc. International collaborations by Business Schools and research grants obtained are also linked to accreditation. Among the three, AACSB is the most popular and adopted by Business Schools of high repute viz. Harvard Business School.
Innovation & Entrepreneurship
Entrepreneurship is an important feature of any institute. It will offer variety of programs viz. a Basecamp Training program for budding entrepreneurs, Minor Area program for Undergraduate students, build content and network of national and international experts in Entrepreneurship, conduct actionable research, build strategic alliances to advance the cause of entrepreneurship and support in incubation of start-up in the institute. It will eventually grow as an independent entity as big as to serve state level needs and subsequently as a national level resource center on Entrepreneurship.
Management Development Program
Training programs are important source of revenue and connect with the practice world. It is imperative for a Business School to conduct Management Development, Executive Development, and Leadership Development Programs. In IIT system, all training programs are conducted under the aegis of CEP. However, CEP is not known to run in professional way; marketing support is none; infrastructure is almost non-existent while it has to be exclusive. To boost the current focus on MDPs, a more dynamic MDP norm needs to be introduced. Such programs should be designed with high industry relevance. Immediate actions are needed to adopt own MDP policy with adequate freedom to the coordinator(s); establish MDP set up with adequate staffing; put in place structure of marketing and branding; internationalize MDP and make provision of higher overhead charges (25-30%) to IITJ where a part is sharable with the School.
Deepen engagement with alumni
The success of business schools is deeply connected to that of their graduates, who must first thrive within the confines of academia and then grow and develop in their organizations, thus giving back to their environment and their alma-mater. Business school alumni bring with them energy, respect for others, a thirst for discovery and the desire to contribute to their teams' well-being. The youth in them is positive that seeks to change the world and is guided by a real moral concern.
Attractions for MBA aspirants at IIT Jodhpur?
The program
IIT J is going to offer MBA programs with differences. Tech-MBA is highlight of the package. It remains a two-year program, where first-year will be devoted to foundation courses and the full second year will be available to earn specialization into cutting edge areas. The school will offer specializations in two directions—in traditional areas to earn a regular MBA degree, while tech courses to earn Tech-MBA degree.
International exposure
There will be high international component ie teaching by international faculty, immersion & exchange programs, dual degree options and adopting experiential learning pedagogy. In global immersion, students will be required to spend a few weeks at a place oversees (School/Workplace abroad) for gaining additional exposure to the global workplace. Exchange Program will allow students to spend a semester at B-School of Repute.
How IIT Jodhpur MBA is going to differ from others?
Most of the Business Schools in the country (including IITs and IIMs) offer typical MBA programs. However, traditional format of MBA is losing charm, as reported across the world, due to AI-Analytics led dominating technology trends and the emergence new age corporations. These are asking for newer skill set and value propositions in MBA programs. Unlike marginal changes MBA curriculum as seen among other schools, IIT Jodhpur, has a decided to offer Tech-MBA from the start. This offers a superior proposition as it will flourish in a technology campus and conceive to have a diversity in the programs with high practice focus and significant global layers both in program contents and teaching. 
Teaching Pedagogy
A significant number of courses will be taught by international faculties, and CEOs of corporate world. The pedagogy will be a highly practice-centric, full of experiential learning, via exposing to variety of case studies, field work, project work, which will be part of all courses. It is intended to provide breadth and depth of management with an exhaustive list of 44 courses as part of curriculum, covering diverse aspects of management disciplines and choices for concentration. 
Socially Responsible MBA graduates
Few weeks' will be mandatory working with Non-Government Organizations (NGOs). The purpose is to inculcate sensitivity toward human and social issues which are highly relevant in today's world. Here students are required to affiliate with any NGO to learn and develop sensitivity. Aim is to let them evolve as a responsible corporate professional. This may be undertaken during 1st year winter vacation time (4 weeks).
Corporate training during summers
'Corporate Sector Attachment' is an audit course where students are required to work with a corporate entity during 1st year summer vacation time (8 weeks). It will be endeavored to ensure high quality corporate training opportunity-all variety.
Degree Options
Opportunity to Earn a Dual and Joint Degree – there would be multiple options to the candidates – regular MBA, Tech-MBA, modular MBA, and International MBA (Joint Degree and Dual Degree) all of which would be aimed toward building the socially responsible corporate leaders.
Modular and Flexible Degree Options
Students will have the option to complete the degree at own pace and will have choices to also avail global degree options which is available on competitive basis. IIT Jodhpur is working with few Business Schools of repute from North America, Europe, Australia and Asia.
IIT Jodhpur The curriculum
Structure of the MBA Program: Year-1 core courses + Year-2 specialization courses. Specialization will go in two directions – one, in all functional areas (Finance, Marketing, HR, Strategy etc.) to earn a regular MBA, and second, in technology areas such as AI, ML, BA, to earn a Tech-MBA. Total 67 credits of courses (I semester 19 credits + II semester 19 credits + III semester 16 credits + IV semester 13 credits). Here 1 credit =14 hrs.
To complete their 67 credits, students will do a total pf 44 courses (24 Core + 5 Compulsory Audit + 15 Electives courses for specialization. Upto 10 credit of elective courses should be 'Open elective courses' and can be taken from other department also. There will be select compulsory Audit courses, to allow learn certain aspects of management without any stress of evaluation and grade. This include knowing contemporary management thoughts, developing soft skills, learning the art of creativity and design thinking, getting attached at an NGO to learn social issues and become sensitive business leader.
IIT Jodhpur Placement
IIT Jodhpur is now a preferred destination of leading corporations for recruitment. So far, package for undergraduate placement has been around 12 LPA. It is hoped that Tech-MBA will attract high profile recruiters offering a package of 20 LPA. Semester scheduling has already been synchronized with the recruiting cycle of corporate world.
Empower your team. Lead the industry
Get a subscription to a library of online courses and digital learning tools for your organization with EasyShiksha
Request Now
ALSO READ: rbi assistant recruitment
Get Course: SWISS DIRECT DEMOCRACY