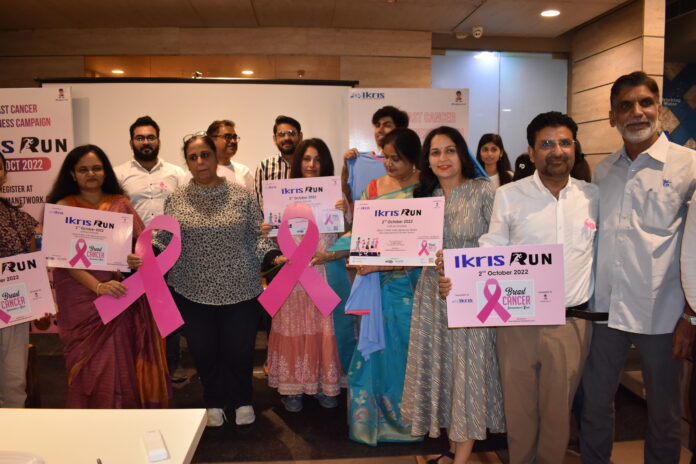 IKRIS Run launched in Noida to make breast cancer awareness campaign a nation-wide movement
IKRIS Pharma launched the IKRIS Run in the lead up to the Breast Cancer Awareness month in October
Dr (Prof) MeenuWalia Director, Dept of Medical Oncology and Hematology, Max Hospital, who is also the first DNB Medical Oncologist of India, was the chief guest
A video was released at the launch
Mr Praveen Sikri, CEO, IKRIS, delivered the launch address
Noida, 8th August 2022:-In the lead up to the Breast Cancer Awareness month in the coming October, Ikris Pharma Network launched the IKRIS Run today. With this event, India's leading rare disease and innovator drug access facilitator has sought to make breast cancer awareness a nation-wide campaign. A video was also released at the launch.
ALSO READ: DR NITIZ MURDIA APPOINTED AS MEMBER OF NATIONAL ASSISTED REPRODUCTIVE TECHNOOGY AND SURROGACY
Dr (Prof) MeenuWaliaDirector, Dept of Medical Oncology and Hematology, Max Hospital, who is also the first DNB Medical Oncologist of India, was the chief guest at the event. The launch was also attended by prominent doctors, medical professionals and members of civil society.Mr Praveen Sikri, CEO IKRIS, delivered the launch address. The event was held at Bikanerwala, I-THUM IT Park at Sector 62 in Noida.

"Breast cancer is not only one of the most common cancers among women globally, it is also the single largest type of cancer prevalent among women in our country. According to data, breast cancer accounts for nearly 14% of all cancer cases and more than 10 percent of all deaths in India. This is a frightening statistic and people especially women must not only be aware of the severity and the implications of this dreaded disease but also take necessary precautions. With the launch of IKRIS Run, we hope to sensitize as large a number of people as possible. In the coming two months and by October, we hope that more number of people will join our campaign as active participants giving further fillip to this programme. In addition, we are also thankful to DrMeenuWalia, a renowned cancer specialist for gracing this occasion and making it a memorable one," said Mr Praveen Sikri, CEO, IKRIS Pharma Network.
"I am indeed delighted to have been a part of this wonderful and worthwhile sensitization programme on breast cancer. While most of us know the gravity of breast cancer as a debilitating and life-threatening condition, we do not take necessary preventive measures in our daily lives. And so any recognition of the slightest of symptoms must serve as a warning and we should seek immediate expert consultation.The symptoms could range from havinga new lump or a swelling in the breast, to any feeling of irritation or pain in a part of it, to any change in its size or shape, or to any abnormal discharge, among others. So, an early-stage clinical screening or recourse to a mammogram becomes critical. At the same time, we should know that not having a physically active lifestyle, being overweight, excessive consumption of alcohol, and not having experienced full-term and timely pregnancy are factors thatincrease the likelihood of breast cancer in a woman.Women with a family history of this cancer or any related condition need to be particularly wary," saidDr (Prof) MeenuWalia Director, Dept of Medical Oncology and Hematology, Max Hospital, who is also the first DNB Medical Oncologist of India.
About IKRIS Pharma Network
Ikris Pharma Network (IPN) is a global pharmaceutical consultancy and service company. The foundation of Ikris Pharma Network was laid on the idea of transforming lives in 2014 in Noida, India. It started with a unique business model dedicated to delivering hard-to-access medicines to needy patients to save their lives and improve their lives. Ikris is transforming lives through its vast network by helping people access the world's most advanced treatment option up to now. They work through all regulatory and legal frameworks, a complex network of genuine sourcing, ethical and compliant Named-patient import. IPN provides professional assistance, transparent and legally compliant procedural adherence, and the best level of confidentiality to all patients seeking aid in receiving unavailable medicines in a particular country for the treatment. Ikris believes no geographical boundaries can become an obstacle in the way of saving someone's life. Thus, they deliver medicines on time and at reasonable prices via legal and compliant processes to needy patients in any part of the world. Some medicines need controlled temperature environments throughout their lifecycle; IPN delivers genuine medication on time and maintains product integrity during transportation. They have the best cold-chain storage and transportation services.
visit EasyShiksha for skill development.