Story telling performance by Indian artists based on well-known Korean traditional folk tales, 'Faithful Daughter Sim Cheong', 'Heungbu and Nolbu' and 'The Story of Princess Huh'."
04th May 2022, New Delhi: Korean Cultural Centre India (KCCI) under their 'Indian School Project' is currently conducting 'Story Telling Program' for 7 schools which will last till 10th May 2022. 2808 students will get to watch plays like 'Heungbu and Nolbu' and 'The Story of Princess Huh' and 'Faithful Daughter Sim Cheong' before their summer vacation.
Soumya Pandagre, 8th grade student at ASN School, who watched 'Faithful Daughter Sim Cheong' said, "Through the story, I was able to appreciate the true bond between a daughter and father, and I was reminded once again that the only thing that matters, whether one is poor or rich, is the true relationship between people."
Ms. Vinita Nanda Bhutani (teacher, Mount Abu School) said, "Through 'The story of Princess Huh', I was able to learn about the long-established relationship between Korea and India, which began 2,000 years ago, and I hope that for the development of each country, Korea and India will continue and grow as good friends in the future."
Further to this, KCCI plans to have the 'Story Telling Program' session at Indian schools 20 times a year, and is also planning to conduct the 'Online Storytelling Program' by sending the video recordings of the three Korean tales mentioned above, to 119 MOU schools.
In addition, centre also organize KCCI Tour Program which will run till the summer vacation starts. KCCI will have 209 students from eight different schools to visit the centre to experience Hanbok, Korean food, Taekwondo, and Korean traditional games. The centre is planning to organize the KCCI Tour Program 50 times a year.
Important Announcement – EasyShiksha has now started Online Internship Program "Ab India Sikhega Ghar Se"
The Director of Korean Cultural Centre India, Mr. Hwang Il-Yong, said, "The month of May is called as 'the month of family' in Korea for there are holidays dedicated for family participants like 5th May(Children Day), 8th May(Parent Day). Celebrating 5th May, 'Children Day', and hoping Indian children also must be recognized and respected, we have prepared these special events for Indian children and students. We hope that the 'Story Telling Program' and 'KCCI Tour Program', which has re-started offline will serve as a good opportunity for Indian school students to get interested in Korean culture and will also help them learn more about Korea."
ALSO READ : MDAE Invites Applications For 1 Year Post-Graduate Program in Data Science & Finance
Details on the Plays:
Heungbu and Nolbu
Story
Heungbu and Nolbu were brothers. Nolbu the older brother was very greedy, but his younger brother Heungbu was kind and empathetic. After the death of their father, Nolbu took all the inheritance and kicked Heungbu's family out of the house. One day Heungbu cures a swallow's broken leg and frees it to fly away. Next spring the swallow comes to Heungbu and gives him a gourd seed. A huge amount of Gold, silver and gems came out of the gourd and Heungbu became rich overnight. When the older brother Nolbu heard about it he decided to search for the swallow and upon finding it he purposely broke its leg. The swallow returned with a gourd seed but from the gourd goblin came out and took all the riches from Nolbu. But Heungbu cared for Nolbu and his wife and finally Nolbu realized his mistake and together they lived happily ever after.
Theme
In the structure of a folktale, an apparent theme of Heungbu-jeon is that good deeds are rewarded while evil deeds are punished. However, the other vibration like pansori narrative of the same story reveals an ulterior theme—the emergence of a rich low class and poor yangban is disrupting the existing social order and hierarchy. While both apparent and ulterior themes are important in understanding Heungbu-jeon, the ulterior theme is considered to be more important than the apparent theme.
The Faithful Daughter Sim Cheong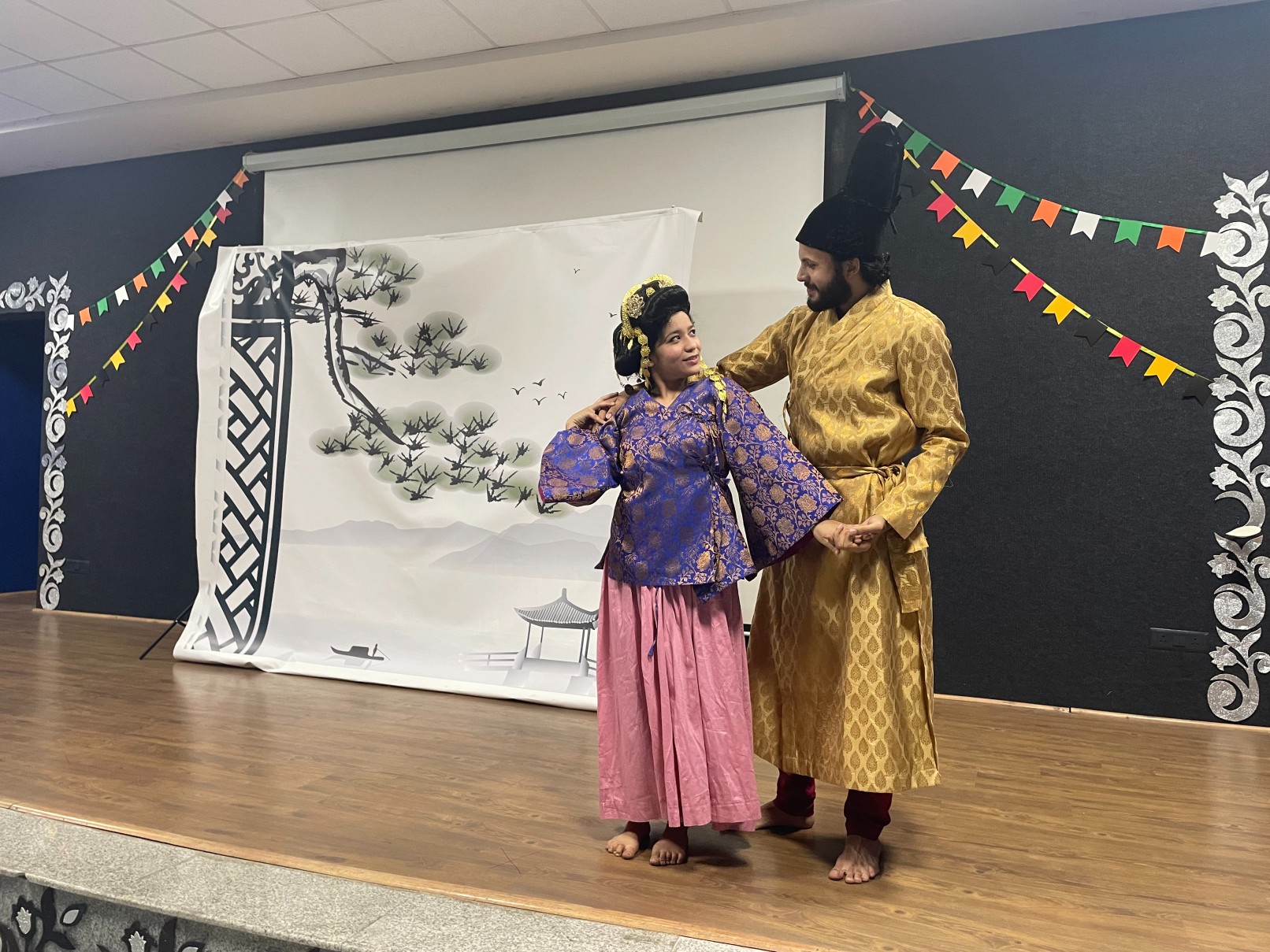 Story
'Sim Cheong' lived with her blind father 'Sim', as her mother died soon after giving birth to her. Sim Cheong was very hardworking and took care of her blind father. One day Sim Cheong decided to sacrifice her life for 300 sacks of rice so that her father may receive sight. But she was saved by the King of the Sea. Later she was married to the King and was united with her father and lived a happy life ever after.
Theme
It is a common belief that the theme of 「Jeon Simcheong」 is filial piety. And, focusing on Shim Cheong's self-sacrifice, 'the pursuit of impermanent happiness through sacrificial filial piety' or 'the rise of the daughter's substitutionary self-sacrifice to restore the father's physical disability' have been said and suggested.

3)The Story of Princess Huh
This is the legendary tale of Princess Sriratna from Ayodhya, who travelled to Korea and married Kim Suro, the King of Gaya Kingdom and created one of the biggest clans in Korea. This story goes back in time to the 48 AD, as it is said that Princess Sriratna married King Kim Suro at the age of 16. The play portrays how the King mentioned that his wife will be chosen by the Heavens and how he dreams of marrying Princess Sriratna in spite of never having met her. The story shows the ultimate union of Princess Sriratna and King Kim Suro after battling through various obstacles and their subsequent beautiful marriage.
Brief about Theatre I Entertainment
Theatre I Entertainment Trust is a Delhi based professional, nonprofit making Theatre
organization. In last 16 years or its existence Trust has produced in numerous projects of
performance and otherwise for Young audiences. The Trust has also collaborated with
theatre companies from South Korea and Italy. Storytelling is their main focus for children
and they have performed more than 50 stories in different genres across the world.
Improve your skill with EasyShiksha