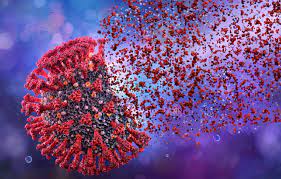 Using Nitric Oxide as a therapeutic measure can be a successful, rapid, and affordable game-changer in the fight against the pandemic
KOCHI / January 04, 2022: In a study involving doctors from the Amrita Hospital, Kochi, and scientists from the School of Biotechnology at Amrita Vishwa Vidyapeetham, a novel intervention for Covid-19 has been explored with the well-known gas Nitric Oxide (NO). This gas has for many years been used worldwide for the treatment of medical conditions like the Blue Baby Syndrome and for treatment of heart or lung transplant patients. The study conducted by the Amrita scientists has found that inhaled Nitric Oxide (iNO) is virucidal and kills SARS-COV-2 virus, apart from preventing its effective attachment to human host cells.
In the feasibility trial conducted at Amrita Hospital, Covid-19 patients who received the iNO therapy recovered faster with lesser complications and zero mortality rates compared to patients who received the standard Covid-19 treatment without iNO.

Speaking on the idea behind conducting trials with this novel treatment, Prof. Bipin Nair, Dean, Life Sciences at Amrita School of Biotechnology, said: "our interest in looking at Nitric Oxide as a treatment option for Covid-19 stemmed from an early study conducted by a Swedish group which had suggested that the gas can prove effective in curbing the SARS-COV-2 virus, as it induces biochemical changes which directly affect the spike protein of the virus. This protein is the main culprit in interacting with our body's receptors and immune system and creating havoc."
The team of experts at Amrita Hospital headed by Dr. Aveek Jayant, Dr. Dipu T.S and Dr. Merlin Moni, decided to conduct this trial on a small group of Covid patients admitted at Amrita Hospital. Out of the 25 patients selected for the study, 14 were given iNO along with standard treatment for Covid-19, while 11 patients were in the Control standard treatment group. The patients treated with iNO showed a significant drop in their viral load. According to these doctors at the Amrita Hospital.
This approach to repurpose Nitric Oxide has the potential to be an effective preventative, especially in light of the highly infectious nature of the Omicron variant prevalent today.
Said Dr. Geetha Kumar of the Amrita School of Biotechnology, "as the global search for an effective remedy against Covid continues, this strategy to use Nitric Oxide as a therapeutic measure has the scope to be a successful, rapid and affordable gamechanger in the fight against the pandemic. It is conceivable that healthcare workers, who are constantly exposed to the coronavirus, could also use this as a prophylactic while treating infected patients."
The study by Amrita Hospital successfully demonstrates the putative role of repurposed inhaled Nitric Oxide in hypoxemic Covid-19 patients. The expert panel associated with the study now calls for an extended validation to take this treatment process to the next level.
Important Announcement – EasyShiksha has now started Online Internship Program "Ab India Sikhega Ghar Se"
The expert panel of doctors from Amrita Hospital and scientists from the Amrita School of Biotechnology, Amrita Vishwa Vidyapeetham, associated with the study included Dr. Aveek Jayant, Head, Dept. of Cardiac Anaesthesiology; Dr. Merlin Mony, and Dr. Dipu TS, Dept. of Infectious Diseases; Dr. Veena Menon, Dept. of Virology, Dr. Geetha Kumar and Dr. Indulekha Pillai and Dr. Bipin Nair, from the Amrita School of Biotechnology; and Dr. Georg Gutjahr, from the varsity's Centre for Research in Analytics & Technologies for Education. Dr. Victor Nizet, Professor & Vice Chair for Basic Research at The University of California, San Diego, USA was also closely associated with the study.
About Amrita Hospital
Amrita Institute of Medical Sciences (Amrita Hospital), based in Kochi, is one of the premier hospitals in South Asia. Founded in 1998 by Mata Amritanandamayi Devi (known worldwide as AMMA), it offers a full range of primary and specialty care medical services. AMMA's vision of providing advanced medical care to the poor and disadvantaged was the inspiration for Amrita Hospital, which today is a 1100-bed (490 units) tertiary referral and teaching hospital, serving more than 10 lakh outpatients and more than 70,000 inpatients annually.
The massive healthcare infrastructure with over 3.33 million sq.ft. of built-up area, spread over 125 acres of land, supports a daily patient volume of approximately 3500 outpatients with 95 percent inpatient occupancy. There are 12 super specialty departments, 45 other departments, 4500 support staff and 670 faculty members. The hospital's extensive infrastructure offers facilities comprising 28 modern operating theatres, 275 equipped intensive-care beds, a fully computerized and networked Hospital Information System (HIS), a fully digital radiology department, 17 NABL accredited clinical laboratories and 24/7 telemedicine service.
In 2015, South Asia's first ever Bilateral Hand Transplant Surgery was done at Amrita Hospital. The same year, Amrita Hospital won the British Medical Journal Award for the Best Surgical Team in South Asia. The Amrita team won the award for its two successful double hand transplants, the first and the second bilateral hand transplants in this region.
Top Software Engineering Courses
About Amrita School of Biotechnology
The Amrita School of Biotechnology has been a trailblazer in the Biotechnology arena, ever since its inception in 2004. With well-established UG, PG and Ph.D programs in Biotechnology, Microbiology and Bioinformatics along with well-established research initiatives supported by state-of-the art infrastructure and highly experienced faculty, the School is continuously working towards innovative translational research objectives with significant societal impact.
ALSO READ: Aakash Educational Services Launches Crash Courses and Test Series
Want to improve your skill visit: EasyShiksha