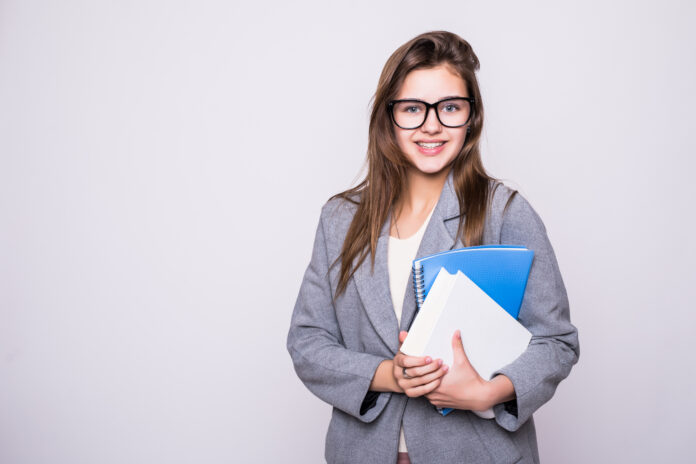 According to GVI, just two years ago, two-thirds of all illiterate people were women and more than 65% of people living in the most extreme poverty globally were women and girls. Per a report on a nationwide study conducted by the National Statistical Office (NSO), India's countrywide female literacy rate is 70.3% while the male literacy rate is estimated at 84.7%. Female labor participation rate in India fell to 16.1% during the pandemic.
Women Empowerment is crucial to address this great disparity. Education can be the great equalizer, as it enables women to respond to day-to-day challenges more effectively, defy gender roles traditionally ascribed to them and therefore, change their lives.
Uplifting through Education
At Embassy, we believe that education plays a powerful role in providing women with the knowledge and skills they require to excel in their lives.
Our vision is to empower students at Government Schools with skills for self-development and future employability through holistic and innovative learning programs. This aligns with our belief that empowering women is key to our nation moving forward; no nation can have a strong economy without the active participation of women.

A continuing issue we face in our country is the lack of importance given towards educating the girl child. It is almost instinctively assumed that young girls do not need to be educated beyond primary school and will follow the dictum of domestic labor or get married. According to the National Domestic Workers' Movement, nearly 90% of domestic workers in India are women or girls, ranging from ages 12 to 75 and it is estimated that 25% among them are below the age of 14. Most tasks such as cooking, washing, and cleaning are traditionally seen as women's work and considered subservient in nature.
Additionally, a lower socioeconomic background comes with several mental restrictions when it comes to aspirations – either the youth are prevented from dreaming big because they don't have the means to achieve their goals, or they have no idea of the variety of career paths that are available to them.
Our alumni program, Colours of Life Academy (COLA), was founded in 2012 with the support from our NGO partner, Colours of Life. This program is meant for students and particularly girls, who have graduated, or left Embassy adopted government schools, but would like assistance in terms of fees for higher studies, extra tuition, mentorship, and career guidance. Programs such as this enable young girls who do not have the capacity to fulfill their education because of economic or social issues to achieve their aspirations through constant and sustained support. They also offer hands-on experiences, like visits to Embassy and other partner offices in our business parks to give them an idea of the plethora of job roles that they can consider striving towards.
Important Announcement – EasyShiksha has now started Online Internship Program "Ab India Sikhega Ghar Se"
Recent studies show that over 50% school-going adolescents have behavioral and emotional problems. As a result, absenteeism is always on the rise, there is a lack of discipline and hygiene, and drastic drops in academic performance. To combat these issues and especially to develop confidence amongst girl students, Embassy and our partners, LXL ideas and Colours of Life, came together to create a Life Skills program for government school students. The course includes components in areas including leadership, public awareness, and talent development; creating opportunities for students to discover and showcase talents, solve educational and personal problems and observe positive changes in their behavior.
The program helps students foster a culture of caring, social, and emotional learning, motivation, and mental and emotional well-being, all of which goes a long way in facilitating personal growth – a necessity to climb the metaphorical ladder in any career. 92% of our Government School Principals noticed a positive behavioral change in students after the introduction of the life-skills program, followed by 69% Principals feeling that the counselling centres had an influential impact on their students.
Skilling
Like our COLA program, we partnered with Technique Control Facility Management (TCFM) and Mentric Solutions to curate a Facility Management skilling program for Government School students. The program aims at enhancing employment opportunities and arming our alumni with the skills and knowledge to join the workforce. Upon completion of a four-month training course out of a state-of-the-art practical training center customized by TCFM, the upskilled students were awarded with well-paying jobs in Embassy Group and its partner organizations.
Enabling young girls to find good job opportunities and thus making them monetarily stable gives them certain freedoms that they are far less likely to have otherwise.
Health and Infrastructure
The gender ratio in our country has always been skewed, the polarity leaning more towards males than females. In our patriarchal society, the females have been less likely to have opportunities to study compared to their male counterparts. The ones that are enrolled in school often do not go on to pursue their education for several reasons.
The shortage of safe and sanitary bathroom and washing facilities is one of the leading factors preventing girls from attending school. To combat this issue, Embassy provides sustainable infrastructure facilities with the help of our corporate partners. This includes bathrooms and handwash stations with the provision of clean water and soap. Our engagement goes beyond the building of these resources, and onto continual maintenance of 19 Government Schools.
A research documentary filmed in 2019 threw light on school drop-out rates in India. Every year around 23% of girls drop out of school after they begin menstruating, due to lack of sanitary napkins and overall hygiene awareness. Lack of reproductive education leaves 71 percent of girls unaware of what takes place in their bodies during menstruation.
As part of our health initiatives, Embassy regularly provides health kits to government school students. These kits contain health and oral hygiene products. In September of this year, 23,460 sanitary napkin packets were distributed with the health kits in our government schools in Bangalore.

Pandemic causalities
The Covid-19 pandemic had life-altering effects worldwide, but the hardest hit were people living on the lowest rung of the socio-economic ladder. As schools started to shut following quarantine and lockdown protocols, the reliance on ed-tech increased exponentially and online classes became the new normal. This is a huge problem for government school students, mainly because they lack the resources.
The families of those who attend government schools often only have one multimedia device, which is less likely to be given to girl students to use for online classes, especially so if they have school-going brothers. In the North district of Bangalore, headmasters and headmistresses of government schools report that it is difficult to carry out online lessons in this regard.
Top Software Engineering Courses
Additionally, a lot of the families of the students in Bangalore have moved back to their villages where they are hard to reach, thus acting as a blocker between the teachers and the students. In collaboration with our NGO partner, Colours of Life, Embassy was able to assist our government schools through a digital engagement platform called Sputnik.
The project aimed to supplement the Department of Education's own online learning channels by delivering engaging academic activities to students utilizing simple technology platforms. This initiative ensured that there was some degree of syllabus continuity during the pandemic and reached 3,533 students.
Our NGO partner, Room to Read, collaborates with local governments, schools, communities and families to support girls to reach their full potential. We support them with their Literacy Program libraries in Karnataka and Maharashtra.
The program offers strategies to support distance learning that proved successful at the outset, such as creating and sharing hard copy learning materials, providing literacy content through different modes such as radio and TV, sharing our curriculum and Literacy Cloud with teachers, schools, and entire governments, and providing individual remote and in-person mentoring and read-alouds to a myriad of students.
Room to Read also runs a Girls' Education program through the Literacy Program libraries project wherein digital content is created for adolescent girls, parents, teachers and wardens with an objective to provide thought-provoking content for learning, including newsletters in Hindi, Telugu and Marathi, worksheets, and podcasts.
These components are curated to help girls develop a broader perspective on a wide range of topics from science to superwomen, and practice and reflect on life skills on their own.
ALSO READ: Scholarship Programs offered by Careerera for those who lost their parents
Want to improve your skill visit: EasyShiksha