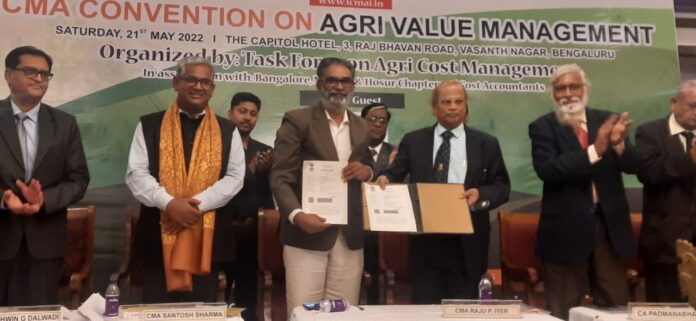 The partnership aims at research and academic activities on Strategy, Finance, Accounting and Management
Mumbai, 25 May 2022: JAIN (Deemed-to-be-University) and the Institute of Cost Accountants of India (ICAI-CMA) have entered into a Memorandum of Understanding (MoU) for various research and academic activities during the ICAI (CMA) Karnataka State Level Convention on Agri Value Management held on 21st May, 2022 at Bengaluru. The MoU enables the members of ICAI (CMA) to enrol for Ph.D program at JAIN (Deemed-to-be-University).
Dr Raj Singh, Vice-Chancellor, JAIN (Deemed-to-be-University) said, "We firmly believe this collaboration will open up new horizons of research, projects, internships and consultancy and will further strengthen the relationship between the two great institutions in the years to come."
Speaking about the MoU, Dr. K. Sreekumar, Professor, Department of Commerce of JAIN (Deemed-to-be-University), said, "Inclusion and excellence are the main mottos of the NEP 2020, JAIN (Deemed-to-be-University) is one of the first Universities to implement these in our curriculum. Through this MoU we expect the members of ICAI (CMA) to benefit from increased expertise, knowledge and skills available through multidisciplinary and transdisciplinary integrations of the curriculum." He further adds, "We are glad to offer these facilities to the CMA fraternity and create a holistic platform for them to achieve great success in their educational aspirations."
ALSO READ: How technology is enabling Indian students to choose suitable career paths at an early stage
This session of the Karnataka State level convention of the Institute of Cost Accountants of India was based on the Agri Value Management. The programs predominantly conferred about the various aspects of entrepreneurship in agri-horticulture sector, scopes regarding further research on the topic and various other matters related to 'Enriching the Farmers'.
The event included 8 technical sessions by distinguished academics from renowned universities across India and agricultural experts from the government departments. "Blockchain Platform for Agriculture", "Agri Start-up the way Forward", "Horticulture and Value Addition for Increasing the Income of Farmers" and many more were the part of the intense discussion during the event.
About JAIN (Deemed-to-be University)
Promoted by JAIN Group, The University is classified as one of the Category-I Institutions by the University Grants Commission (UGC) for its 3 decades of contribution in the field of education. The University is recognized among the top universities in India and considered a preferred learner-centric destination for students from different countries across the globe. Known for its emphasis on education, entrepreneurship, research, and sports, JAIN (Deemed-to-be University) has some of the best minds in the educational and research fields and centers that inspire entrepreneurship and innovative thinking.
Visit EasyShiksha for Education related enquiry