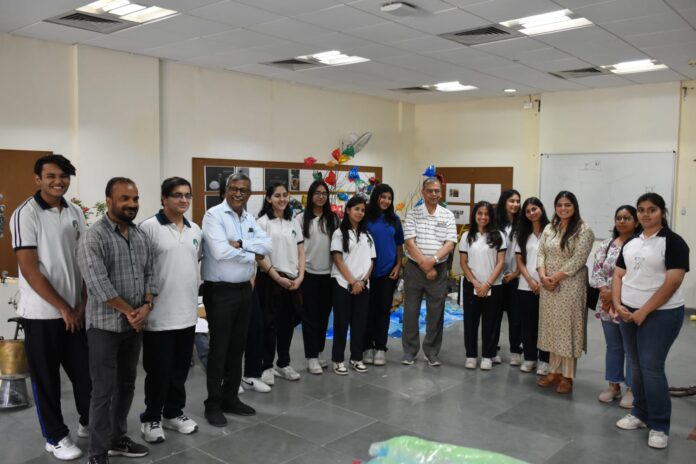 Jaipur, 22nd April 2023: The colorful 'Jaipur Design Week 2023 a yearly engagement at leading higher education institute JK Lakshmipat University, came to an end after celebrating the spirit of creativity and innovation in design. The six-day event was organized at the university campus from April 17 to April 22, when various workshops, panel discussions and film screenings of students' work were showcased.
Speaking at the event, Dr. Dheeraj Sanghi, Vice Chancellor, JKLU said, "We are glad to have conducted another edition of a successful Design Week that brings to us the best of the design world. The festival is a celebration of design and creativity, aimed at creating a constituency of Design in India. It features a variety of activities that promises to showcase the latest trends and innovations in the design world. This year, we have launched 'Emerging Designer of the Year' and we are sure it will inspire our design students to achieve their true potential".
ALSO READ: Bee-lieve it! Students of EKYA School introduced to the new Bee Hotel Initiative to promote sustainability
The festival featured a variety of activities showcasing the emerging trends and innovations in the design world. Several events and activities including Open Studios, Designathon, Thoughtspot, Workshops, Panel Discussions, Exhibit D, Design Haat, and a Pantone Party made the festival a gala affair.
The Open Studio was a four-day workshop open to everyone, where attendees were able to learn directly from industry and academic experts. This year's Designathon was carefully curated for school students and undergraduate design students to engage with hands-on design exercises and solve complex human problems. A fun-activity afternoon was organized for school children on Friday with Gaurav Juyal, the erstwhile anchor for Disney's Art Attack. An Atal Incubation Centre session, Design Week's "ThoughtSpot" was a platform to inspire students and educate them about emerging domains of Design.  Leading designers who talked about the domains of Service Design, Healthcare Design, Brand Design, and innovation in entrepreneurship included Anthony Lopez of Lopez Design, a brand design firm, Manan Pahwa, a Service Design Specialist, Neeraj Kumar, a Bio Design fellow from Stanford University, and Nidhi Kachwaha, CEO of Atal Incubation Centre at JKLU.

The forum discussion on 'Jaipur beyond Crafts' featured design experts, entrepreneurs, and filmmakers from Jaipur discussing their work and innovation in design domains beyond traditional craft design. Schools from around the country also participated in competitions on designing installations on sustainability, graffiti on crafts, logo design and animation with Gaurav Juyal. Participants enjoyed working on design workshops with diverse courses such as Design Management, Healthcare Innovation, and Sustainable Dyeing, taught by industry and academic experts at the JKLU Campus, Jaipur.
The grand finale of Jaipur Design Week, with was celebrated by the university along with the Association of Designers of India, was held on April 22, witnessed a series of talks by famous designers and culminated with the 'Emerging Designer of the Year', award. Emerging Designer of the Year, a prestigious award by the Institute of Design at JKLU, is presented to a young design professional doing extraordinary work in the field of design. It was conferred upon U R Siddharth, a recent graduate of NID (National Institute of Design) Haryana and a Designer at Philips Innovation. Siddharth has won a record 85 international awards for his work from RED DOT, IF Germany and DNA Paris. On the occasion, he shared his learnings to inspire the next generation of designers.
 "Jaipur Design Week is an annual event and it will continue to engage, explore and experience design in all its forms. Our students deserve to be congratulated for their performance and participation!," said Prof A Balasubramaniam, Director- Institute of Design, JKLU.
This year Educate yourself and develop your career with EasyShiksha.