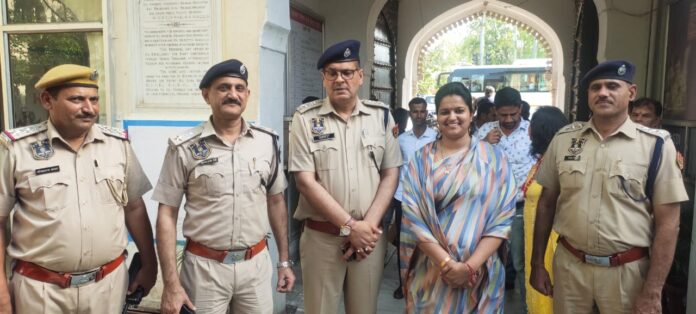 • Distributes 100 ISI marked Helmets to the two-wheelers for their road safety
• Neeru Yadav takes the responsibility of distributing helmets for the purpose of road safety every year on her birthday
Jaipur | May 08, 2023:  Jaipur Traffic Police, in collaboration with Aditri Foundation successfully organized a road safety campaign in the city of Jaipur, spreading the crucial message of 'Helmet is not a Burden, but Savior' The campaign aimed to create awareness and promote responsible driving habits among two-wheeler riders, with a special focus on compulsory helmet usage. As part of this initiative, the organizers also distributed 100 helmets to the passerby two-wheeler riders in the city.
ALSO READ: Not a "CALM DOWN" moment for Zahrah S Khan as the versatile singer opens the performance act for Rema's India Tour
The road safety campaign, held today, witnessed a tremendous response from the citizens of Jaipur. The event took place at Yaadgar, Ajmeri Gate, the Jaipur Traffic Police Headquarters, where Mr. Prahlad Singh Krishnaia, Deputy Commissioner of Traffic Police and the Neeru Yadav, popularly known as Hockey Wali Sarpanch, along with other distinguished guests, emphasized the significance of road safety and the role it plays in protecting lives.
Speaking at the event, Mr. Prahlad Singh Krishnaia, Deputy Commissioner of Jaipur Traffic Police, expressed his gratitude towards Neeru Yadav and highlighted the importance of collaborations in spreading awareness about road safety. He stated, "We are delighted to have Neeru Yadav, a prominent figure and an inspiration to many, join us in this endeavor. Through partnerships like these, we can make a real difference in the community and foster a safer environment for all road users."
Neeru Yadav, who has made significant contributions to women's empowerment and sports development, emphasized the need for individual responsibility while driving. She said, "Road safety is a shared responsibility, and it starts with each one of us. By wearing helmets and following traffic rules, we not only protect ourselves but also safeguard the well-being of our families. Let us all pledge to prioritize road safety and make Jaipur a model city for responsible driving."
During the campaign, 100 high-quality ISI marked helmets were distributed to two-wheeler riders. The selection process ensured that the helmets were given to individuals who were in dire need of proper protective gear. Each helmet was accompanied by a leaflet outlining essential road safety guidelines, reinforcing the message of responsible driving.
The collaboration between Jaipur Traffic Police and Neeru Yadav has brought together the expertise of traffic management and the influence of a respected community leader to address the pressing issue of road safety in Jaipur. By providing helmets to two-wheeler drivers, the campaign aims to encourage the adoption of safety measures and reduce the number of accidents and fatalities on the city's roads.

The success of this campaign underscores the commitment of Jaipur Traffic Police and Neeru Yadav towards creating a safer and more responsible driving culture in the city. They extend their sincere appreciation to all the participants, sponsors, and volunteers who contributed to the campaign's success.
About Neeru Yadav:
Neeru Yadav, popularly known as Hockey Wali Sarpanch, is a dynamic and inspiring figure who has made a significant impact in the fields of sports and community development. With her passion for hockey and unwavering commitment to social change, Neeru Yadav has emerged as a role model for aspiring athletes and community leaders. Through her exceptional achievements in the sporting arena and her initiatives as a Sarpanch, she has demonstrated the transformative power of sports and the importance of using one's influence to uplift and empower others. Neeru Yadav's dedication and determination continue to inspire individuals across the country to pursue their dreams and make a positive difference in their communities.
This year educate yourself and develop your career with EasyShiksha