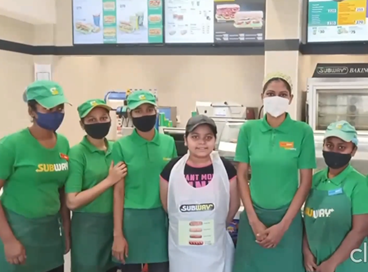 The program—held amongst the students of Grades I-IV—encompassed fun activities to help students learn about Indian, European, Asian and American breads alongside their culture
Mumbai, 7th February 2022: One of the most eminent ICSE schools in Mumbai, the Jasudben ML School in Khar, organized its first-ever 'Life of Bread' online activity to teach students from grades I to IV about different types of breads in India and the world over in a fun, creative way. Due to the ongoing pandemic, the activity was conducted on the Zoom platform on January 28, 2022.
The unique 'Life of Bread' activity aimed to acquaint students of the primary section on a deeper level with breads from around the world—India, America, Europe and Asia—by integrating activities related to them with subjects learnt in the classroom like Maths, English, Art, Science, Gujarati, amongst others. Moreover, along with creating awareness about breads in other countries, the activity also aimed to familiarise the students with the culture, people and food habits around the world—which is a conscious effort on JML School's part to prepare its children to be global citizens. Through several creatively organized programs, students of Grade I were taught about a variety of Indian breads found across the length and breadth of the country that included Chapatti, Puri, Roti, Thepla, Puran Poli, Appam, Dosa, Baati, Cheela, Kachori, Naan, Khakra, Bhakri, Sanna, Dhebra, Sheermal, Litti and many other types. While the Map Marking in EVS enriched their geographical knowledge as they picked a bread of their choice and spoke about its place of origin, the reason for its consumption in that area and its nutritional value, creating collages in Art using different types of Indian breads and toppings like sauces, fruits or vegetables helped them explore their creative sides.

Furthermore, the students of Grade II (divisions A, B and C) collectively discovered Breads of Europe—England's Cottage Loaf Bread, France's Baguettes, Pretzels from Germany and the Focaccia from Italy—through various fun activities. Grade II A created posters on the breads available in England and France, whereas Grade II B calculated the cost of Pretzels in Germany using the correct currency as well as in Indian rupees alongside playing a guessing game on Patterns & Symmetry. Meanwhile, Grade II C conducted a trivia quiz on the Italian Focaccia and the French Baguette.
The Grade III children delved into Asian breads like Roti, Pita Bread, Shokupan and Hoppers through 'Zumb-read' in PE – where they performed Zumba, acrobatic moves and yogasanas good for digesting the breads. Apart from that, the menu-greeting activity in Social Studies saw them dressed according to the country whose bread they represented, greeting in the language spoken there and stating a menu full of dishes that can be savoured with that particular bread.
The Grade IV students—on the other hand—dressed as famous American personalities like Abraham Lincoln, Oprah Winfrey and Walt Disney to introduce the different types of American breads. Additionally, they created rhymes, poems, slogans or jingles on bread in Hindi, Marathi and Gujarati as part of their 2nd language activity as well as talked about bread fast food chains such as Subway, McDonald's and Dominoes in English.
Important Announcement – EasyShiksha has now started Online Internship Program "Ab India Sikhega Ghar Se"
Ms Neha Srivastava – Head of Primary Section – JML School, said, "Through our Life of Bread programme, we endeavoured to bring a fun twist to each subject that the students learn in the classroom with interesting well-rounded activities related to bread—an everyday staple food. Moreover, to ensure maximum participation from everyone—a student was selected for only one out of the multiple activities."
Mrs Damayanti Bhattacharya – the Principal of JML School, mentioned, "At JML, we always strive to focus on children's overall growth and development and broaden their horizons beyond the classroom syllabus. The Life of Bread activity aimed to achieve the same by not only helping students discover the origin stories of breads, their nutrition value and how various kinds of breads are eaten differently in different countries but also by encouraging them to explore diverse global cultures."
Top Software Engineering Courses
JML School's innovative pedagogical approach intends to break traditional boundaries in teaching and spark young minds to inculcate skills, values and lessons beyond textbooks to experience an all-round, wholesome growth.
About Jasudben ML School:
Jasudben ML School (JML) is a premier ICSE school in Khar, Mumbai. Their vision is to ignite and nurture the spirit of inquiry in young learners and to inculcate amongst its students, a relevant value system. They are a community based on trust, mutual respect, and compassion. With an aim for the students to leave the school with a commitment to service to others and to environmental stewardship, and with a greater understanding of themselves and of their responsibilities in a global society.
ALSO READ: Hathway elevates Customer Experience and Scales Support using Haptik
Want to improve your skill visit: EasyShiksha