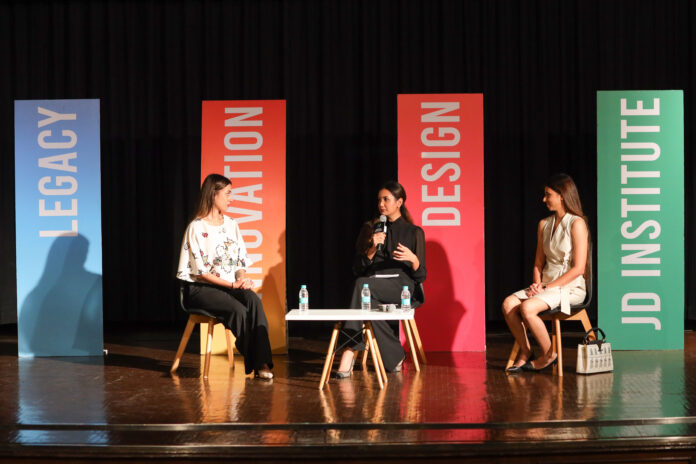 New Delhi, Sept 2022: In a bid to make their journey hitch-free, entrench shared knowledge and understanding, and suitably initiate students into the fashion and creative industry, the JD Institute of Fashion Technology held Orientation Day amidst idea exchange, sensitization and funfair. The event, which was held at the prestigious India Islamic Cultural Centre, in Delhi, was replete with engaging discussions and panel discussions centered on design opportunities and development.
The day began with a welcome address by the Campus Manager before the lamp lighting ceremony was performed to kick-start proceedings. The Campus Manager of the JD Institute of Fashion Technology was on hand to give an overview of the institute and how the next few years of students' lives will be.
Mrs. Rupal Dalal, the Managing Director of JD Institute of Fashion Technology welcomed the students and explained to the students about the institute's commitment to building capacity among young people and provide them with the skills and exposure they need to navigate life. She said, "The Orientation Day has become a tradition for us, not just for the sake of jamboree, but because it has been a useful tool to imbibe important knowledge and institutional ethos in our students. We had a lot of industry leaders on hand and the discussions were very rich and engaging, where issues of curriculum, Fashion courses, industry practices and exposure, and how the student can make the best of the programme were extensively deliberated. We want to give students access to resources, people, and information that will help them find success and thrive academically, socially and personally throughout their college career".
ALSO READ : How to Start a Small Design Business from Scratch
The leadership team of JD Institute of Fashion Technology- Rupal Dalal, Harsh Dalal and Akshra Dalalwere on hand to provide the needed guidance as the event culminated in brainstorming sessions among industry professionals, including alumni panel discussions which featured Shivani Bagadia, a thoroughbred professional and entrepreneur and Navneet Kaur, an alumnus of the institute and currently the founder of Navneet Kaur Design firm. The alumni of the institute also talked about their journey and how the institute provided them a platform to hone their innate passion and lifetime interests. There was also an expose on the various societies students can be a part of including dance, music, art and poetry, and fashion among others.
The students were also briefed about the exposure they will be provided at the institute, including the fashion shows, placements, webinars, I Festival and Jediian Design Council. The institute which has been at the forefront of creative innovation in India since 1988 offers study programmes in basic and advanced diplomas in interior design, fashion design, communication design, and short courses in makeup artistry, garment manufacturing, pattern making technology, visual merchandising, jewellery design, apparel boutique management, and many more. The Orientation Day is an attempt to prepare students for the industry through knowledge sharing and capacity building.
About JD Institute of Fashion Technology  – An academic division of JD Image Promotions Ltd, JD Institute has been a pioneer in the field of 'Art and Design Education' in India. Established in 1988, the institution was founded by Mr. Chandrakant Dalal (Former President) and Mr. R.C. Dalal (Former Executive Director & co-Founder of Indian Film Festival). As an Institution, JD prides itself in providing the most innovative and advanced courses in Fashion, Interior Design, Jewellery Design, Fashion Communication, Visual Merchandising, Make-Up Artistry taught by industry experts in an extremely imaginative, experimental and supportive environment.
Visit EasyShiksha for skill development courses.