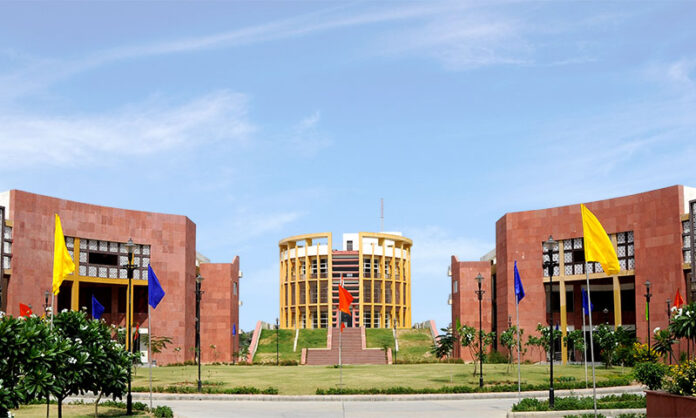 Jaipur, 13.02.2023: Leading higher education institute, JK Lakshmipat University has achieved 100% placement results in the academic year 2022-23, despite fears of a global recession. Proving its prominence once again, the university has achieved a new milestone, with recruiters across industry segments offering higher packages for coveted roles this year. Pertinent to mention here that the highest package offered was Rs 15.25 lakhs per annum in the B.Tech course.
JKLU students bagged these offers from on-campus selection processes. The top recruiters were NTPC, Sandvine, JK Tyre, Bosch, India Mart, Asian Paints, Flipkart, Adani Wilmar, Puma, and KPMG, among others.
"As we know, the world is battling fears of a global recession. Even in times of such uncertainty, our institute has once again proved its quality education standards by achieving 100 percent placements. With such lucrative opportunities offered to the students, we have a great reason for celebration. We have had newer and bigger names hiring our students this year and the average salary offered is almost double the industry average," said Mr. Shounak Biswas, Asst. Director Development, JK Lakshmipat University.
The highest salary was Rs 15.25 lakhs per annum (LPA) and the average salary was Rs 7.07 LPA for B.Tech students. The corresponding figures for MBA were Rs 8.46 and 7.39 LPA, for BBA, Rs 8.00 and Rs 5.33 LPA, and for MTech, Rs 15.00 and Rs 6.17 LPA respectively.
Prof Dheeraj Sanghi, Vice Chancellor, JK Lakshmipat University also applauded the students for proving their mettle and coming out with flying colors. "We always try to give the best result every year, while improving on our last performance or result. 100% placement is a dream for many varsities, but we have achieved it this time. This will attract more students to come and join our excellent courses and learn from our brilliant faculty. I am thankful to all companies who came on the campus to search for fresh talent and am glad that we didn't disappoint them," he said.
Also Read: Orchids The International School appreciated by the Governor of Karnataka at Diksuchi program
This year Educate yourself and develop your careers with EasyShiksha