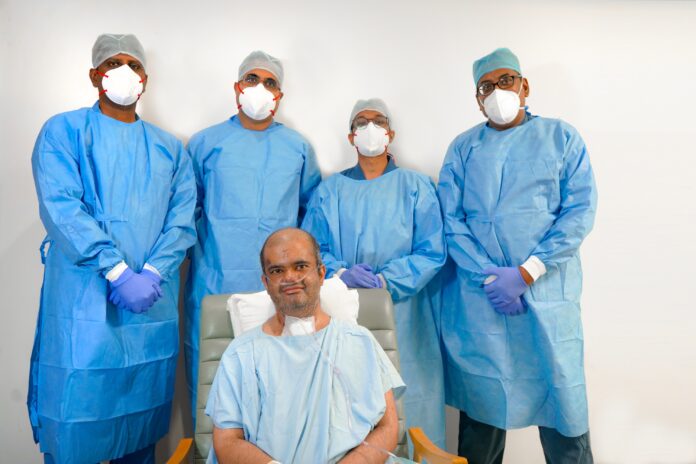 Unaware of having caught the infection, Dr. Sanath started having fever and cough. He was anxious about this and underwent a Covid-19 test which turned out to be positive. Immediately, he started on medications but his condition worsened over the time. One day he felt a sudden pain in his chest and developed resistant hypoxia. Due to this, his oxygen level decreased significantly to 60% and he was put on a mechanical ventilator for oxygen support. He was then referred to Aster CMI Hospital. Upon arrival, his condition was evaluated, and he was put on ECMO support. He was kept on observation for three-four weeks for any signs of improvement in his lungs. Since his lungs were severely damaged, he needed a double lung transplant for survival.
Bangalore, September 16, 2021: Doctors at Aster CMI Hospital have successfully carried out first ever post covid double lung transplant on a covid warrior, who is also a medical professional. Dr. Sanath Kumar, 30-yr-old Anesthetic from a private hospital in Bangalore had been working tirelessly treating critically ill covid-19 patients in the ICU since the pandemic started. Unfortunately, in the course of his work, he contracted coronavirus during the second wave which eventually caused lung damage, requiring urgent transplantation.

Important Announcement – EasyShiksha has now started Online Internship Program "Ab India Sikhega Ghar Se"

A team of Critical-care Consultants, Pulmonologists, and Lung Transplant Surgeons at Aster CMI Hospital, Bangalore consisting of Dr. Sandeep Attawar, Dr. V Arun, Dr. Srivatsa Lokeshwaran, Dr. Sunil Kumar K and Dr. Prakash Doraiswamy treated Dr. Sanath Kumar for three and half months, performed double lung transplant and gave him a new lease of life.
Explaining the challenges and complexities involved, Dr. Sandeep Attawar, Chair & Director of Thoracic organ transplants and Assist devices at KIMS Heart & Lung Transplant Institute, said, "A double lung transplant is a grueling surgery and was the only solution for Dr. Sanath, who experienced a life-threatening combination of lung damage caused by the covid-19 virus, an exaggerated immune response to it, and the body's failure to properly repair the injury. Eventually, in the self-repair phase the deposition of yellow fibrotic scar tissue creates a liver-like densification that makes the lungs completely solid. This process of misdirected and inappropriate self-repair, irreversibly destroys the tiny alveolar air sacs through which gas exchange happens. Patients only survive to the fibrotic stage if they are intubated and at times transitioned to ECMO support. This harmful scarring can occur within a couple of weeks of viral pneumonia. What makes this surgery uniquely complex is the subset of patients that are forced to accept this option. They are intubated, deconditioned, nutritionally inadequate and suffer from airway and blood stream infections during their prolonged hospitalization. Treating these critically ill patients successfully with a double lung transplant, underlines the overall abilities of a high-quality transplant program."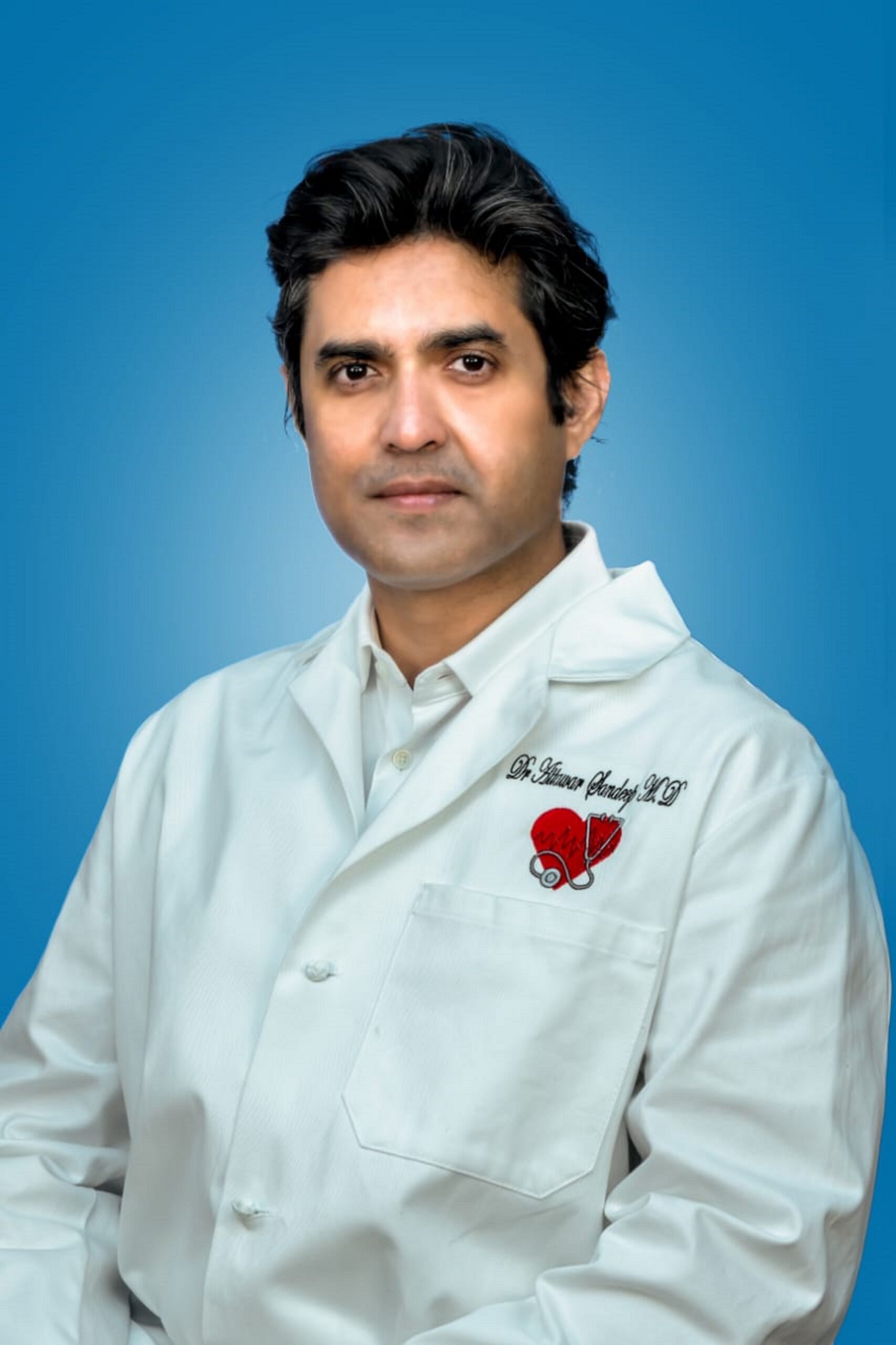 Dr. V Arun, Lead Consultant – Anaesthesia & Critical Care, Aster CMI Hospital, said, "Dr. Sanath's case was both emotionally and clinically challenging. Being from the same fraternity working with COVID patients it was difficult to see a colleague whose lung damage had progressed so far. When he was referred to Aster CMI, he was intubated and was on 100% oxygen support but barely having enough oxygen in his bloodstream to survive. Within half an hour of his arrival we initiated ECMO support to help him oxygenate the rest of his body. Despite keeping him on ECMO and resting the lungs they continued to deteriorate. Long term ECMO with a bleak outlook was a difficult period for him and his family. A transplant was the last option. Luckily he remained stable over the next few weeks while we waited for a suitable donor match for him. We were able to find a suitable match after 4 weeks and he underwent lung transplant."
Dr. Sunil Kumar K, Lead and Sr Consultant – Interventional Pulmonology & Transplant Physician at Aster CMI Hospital, said, "The transplant was successful with the help of highly skilled doctors and surgeons backed by the high-end medical equipment and infrastructure at Aster CMI. Usually, post-transplant infections and rejections are the major roadblocks for the successful outcomes. Thus, it was very important to comprehensively address each and every challenge. Dr. Sanath's condition was closely monitored for a few weeks before we mobilized him out of the bed."
Top Software Engineering Courses
Dr. Srivatsa Lokeshwaran, Consultant – Interventional Pulmonology, & Transplant Physician at Aster CMI Hospital said, "Increasingly, we are seeing patients with chronic lung disease who have no other option for survival and lung transplant has been a second life for patient with chronic lung disease. While waiting for the perfect match and donor, we kept Dr. Sanath on ECMO support to keep him alive. Luckily, he received a good pair of lungs which matched him perfectly. He endured the procedure well and recovered shortly and was discharged from the hospital with no complications,"
Dr. Prakash Doraiswamy, Sr. Consultant – Anaesthesia & Critical Care, Aster CMI Hospital, said, "After a prolonged treatment of three-and-a-half months at the hospital, Dr. Sanath slowly pulled through. The recovery journey was not easy as the amazing outcome was only possible by the absolute dedication of our nursing, physiotherapy and multi-disciplinary team consisting of Anesthetists and Intensivists, Pulmonologists and Transplant Surgical team in bringing him back to his feet."
Thanking the doctors, Dr. Sanath Kumar said, "When I tested positive and started taking medicines, I thought I will recover soon. I had never imagined that I would suffer severely and end up having a lung transplant. I want to thank all the doctors, surgeons, nurses and other staff at Aster CMI for their support and giving me a second chance to live. I also want to extend my gratitude to my family who stood by me in this journey, without their help all of these would have not been possible."
Post the transplant, Dr. Sanath stepped out of the hospital. He is at home now with his family but still needs to stay indoors in a secure environment to minimize risk of catching infection again.
ABOUT ASTER DM HEALTHCARE
Aster DM Healthcare Limited is one of the largest private healthcare service providers operating in multiple GCC states and is an emerging healthcare player in India. With an inherent emphasis on clinical excellence, we are one of the few entities in the world with a strong presence across primary, secondary, tertiary, and quaternary healthcare through our hospitals, clinics, and pharmacies. We have over 20,000 plus dedicated employees across the geographies that we are present in, delivering a simple yet strong promise to our different stakeholders: "We'll treat you well." We reach out to all economic segments in the GCC states through our differentiated healthcare services across the "Aster", "Medcare" and "Access" brands.
ABOUT KIMS HEART & LUNG TRANSPLANT INSTITUTE
KIMS Heart Lung Transplant Institute is at the forefront in providing comprehensive and cutting-edge healthcare to patients needing Heart and Lung transplants. The Advanced Heart Failure and Thoracic Organ Transplant Center will help hundreds of patients get a second lease of life. A combination of an internationally acclaimed team of doctors mentored by Dr. Sandeep Attawar consists of a multidisciplinary team empowered by the state of the art infrastructure & medical instrumentation. This organizational framework enables us to deliver results in line with international benchmarks of transplant care, outcomes & patient satisfaction.
Empower your team. Lead the industry
Get a subscription to a library of online courses and digital learning tools for your organization with EasyShiksha
Request Now
ALSO READ: society-for-automotive-fitness-environment-safe-to-host-the
Get Course: UPSC-IAS-Course-to-Success