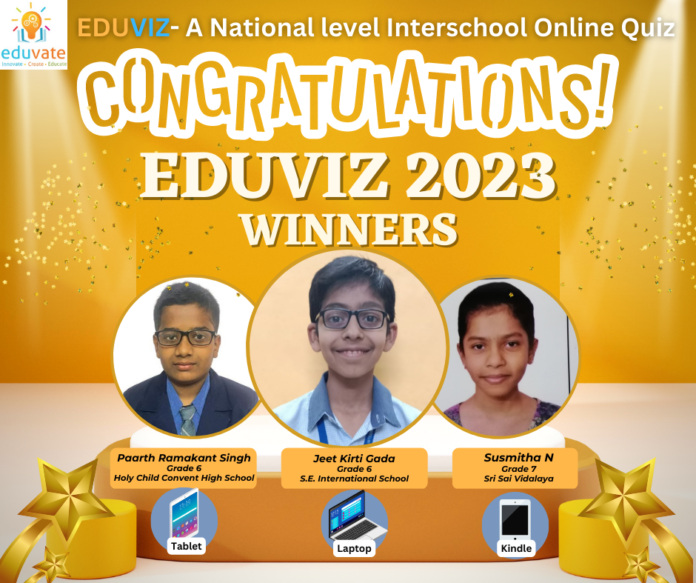 More than 4800 students, 176 schools from across the country participated in the competition
27.02.2023: Let's Eduvate, one of the leading tech startups providing education services, recently organized a nationwide quiz online competition called 'EDUVIZ' to provide encouragement to students for improving their general knowledge. The event received an overwhelming response as more than 176 Schools participated in this inter-school competition.
Participation for the competition was open for students in grades 6 -8. Students were tested for their grasp on topics such as General Knowledge and Current Affairs. With 3 stages of the competition conducted online, each stage saw tough competition from students across different schools. In the final round, 9 students were selected out of which 3 winners were announced.
Speaking about the quiz competition, Chaitra BM, National Marketing Head at Let's Eduvate said, "Eduvate has been providing a structured curriculum and academic support to several public and private schools across India. This includes schools in rural areas that don't get access to such facilities easily. Our goal in organizing the EDUVIZ competition was to provide a knowledge-sharing platform to students. The overwhelming response we received for the initiative is encouraging. The level of knowledge and intelligence shown by the students was even more motivational. We also look forward to holding more such competitions in the near future."
The winners included Jeet Gada from S.E. International School who won a laptop, Paarth Singh from Holy Child Convent High School stood 2nd and won a tablet and Susmitha N from Sri Sai Vidalaya received a Kindle for securing 3rd place in the competition.
Also Read: US-based Sage publishing picks up office space at Avanta's centre in Nehru Place
About Eduvate
Eduvate is a B2B arm of the K12 Techno Services Pvt. Ltd., one of the leading school
management solution providers in India. Eduvate provides an array of services that includes an
integrated Curriculum (In line with NEP Guidelines), individualised Learning Kits for students,
centralized ERP system, a platform for Online Classes, E-Books & Interactive Books,
Comprehensive Teachers Training, Lesson Plans & Teaching Resources, Ready Question
Bank with Assessment Support, Digital Classrooms – Smart TVs & TABs, Marketing &
Admission Support, Seamless Implementation Process to K12 schools across the country.
Eduvate started its operation in 2010 and its strong academic and non-academic solutions are
used by 300+ public and private schools and impacted the lives of 50000+ students so far.
Eduvate has also been instrumental in providing massive sustainable growth from 250 students
to 30,000+ students to Orchids-The International School, the leading K12 CBSE school chain in
India and (another subsidiary of K12 Techno Services Pvt. Ltd) in the last 7 years.
Apart from Orchids The International School, Eduvate has expanded its presence in 8 states across India in just a decade and has been furnishing digital and operational support to them.
Eduvate's core anthem is " Create, Educate, Innovate"
This year Educate yourself and develop your career with EasyShiksha