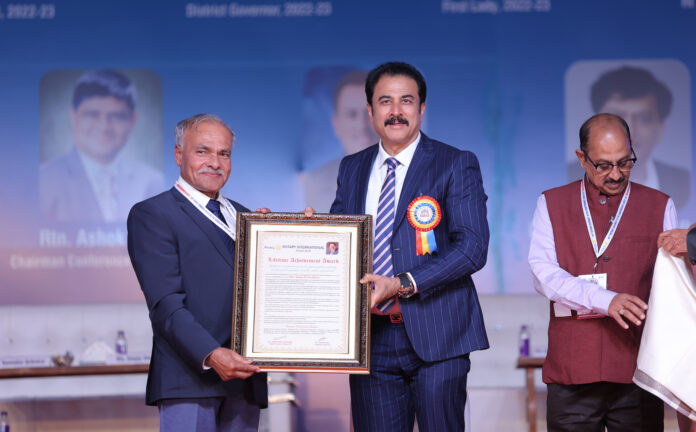 The Rotary International District 3170 has presented Mr. Sanjay Ghodawat with the 'Lifetime Achievement Award' at the Ashtabandhana event held recently. He received the award at the hands of Rotary District Governor Rtn. Venkatesh Deshpande on behalf of more than 6000 Rotarians from Karnataka, Maharashtra and Goa assembled at Belgavi during the 64th Rotary District Conference.
Sanjay is an Indian businessman, philanthropist, and entrepreneur. He formed Sanjay Ghodawat Group (SGG) in 1993 and quickly began diversifying SGG in several high-value industries like aviation, consumer products, education, energy, mining, real estate, retail, and textiles. He was recognised for this significant contribution in various spheres of life. More than 10,000 people work for SGG today, which is motivated by its goal of becoming "The Biggest, The Best, & The Most Valuable" Conglomerate.
Apart from the industrial sector, Sanjay in 2009 founded one of India's youngest universities, 'Sanjay Ghodawat University (SGU)' which, today, caters to more than 16,000 students. Within eight years of its inception, it was ranked amongst Asia's fastest emerging private educational institute as surveyed by WCRC and KPMG, India.
Under the guidance of philanthropist Mr Sanjay, the Sanjay Ghodawat Foundation (SGF), CSR wing of SGG, has provided social, educational and medical aid to those who most need it. The 'Acharya Shree Tulsi Blood Bank' under SGF management is rated amongst the top three blood banks in India due to its sheer quality of equipment, infrastructure and care. SGF runs a self-funded 'Kanya Mahavidyalaya' in Kolhapur and has educated more than 6000 girls from 52 villages since 1995. SGF time and again has helped multiple causes for the betterment of society.
Speaking about this momentous achievement Mr Sanjay says, "I feel grateful and honoured to have won this Lifetime Achievement Award. This award is a testament to the hard work and effort put in by the entire SGG team. This honour is one that I want to dedicate to everyone who helped me along the way, both personally and professionally. I think none of this work would have been successful without their support."
Sanjay is a Mechanical Engineer, a licensed and certified pilot of helicopters, fixed wings aircrafts, and gliders.
He has also been the recipient of many regional and national awards, including The Times Most Powerful Leaders 2022 by TOI, The Ideal Business Award of Maharashtra, Maharashtra State Vanashree Puraskar, Bhartiya Udyog Ratna Award, 50 Outstanding Educational Entrepreneurs of India, Jain Ratna Award, Samaj Bhushan Gaurav Award for his philanthropic services to society and notable work in Education and Business sectors, Game Changers of Maharashtra  Award by Economic Times and Masters of Wisdom by Femina amongst many others. Recently, he was honoured with the Globoil Philanthropist of the Year and Ahimsa International awards.
Also Read: Faridabad's First Literature Fest – Kukdukoo LIT Fest Hosted at Manav Rachna International School
About Sanjay Ghodawat Group
Sanjay Ghodawat Group (SGG) is a prominent Indian business conglomerate that has a presence in various high-value business verticals. Aviation, Consumer Products, Education, Energy, Mining, Realty, Retail, and Textiles are some of its key business domains. SGG was founded in 1993 and since then it has witnessed impressive growth under the splendid stewardship of its Founder and Chairman- Mr. Sanjay Ghodawat. It has a strong base of millions of customers globally, an employee strength of over 10,000, and a student base of over 16,000. SGG is moving ahead with great vigour and bringing significant changes in people's lives with its wide range of high-quality products and services.
This year Educate yourself and develop your careers with EasyShiksha