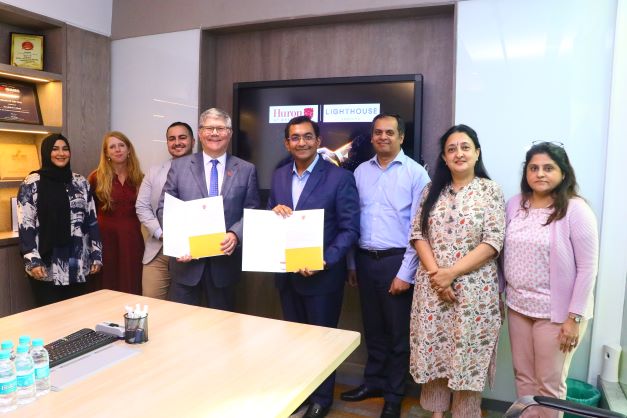 Mumbai, 09 February, 2023: Lighthouse Learning, India's leading Early Childhood and K-12 Education Group, and Huron University, Canada today signed a Memorandum of Understanding (MoU) to extend support to students in their preparation to study overseas for Higher education. The MoU was signed by Mr. Prajodh Rajan, Co-Founder and Group CEO, Lighthouse Learning and Dr. Barry Craig, President, Huron University.
Students from Lighthouse Learning's K12 schools will be guided with relevant information, personalised counselling and guidance to enable them to take well informed decisions for their undergraduate education in the best universities globally. The student support and engagement framework under the MoU comprises of access to University Preparation Programming, Scholarship Programmes and an Innovators Academy. The Preparation Programme covers a series of sessions such as an introduction to the university, the admissions process, academic planning, lectures, panel discussions and career design workshops. The Scholarship Programme will reward the hard work of the students and provide them with increased access to higher education. Huron's Innovator's Academy will help prepare students for the demands of higher education and nurtures their creativity through a disciplined and proven design thinking process.
Speaking about the partnership, Mr. Prajodh Rajan, Co-Founder and Group CEO, Lighthouse Learning said, "We are elated to partner with Huron University to provide our students with a top notch career guidance framework that will give our students an edge to pursue their higher education dreams overseas. Huron University's robust student support and engagement programmes will aid students to plan their educational journey effectively."
Dr. Barry Craig, President, Huron University College, added, "Graduation is a culmination of one's education journey and helping students plan this journey is our mission. We believe that students are well served by having the time and support to formulate their aspirations and the potential journey before entering university so that they can arrive and thrive there. We are delighted to partner with Lighthouse Learning to help young and intelligent minds to achieve their career goals."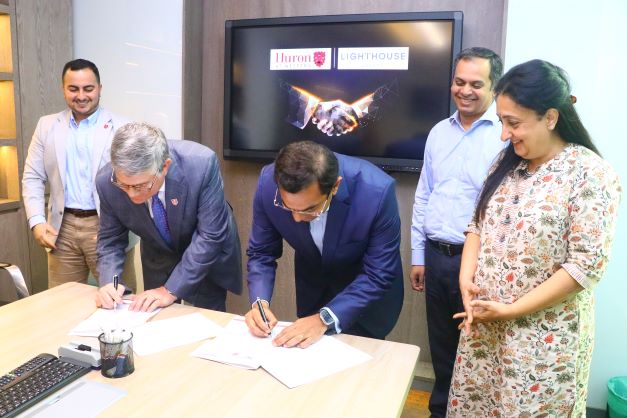 The Huron's Innovators Academy, open to students enrolled at any of Lighthouse Learning's K12 schools, offers an active and co-operative learning environment wherein students can learn in-demand skills of innovation, entrepreneurship and design thinking, as they prepare for life beyond the classroom. Students can avail of the hands-on summer camp through three different delivery options – in Canada, hybrid or virtually. The Huron Innovators Summer Camp brings together high-school students where they solve real business issues, learn from experts at the forefront of innovation, and connect to a global community that will support them throughout their careers.
About Lighthouse Learning
Lighthouse Learning (formerly known as EuroKids International) is India's leading Early Childhood & K-12 Education group. The group is committed to delivering the Joy of Learning to students in early childhood education and K12 segments. With its portfolio of brands – EuroKids Preschool, Kangaroo Kids Preschool, EuroSchool, and Billabong High International. Lighthouse Learning nurtures over 1,50,000 students every day with its "Child First" ideology in a safe and engaging learning environment.

Over the last 20 years, Lighthouse Learning has played an active role in evolving the education landscape. The group is committed to delivering a robust foundation for future generations with innovation in pedagogy, the use of appropriate technology, and focus on child safety. With a network of over 1,300 Pre-schools and 45 Schools, Lighthouse Learning empowers 1000+ women entrepreneurs across the nation and employs a workforce of over 10,000.
Also Read: The Education-Technology Boom: All You Need to Know about Ed-Tech Platforms Democratising Education
About Huron University:
Established in 1863, Huron is the founding institution of Western University and one of Canada's oldest universities. Their distinctive business, liberal arts and ethics-based learning environments offer elite yet accessible education where personalized learning experiences position students for leadership and professional success, while also developing their character. Huron is completely unique to post-secondary institutions in Canada. They recognize the best way for students to learn is through one-on-one mentorship provided by world-renowned professors, who take the time to understand how they can support your life's ambitions. Their small class sizes enable these types of environments by ensuring our faculty members are able to concentrate on each individual student – and nurture their unique gifts. Huron's buildings and residences are located in the heart of Western University's campus. Huron students also have full access to all the resources, recreational activities and athletic facilities of the wider campus.
This year Educate yourself and develop your skills with EasyShiksha