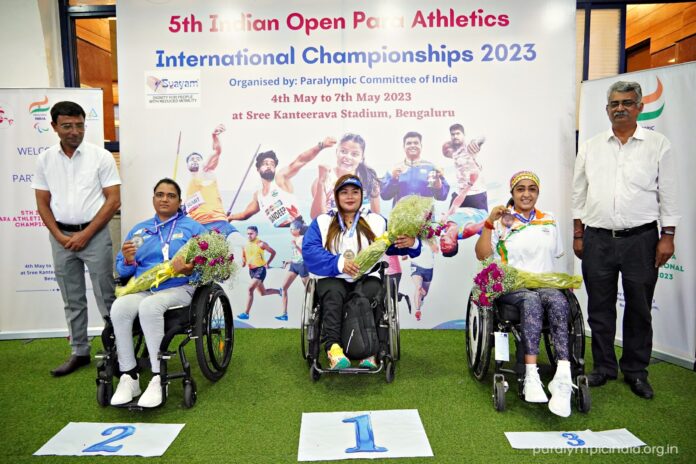 Pooja and Manjeet will represent India in the Asian Games to be held in October 2023. Pooja and Manjeet won gold and silver medals in javelin throw, discus and shot put.
Pooja suffered a spinal injury when she fell into a well as a child, but overcame a disability to keep her spirits high, while Manjeet lost his sight due to an accident.
Both Pooja and Manjeet have also qualified for Asian Games 2023.
M3M Foundation is supporting these players with training, nutrition, travel, hospitality, coach fees and other necessary things
9th May 2023, Haryana, Sonipat/Tauru: M3M Foundation is always ready to hoist the flag of India all over the world. In this direction, M3M Foundation encourages many players of the state under its Lakshya program. M3M Foundation's Lakshya Scholar Pooja Yadav has won Silver in Javelin and Gold in Discus Throw in the 5th Indian Open National Para International Championship. The championship was held from 4 to 7 May at the Sri Kanteerava Narrasimharaja Sports Club in Bangalore. On this achievement, Pooja has thanked M3M Foundation, who recognized her talent and encouraged her in every way to bring laurels to the country at the international level. On the other hand, Manjit of Sonepat has also brought laurels to his state and city by winning the gold medal.
ALSO READ: Alvarez & Marsal India appoints Santosh Kamath as Managing Director to strengthen the clean energy practice
The state is proud of this achievement of Pooja Yadav. Pooja said that she had injured her spinal cord due to falling in a well in her childhood. Even after being in a wheelchair, she did not let her disability hold her back. She started practice in Tauru in a wheelchair. Pooja won bronze in the discus throw and gold in 2021 at the International Paralympics held in Dubai in 2017. Pooja is the daughter of a farming family. In such a situation where due to the poor financial condition of the family, at one point in time she started losing courage, but somewhere the spirit inside never gave up. In such a situation, if the spirit gets strength, then it is decided to achieve the destination. Pooja says that the way M3M Foundation supports the players, any player can win a medal for the country. M3M Foundation is not only providing financial support but it also boosts our morale to move forward. Practice and all other requirements are taken care of by M3M Foundation. My coach Naval Singh encouraged me from time to time. Pooja is grateful to M3M Foundation for all kinds of support.
Manjeet is a Pole Vaulter and is preparing for his sport. Due to an accident in 2015, his vision was disrupted. There was a state of utter darkness and despair in his life. His commitment and dedication gave him the courage to bring back the lost light in his life. Again, supported by M3M Foundation, he is representing the country as the national record holder in Javelin Throw.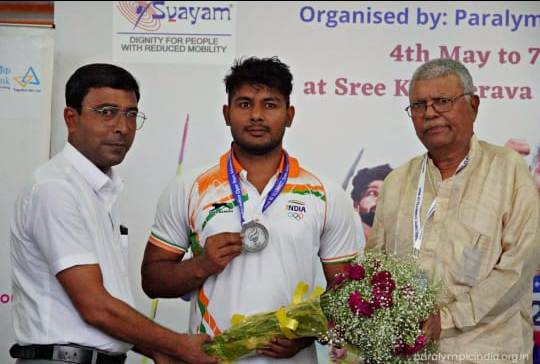 He got a lot of encouragement from M3M Foundation's Lakshya Scholar and his hard work and dedication eventually led to his success as a Para Olympian gold medallist, national record holder and winner of multiple championships.
He once again touched the sky. Winning a gold medal in javelin throw at the 21st National Para-Athletics Championship to be held at Pune from 16 to 21 March 2023 is an additional addition to his pool of achievements.
Now Manjeet has also won the Gold Medal again in the 5th Open Indian Para-Athletics International Championship to be held in Bengaluru from 4th to 7th May 2023. With this win, he will go to China for the Asian Games to be held in October 2023.
On this occasion, Dr. Payal Kanodia, Chairperson and Trustee of M3M Foundation said that "M3M Foundation is always committed to doing better in the field of environment, education, sports, health and in this direction, we are determined in every way. He has always been at the forefront of social work to bring laurels to the country. We are very happy to inform you that today players from every corner of India are taking advantage of our Lakshya program and are making their name famous in sports. Pooja and Manjeet have made not only Haryana but our entire country proud. For this, I congratulate both of them and wish me and the entire team of M3M Foundation all the best for all the upcoming competitions."

Pooja has already won the National Award
• Bronze in Shotput in 2017
• Gold in shotput and javelin and bronze in discus throw in 2018
• Bronze Award in Discus Throw at the 2019 International Para Olympics held in Dubai
• Three Gold Awards in National Para Olympics in 2021
• 2023 Three Gold Awards in the 21st National Para Athlete Championship held in Pune
M3M Foundation has always supported the budding talented players of different states of the country, who are financially weak, through the Lakshya Scholarship. Today many such players are moving forward by performing well in various sports. Lakshya is a unique program of M3M Foundation to support the development and advancement of talented children as well as youth from socio-economically weaker sections of society to hone their skills in sports and arts.
This year educate yourself and develop your career with EasyShiksha