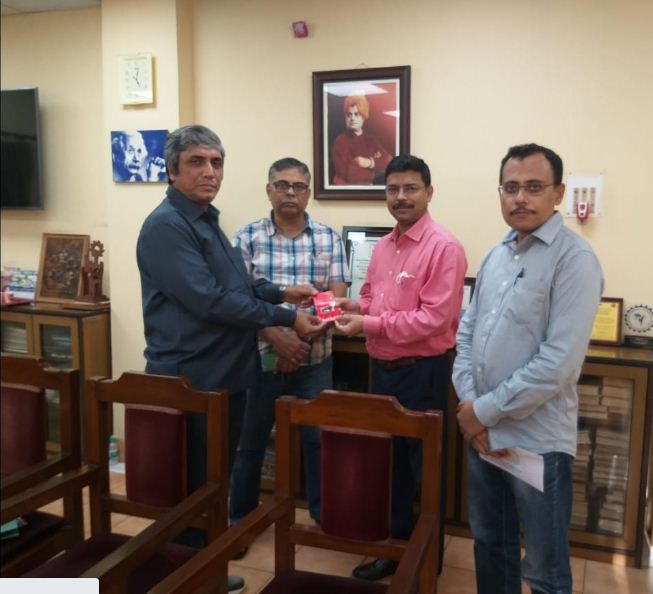 Kolkata, 29th August, 2022: The Operating System named OSUM indigenously developed by the Technology Cell of Maulana Abul Kalam Azad University of Technology (MAKAUT), WB has been distributed to Bhairab Ganguly College on 25.08.22. At the same time, the software for the Online Meeting Platform was handed over to the College. The Hon'ble Vice Chancellor of MAKAUT Prof. (Dr.) Saikat Maitra handed over the software to the Principal of Bhairab Ganguly College Dr. Subhranil Som at the Salt Lake Campus of the University in the presence of Registrar of MAKAUT Dr. Partha Pratim Lahiri and Head of the Technology Cell Mr. Pitimoy Sanyal.
OSUM is an Operating System that can very well compete with WINDOWS of Microsoft. This open source software is indigenously developed by the Technology Cell of MAKAUT. Moreover, it is not at all expensive like Microsoft's Operating System, but can be procured totally free of cost. OSUM has been developed under the guidance of Hon'ble Vice Chancellor Prof. (Dr.) Saikat Maitra by the Technology Cell of the University in 2021. Prof. Maitra said that Operating Systems like OSUM can be used by all free of cost and this will benefit society to a great extent.
ALSO READ : Jasudben ML School and Bloomingdales Pre-Primary unveils its exciting theme of HappyAtSchool
Mr. Pritimoy Sanyal, Head of the Technology Cell said, Prof. Maitra is the inspiration behind this initiative. He was in favour of innovating something useful for the common people. OSUM can be installed on modern as well as old computers, many of which are lying idle. Very often modern Operating Systems cannot be installed in such old machines, as these are equipped with low RAM. The USP of OSUM is that it can be installed in computers having 1GB RAM and Dual Core/ Core 2 Duo processors.
The technology cell of MAKAUT has also developed an Online Meeting Platform using open-source technology. The meeting platform is being provided free of cost to many institutions who have requested for provisioning the same to them for meeting purposes.
Visit EasyShiksha for skill development courses.