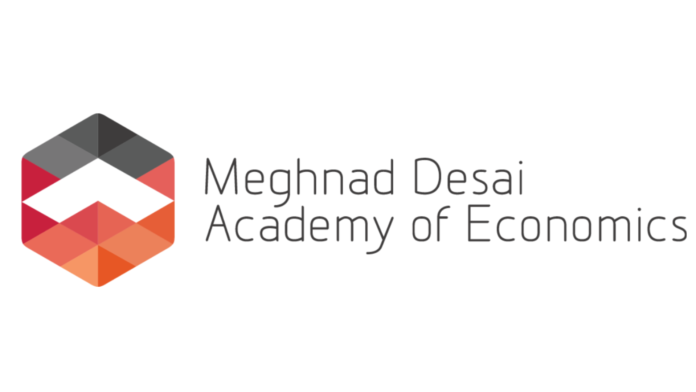 The virtual event 'What next after graduation?' featured MDAE experts resolving crucial career planning questions from students
June 2022: As a part of its ongoing virtual events to educate students on making successful and sustainable career plans, Meghnad Desai Academy of Economics (MDAE), India's leading postgraduate institute for Economic, Data Analytics, Finance, and Public Policy, hosted another action-driving Speaker Series titled ' What next after graduation?' on 25th June 2022 at 5:30pm. The virtual question and answer session addressed key mistakes that students make while career planning. It also educated attendees on the best practices to make smart and successful career decisions after graduation.
The one-hour session hosted dignitaries and MDAE's board members, including the Vice-Chancellor of Gokhale Institute of Politics and Economics (GIPE), Dr Ajit Ranade, the Chief Economist at the National Stock Exchange (NSE), Dr. Tirthankar Patnaik, and the Managing Director at Wellington Management, Dr. Tushar Poddar. The event also featured MDAE's advisory board member and the Chief Commercial Officer at AON, Mr Roopank Chaudhary, as well as MDAE's alumni and a student from the University of Nottingham, Ms Yashika Doshi.
Top Project Management Courses
More Courses With Certification
Prof. Amlesh Kanekar, Director of Academic Programs, Meghnad Desai Academy, said, "Most students face difficulties charting their career plans after graduation. With multiple job roles available in economics, behavioural sciences, and finance, selecting one gets even more confusing. During the session, our esteemed board members and alumni panel provided insightful suggestions and resolutions for career planning. It provided attendees with key points of focus, assisting them in deciding their next step in their professional development."
The session kicked off with guidance from the experts on changing job market and making careers in the changing world order. It was followed by a discussion where the experts discussed some common mistakes students make when starting their careers. One such mistake, was highlighted in the session, driven by the misconception that budding field of data science and data analytics is only for students with technical background. Experts mentioned that irrespective of industry, data science and data analytics will be relevant field of study and the fields are pure skills and can be adapted with proper guidance without any prerequisite of prior tech knowledge.
Dr. Abhinay Muthoo, Former Director, Warwick Policy Lab, Former HoD of Economics Department at the University of Warwick and Essex, said, this is a century of social science and economics. The world is going through turbulent times, the global economy is failing, and there is a war in Ukraine. However, it is the technology revolution that has kept us going. It's an exciting time to study and make a career in economics and finance. The AI is yet to mature as a technology and it will change the way we do economics.
Dr. Tushar Poddar advised students to adapt a global outlook & stay updated in order to compete with global workforce. Dr Tushar Poddar is a global strategist and member of the Emerging Markets Debt team at Wellington Fund Management based in London. He is also the founding member, director, and board member at MDAE.
Dr Ajit Ranade is the Vice-Chancellor of the Gokhale Institute of Politics and Economics (GIPE). He has served on various committees of the Reserve Bank of India and is also a board member at MDAE.
The Chief Economist at the National Stock Exchange of India Limited (NSE India), Dr Tirthankar Patnaik, has over 22 years of experience in macro and portfolio strategy, quantitative finance, consumer banking analytics, and Indian equity markets. He also teaches the Advanced Macroeconomics course as part of MDAE's PGD Economics program. An expert in this field, Dr Patnaik is also a board member at the institute. 
ALSO READ : Psychology research aims to address the way we view plants
Mr Roopank Chaudhary is the Chief Commercial Officer at AON. With over 21 years of experience as a management consultant and banker, he has worked for clients across banking, investment banking, asset management, insurance, private equity, and business conglomerates. He is also an advisory board member at MDAE.
An alumnus of MDAE, Ms Yashika Doshi, is currently pursuing her post-graduate degree in Economics from the University of Nottingham, England. Remembering her time at the academy, Yashika, shared her fond memories about the personalised guidance she received from Dr. Tushar Poddar and Dr. Ajit Ranade and how it helped her shape her profile for the admission at University of Nottingham.
About MDAE
Meghnad Desai Academy of Economics (MDAE), situated in Mumbai, is one of India's leading post-graduate academies specialising in Economics, Public Policy, and Finance. Established as an institution of excellence to equip graduate students with applied skills to meet the needs of a new-age workplace, MDAE offers full-time Postgraduate Programs and short-term online certifications that prepare students for the globalised and dynamic workplace.
Visit https://www.meghnaddesaiacademy.org/ to know more about us.
visit EasyShiksha for skill development