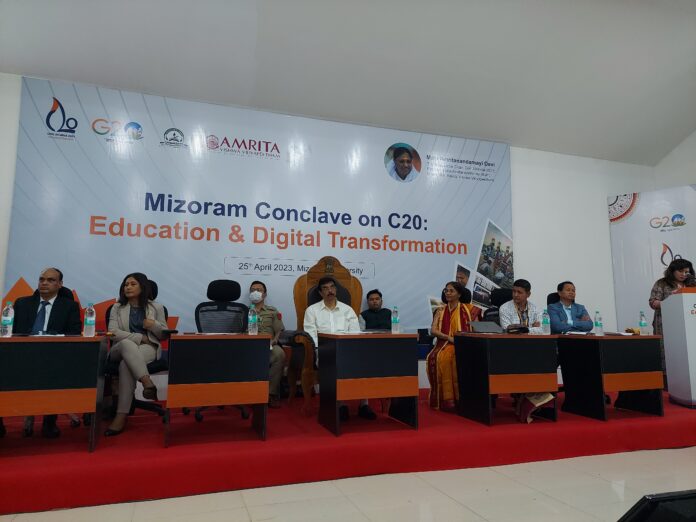 AIZAWL / April 26, 2023: Mizoram University and Amrita Vishwa Vidyapeetham, ranked the 5th Best University in India by NIRF 2022 Rankings, have joined hands to launch science, technology and innovation (STI) hubs in the districts of Aizawl and Serchip in Mizoram.
Funded by the Department of Science & Technology, Govt. of India, these hubs would promote sustainable livelihoods through capacity building, skill development for tribal communities, and digital literacy. They would spread awareness against substance abuse and inform people about nutrition and preventive health to help improve the overall well-being of the people of Mizoram.
ALSO READ: C3iHub, IIT Kanpur launches free Cybersecurity Skilling Program for SC/ST students
The initiative was announced at an event titled "Mizoram Conclave on C20: Education & Digital Transformation," organized by the Civil 20 Working Group on Education and Digital Transformation (EDT) and hosted by the two varsities. The Conclave saw two panel discussions on "Education under C20/G20 & alignment to National Education Policy 2020" and "Digital Transformation under C20/G20."
Hari Babu Kambhampati, Hon'ble Governor of Mizoram was the Chief Guest at the event. Dr. Renu Sharma, IAS, Chief Secretary, Mizoram, delivered the keynote address. Dr. Lalzirmawia Chhangte, Secretary, School Education Department, Govt. of Mizoram, offered special remarks. Syed Musawwir Ali, IAS, Special Secretary, ICT, Govt. of Mizoram, was also present.
Hari Babu Kambhampati, Hon'ble Governor of Mizoram, said: "In Mizoram, we have a close-knit community and a vibrant civil society. Our NGOs address various issues ranging from societal problems to the environment. We maintain strong connection to our traditional values and ethos. We have a high literacy rate and a vast forest cover. However, we also face challenges with a high percentage of the population still dependent on shifting cultivation. Indigenous people often face challenges such as endemic poverty, poor health, and cultural erosion. Many times, these are linked to forest degradation. Education and digital transformation offer a pathway to come out of the reliance on subsistence agriculture in a world of unpredictable climate patterns. I am happy to learn that Amrita Vishwa Vidyapeetham has worked closely with the tribal populations in mainland India with a vision to provide an integrated and sustainable approach for improving education, health and livelihood through digital inclusion."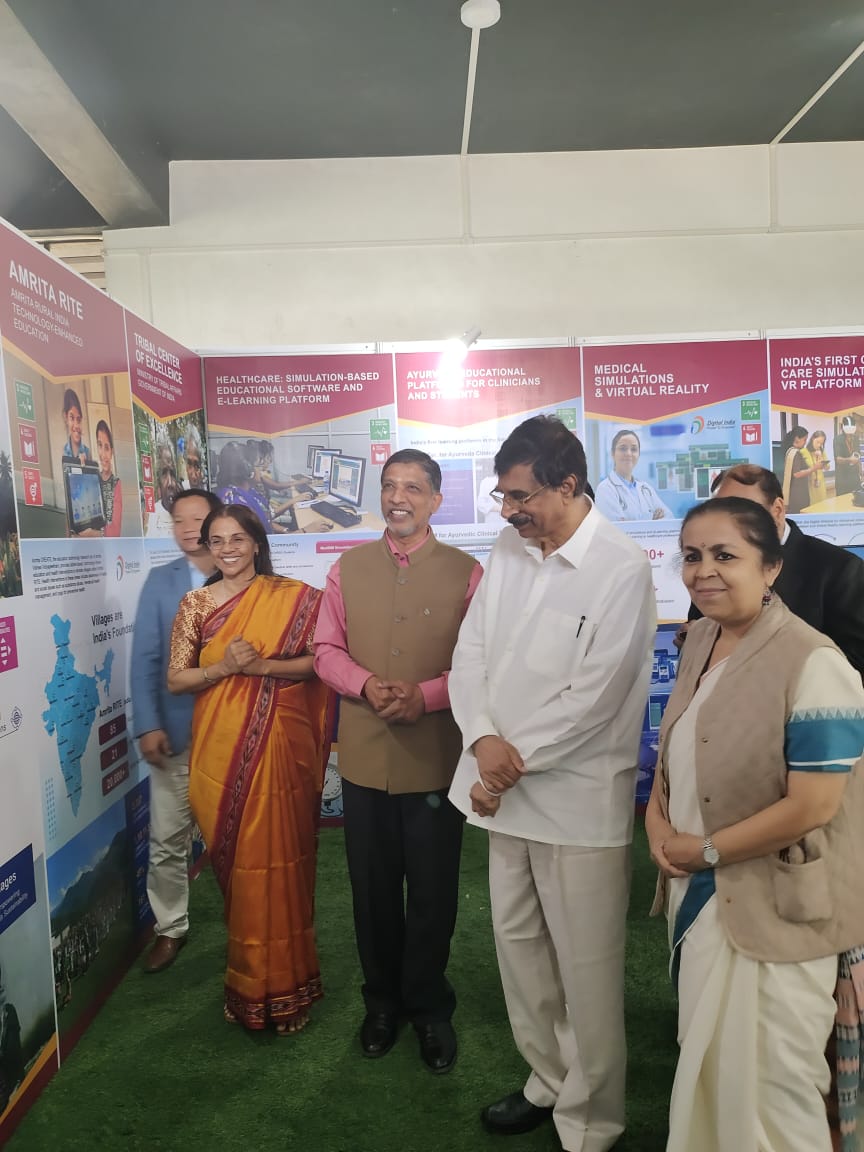 Said Dr. Raghu Raman, Dean, Amrita School of Business, Amrita Vishwa Vidyapeetham: "The launch of the STI hubs in Mizoram under the C20 banner is a historic moment as we work towards improving tribal livelihoods, education, and sustainability in the state. The objectives are to create social enterprises, conserve indigenous knowledge systems connecting with Ayurveda, and create a mobile/web-based platform to support better delivery of interventions. These hubs will benefit over 3,000 individuals directly and around 40% of the ST/SC population indirectly in the two districts through Self Help Groups and knowledge dissemination. They will also help improve overall health status and increase awareness of health and nutritional imbalances, substance abuse and digital literacy."
Said Dr. Lalnilawma, Professor & Head, Dept. of Extension Education & Rural Development, School of Earth Science & Natural Resources Management, Mizoram University: "Mizoram as a state faces several challenges such as high unemployment rates, low ease of doing business, and rising concerns of substance abuse among young people. Health indicators also highlight the high prevalence of anaemia in children, adolescent girls and women, and the growing incidence of non-communicable diseases, including various types of cancers. The STI hubs are being established by the two varsities to address these challenges. Overall, Aizawl and Serchip have all the necessary ingredients to become a hub for science and technology innovation. The region has a strategic location, a well-developed education infrastructure, a skilled workforce, government support, and potential for entrepreneurship. These factors make these two districts ideal for setting up STI hubs."
Said Dr. Prema Nedungadi, C20 India EDT Coordinator, Director, Amrita CREATE, and Chariperson, Amrita School of Computing, Amrita Vishwa Vidyapeetham: "The integrated Sustainable Livelihoods model which the two hubs will help implement in Mizoram is expected to improve social and financial capital through a combination of technology transfer, skills training, digital literacy, community empowerment, and capacity building, impacting the four districts: Aizawl, Kolasib, Mamit, and Serchhip. It will offer the Mizo people livelihood empowerment, skills and capacity building, documentation of indigenous knowledge systems and healing practices, and a knowledge resource and databank. It also aims to provide digital literacy to rural populations who have little access to digital aids and train peer ambassadors to provide preventive health awareness in schools and villages."

In 2018, the Ministry of Tribal Affairs, Government of India, declared Amrita Vishwa Vidyapeetham as a Center of Excellence in Tribal Empowerment through Digital Inclusion in recognition of the institution's pioneering work in tribal development with outstanding application and research-oriented foundation.
Amrita Vishwa Vidyapeetham
Amrita Vishwa Vidyapeetham is a multi-campus, multidisciplinary Institution of Eminence accredited by NAAC. It is also ranked the 5th Best University in India in the 2022 National Institution Ranking Framework (NIRF). Amrita continues to be the No. 1 Private University in India as per THE 2020 world rankings as well. The university has been awarded two UNESCO Chairs namely the UNESCO Chair for Experiential Learning for Sustainable Innovation & Development and the UNESCO Chair on Gender Equality & Women Empowerment. The university headquartered at Coimbatore is spread across six campuses in three states — Kerala, Tamil Nadu, and Karnataka. Amrita partners with academic, industry and governmental institutions across the world to accomplish human-centred, translational, and groundbreaking research. To date, Amrita has more than 500 collaborations from more than 200 signed Memorandums of Understanding (MoUs). Some of Amrita's partners include Harvard University, Columbia University, King's College London, KTH – Royal Institute of Technology, VU Amsterdam, the British Geological Society, University of Oxford, Italian National Research Council, Deakin University, and the University of Tokyo. Sri Mata Amritanandamayi Devi (Amma), a world-renowned humanitarian leader is the founder, Chancellor, and guiding light of Amrita Vishwa Vidyapeetham. Amma's words, thoughts, and vision for education and research have shaped the university's mission and vision.
This year educate yourself and develop your career with EasyShiksha