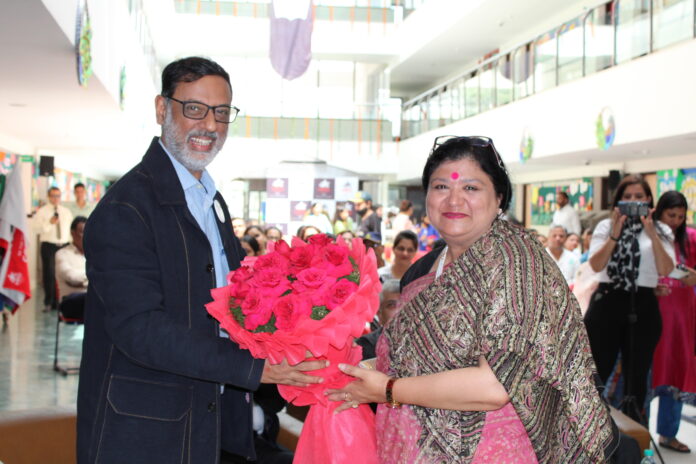 Shri Mange Ram Goel, the Founders of MRG School, was paid an effusive homage on the gracious Founder's Day celebrated in his honour at the school premises recently.
Starting his journey in Ghaziabad by doing odd jobs at an early age, Shri Mange Ram went on to become the Founder of one of the most long-standing and revered schools in the country, the MRG School.
ALSO READ: https://news.easyshiksha.com/iim-udaipur-awards-post-graduate-diploma-to-37-students-at-the-first-annual-convocation-for-its-pgdba-we-program/
He was a staunch proponent of education being the pillar of political reform and social change. Shri Mange Ram Goel hailed modern education and rational thinking as an antidote to social vices like caste and gender-based distinctions, poverty, and patriarchy rampant in society.
On his birth anniversary, MRG School gave utmost respect to its Founder and cited his principles as one of the governing agents, which has made it one of the premier institutions of India.

Mr Kishalay Bhattacharjee, the Professor and Executive Dean of Jindal School of Journalism and Communication, joined the Founder's Day as the chief guest of the function. He was accompanied by Mr Devender Goel, Chairman MRG school; Rajat Goel, Director MRG School; Anshu Mittal, Principal along with the school management committee.
Everyone present at the Founder's program delivered a heartfelt tribute to Shri Mange Ram Goel in the form of encomiums and nostalgic remembrance of his lenity and munificence in regard to the regular charitable works he was devoted to.
Towards the closing ceremony, Anshu Mittal, Principal, MRG School, said, "It is the most important day in the school's history as we gather here to pay homage to the founder of this institution. Shri Mange Ram Goel. He was a man way ahead of his times, a notable women's rights fighter and a social reformer, who did not just harp about bringing a prominent change in the society but also took it upon himself to give an education institution that is an apt representation of his value system. He is an inspiration to all of us."
Visit EasyShiksha for skill development