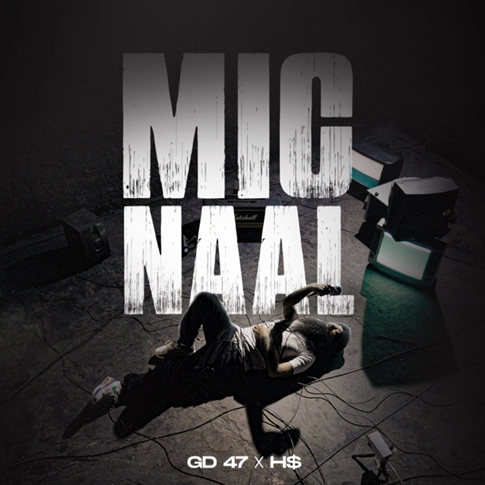 30th April, Mumbai : Punjab-born rapper GD47, who gained fame after his appearance on "MTV Hustle 2.0," has just released a new song titled "Mic Naal" in collaboration with Punjabi underground emcee H$. The song portrays GD47's deep faith in himself and his "mic" as his greatest confidantes.
"Mic Naal" is GD47's most ferocious attempt yet at a 'choppy' rap flow in both Punjabi and English, and it includes a tough verse by Punjabi underground emcee H$ on the hook. The song is a testament to the rapper's dedication to his craft and his belief in the power of rap music and the mic.
ALSO READ: NEXA Music to Present Season 2 Super Winners Music Video
For GD47, the recording studio is a therapeutic escape where he can express his emotions freely, even if those around him don't understand his perspective or lofty goals. Through his music, he hopes to inspire others to believe in themselves and pursue their dreams with determination and passion.
The release of "Mic Naal" marks a significant milestone in GD47's career as he continues to push the boundaries of Punjabi rap music. Fans can stream the song now on all major music platforms and witness the rapper's fierce commitment to his craft.

Sharing about the Song GD 47 shared, "This Track is super close to my heart, I feel I have shared my heart out. I hope my fans will love this song and connect with it like they did with my previous ones. I am thankful to Def Jam India for their unwavering support and belief in my music. I am excited to see how my fans react to "Mic Naal" and can't wait to share more music with them in the future."
About Def Jam Recordings India:
Def Jam India is Universal Music India's new label division within India and South Asia dedicated to representing the best hip-hop and rap talent from the region. Def Jam India follows the blueprint of the iconic Def Jam Recordings label, which has led and influenced cutting-edge hip-hop and urban culture for more than 35 years. While Def Jam is a global hip-hop powerhouse that represents an iconic roster of artists such as LL Cool J, Slick Rick, Public Enemy, Beastie Boys, Kanye West, Jay-Z, Rihanna, Pusha T, Dave East, YG and many more; Def Jam India has strived to elevate the Indian imprint of hip-hop by working with some of the biggest Indian hip-hop artists such as Dino James, Fotty Seven, Wazir Patar & amp; many more.
This year educate yourself and develop your career with EasyShiksha