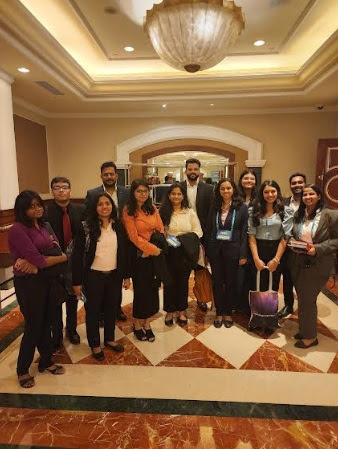 Mumbai, Maharashtra, India's leading public relations institute, SCoRe, is excited to announce its nationwide hunt for 20 of the smartest and brightest graduates for its postgraduate programme in public relations. This programme is designed for driven and ambitious young professionals who are eager to make a career in the dynamic field of public relations. Students will be shortlisted on the basis of the aptitude test (NCAT) which is happening on Jan 28, 2023 followed by an interview.
SCoRe students at REPRISE 2022
The 10-month-long programme is built by India's PR industry experts and will provide students with extensive training in all aspects of public relations. The programme will cover topics such as media relations, crisis communication, digital PR, data analytics and more.
This is a unique opportunity for graduates to gain hands-on experience in the PR industry and to learn from the best in the business. Upon completion of the program, the top 20 students will be assured jobs in India's top PR firms.
The students will also get a chance to win a scholarship worth over Rs. 8 Lakh. In this 10-month programme, SCoRe grooms the students, makes them industry-ready in every aspect and provides 100% guaranteed placements in India's top 10 PR firms. Students will get to network with industry leaders and attend India's biggest PR event, PRAXIS and other PR events where they will get a chance to work in the organising team.
Talking on the same, Hemant Gaule, Dean at SCoRe says, "Public Relations as a profession is booming in the country and looking for smart and fresh talent. Gen Zs are in high demand in PR firms because of their ability to express ideas, and social awareness. SCoRe students get recruited in top PR firms because of the training they get and are trained by the best industry experts."
The curriculum also includes a two-month paid internship with one of the best PR firms in India, masterclasses with corporate communications directors from well-known brands, and over three consultation visits. This programme is a testament to our dedication to preparing our students for successful careers in the industry.
We invite all eligible graduates to apply for this exciting opportunity. Please visit our website for more information and to submit your application: scoreindia.org.
Also Read: Education Sector Pre-Budget quotes : 2023
About SCoRe
The School of Communications and Reputation (SCoRe) is a premier institute of Public Relations created by the Indian PR community. Founded in 2015, the institute is dedicated to uplifting talent in the Indian PR profession through education, training, and research. SCoRe's 10-month PG Diploma in PR and Corporate Communications handpicks and trains youngsters from across the country to become powerful PR consultants.
SCoRe is a part of The Public Relations Consultants Association of India (PRCAI), and The Global Alliance for Public Relations and Communications Management (GA). SCoRe has partnered with Quadriga University of Applied Sciences, Berlin and London School of PR, Jakarta, to exchange knowledge, faculty, and students. SCoRe has become the first institute in South Asia to award a Post Graduate Diploma accredited by the Global Alliance.
This year Educate yourself and develop your skills with EasyShiksha