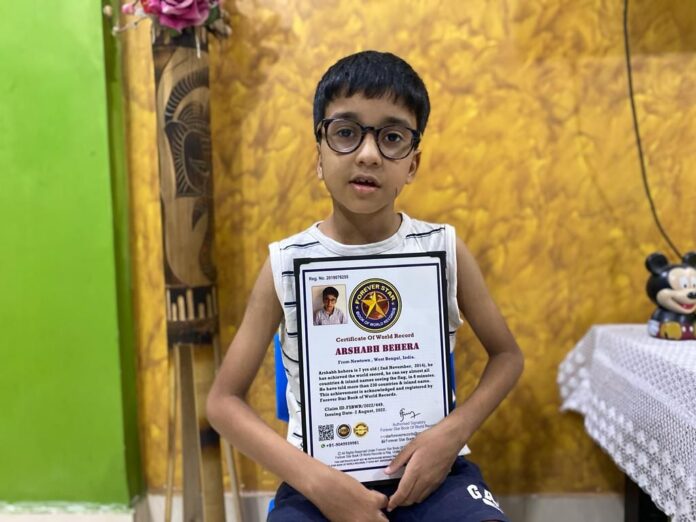 Arshabh can identify the national flags 230 countries in 8 minutes, an unimaginable feat
Slowly but steadily overcoming his asociality and delayed speech issues, Arshabh looks forward to keep making and breaking records
Seven year old Arshabh Behera from Orchids The International School, Newtown, Kolkata has amazed his parents and teachers alike by achieving the world record in identifying flags of 230 countries within 8 minutes and has entered the 'Forever Star Book of World Record'.
"Arshabh's interest was identified when he started watching videos about the names and flags of different countries on YouTube, when he was only 5. Today, he can draw any country's flag and identify them, name all the 50 states of the USA and speak Russian, Greek and Spanish alphabets. Arshabh has significant communication issues and he lacks social skills. He takes time to open up and speak to people. Schools had rejected taking him in, and it was Orchids who accepted him wholeheartedly and instilled confidence in him. The teachers here are very helpful and helped my son unleash his talents. Recently he even went on a field trip from his school – his first trip without his parents", said Mrs. Smruti Rekha Behera, Arshabh's mother.
Prior to this, he has also won 'Iconic Star National Level Talent Search Event' and 'Inspiring Talent Awards', 
Also Read: Intelligent Minds Trusts' Excellence in Education Awards 2022
"Though he is not very fluent in speaking yet, his enthusiasm deserves to be applauded. His parents and teachers also encourage him to participate in different competitions in school. It warms our hearts to see his growth! Arshabh's achievements have proven that children who take time in developing their communication and social skills are equally capable of leading a fruitful life. All they need is some time and patience. Every day that he thrives, we are reminded that neuro-diversity must be accepted, promoted and celebrated in our society", said Mrs. Sonia Paul, Arshabh's class teacher.
Mrs. Behera also said, "Children like Arshabh must be handled with care and patience. My husband and I are extremely patient when it comes to our son's overall development. We know that he needs time and we believe that one day he will be able to speak normally and mix with society and make us and his school proud."
Visit EasyShiksha for skill development courses.