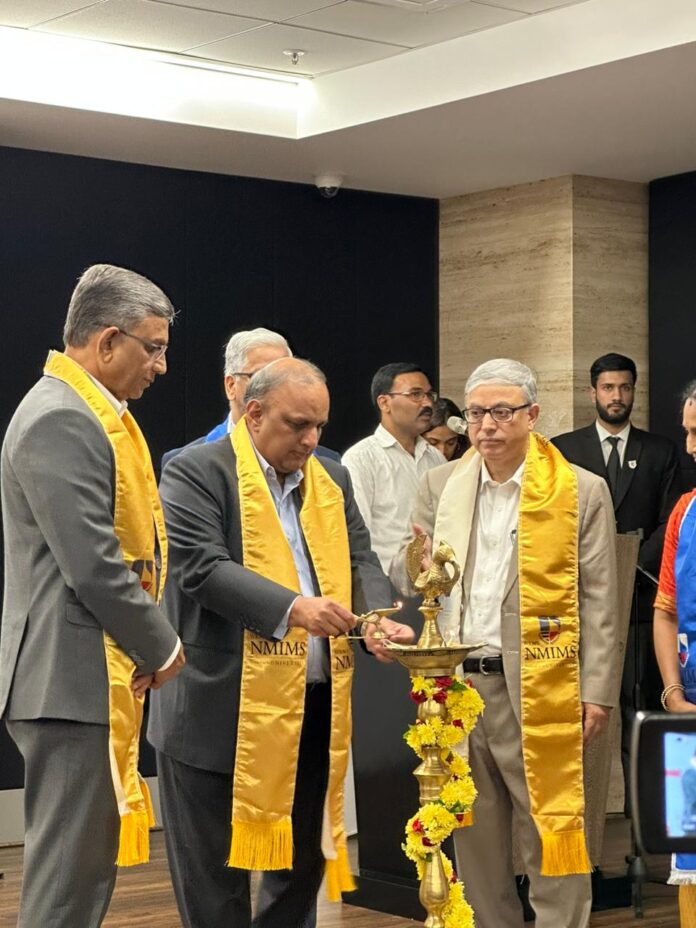 Campus witnessed 25% increase in average salary and continued its 100% placement streak
Students placed in 24 Fortune 500 companies
Maintains record of high gender and regional diversity amongst students with a higher female ratio of 60:40 and students from 20 states
70 + live industry projects and 30+ international exchange program ensures holistic learning
Bengaluru, 21st April, 2023: SVKM's Narsee Monjee Institute of Management Studies (NMIMS) Bangalore, the youngest B-school in India celebrated the achievements of its graduates at its 14th convocation ceremony.
ALSO READ: Three Tips to Get a Great Letter of Recommendation for College Admissions
191 graduates from the MBA, Post Graduate Diploma in Management, and Post Graduate Diploma in Data Science & Analytics programs from the year 2022-2023 received their diplomas. Esteemed guests, including the nominee of the Hon'ble Chancellor –Shri. Shailesh Patel, Hon'ble Vice Chancellor – Dr. Ramesh Bhat, Hon'ble Chief Guest – Mr. Venkataraman S.V, (delegates from Mumbai) and Deputy Director, Dr. Narayani Ramachandran, participated in the ceremony and shared valuable insights with students.
The institute celebrated 4 major milestones in the academic year 2022-23:
25% higher salary and 100% Placements: NMIMS Bengaluru continues to consistently increase the average CTC year on year. The average salary has increased from 10% in 2021-22 to 19% in 2022-23. The institute has steadily increased placements in Fortune 500 companies. From 21 companies in 2021-22, the number increased to 24 in 2022-23.
Higher gender diversity ratio than national average: NMIMS Bengaluru consistently maintains good gender and regional diversity since its inception. The Batch of 2023 represents a gender ratio of 60:40 much higher than the national average of 1.07. The institute has students representing more than 20+ states from all over our country.
Live projects: MBA students completed 74 live projects for different companies. Some of them are Mento Jet, DataKrew, Bachat Baazi, Moshi Moshi, Country Holiday Travel India, Design Flex, Gorewo Tech, Blue Ocean Innovations, Equifi, Kakshacool.
Global exposure: NMIMS students had attended ESSCA, School of Management, Paris, and Grenoble Ecole de Management, France as part of the International Student Exchange Program. It helped them develop a multifaceted perspective of global issues and gave them a holistic understanding of business
Addressing the students, Hon'ble Chief Guest – Mr. Venkataraman S.V, MD, ANZ Bank said, "India is increasingly claiming its rightful place in the world across several sectors. The talent pool emerging out of world class institutions such as NMIMS is making this possible. In an era of job cuts, I am delighted to see a 25% avg salary hike and 100% Placements. ANZ too is bullish about its India operations and growth.
Women empowerment and diversity at the workplace is at the heart of our culture. Shakti, our flagship program for empowering women by providing a space to nurture, sharpen and grow their inner potential has helped us with almost 35% women in management roles and a 22% women participation in leadership roles. It is heartening that NMIMS too has a 60:40 ratio which will translate to more women in leadership roles in times to come. I thoroughly enjoyed interacting with students today and we will look at ways to support the institution including mentoring by our leadership. At ANZ, our purpose is to shape a world where people and communities thrive and we connect with and invest significantly in the communities in which we operate and this is a small gesture from us."

Dr. Ramesh Bhat, Hon'ble Vice Chancellor – NMIMS, congratulated the students and said, "As you embark on your journey, I extend my best wishes, hoping that each of you finds a feeling of contentment and pride in everything you do. I am sure your great efforts and achievements will help you achieve great things in life. Your credentials will take you to much higher places, and you will prove yourself and contribute to making the world a better place."
Dr. Narayani Ramchandran, Deputy Director, NMIMS Bengaluru joined Dr. Bhat in congratulating the graduating students and said "The boardroom of tomorrow needs to be equipped with a new gen skill set which is aware about ESG and its impact on Business. We plan to put a special emphasis on making students aware about ESG and UN SDG norms via guest lectures during the new academic year. Currently in the Finance Sector, Bloomberg terminals are used extensively and at NMIMS, students are trained to use Bloomberg terminals and graduating students are certified by Bloomberg. This helps prepare an industry ready workforce and bridges the gap between academia and industry."
About NMIMS Bengaluru :The School of Business Management (SBM) Bengaluru campus has been ranked first in the "Top B-Schools under Private Universities" category in Karnataka by Open Magazine. NMIMS Bengaluru was ranked second in the city-wise category by Fortune India Magazine and was awarded a rating of A+++ by Business India Magazine. Business Today Magazine ranked NMIMS Bengaluru third in the city-wise category, seventh in the south-zone category, and 32nd overall.
This year Educate yourself and develop your career with EasyShiksha.