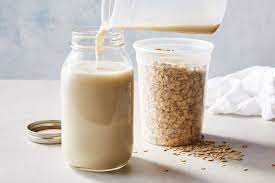 Plant-based food and drinks are gaining popularity in recent years and their rapid uptake is keeping manufacturers on their toes. These products are swiftly achieving a significant consumer base, driven by the rising consumer focus on health and sustainability and their growing awareness regarding the availability of more quality products for them to explore and enjoy. For years, plant-based food items have been an option mostly for consumers with lactose intolerances or with a preference for a plant-based diet, but today, these food options have become mainstream.
Oat milk is one of the plant-based dairy alternatives to appear on grocery shelves lately that has gained attention owing to its allergen-free profile and unique taste. Made from cereal grain oats, oat milk is free from dairy, nuts, or soy and is a vegan alternative to cow's milk. It comprises less saturated and total fat than whole and low-fat cow's milk, and much less protein and higher carbohydrate content than cow's milk. The presence of the soluble fiber, beta-glucan in oat milk can help lower LDL cholesterol and may alleviate the risk of heart disease. Oat-based milk is generally fortified with nutrients such as vitamins A, D, and B12 and calcium, which are essential for the bones.
Growing preference for veganism around the world has pushed the demand for dairy alternative beverages, thereby driving the market for oat milk. Further, the global rise in consumers with dairy milk allergies and their growing interest in plant-based nutrition owing to health, environmental and ethical factors are other key propellers for the market growth. Furthermore, an increase in consumers with lactose intolerance and milk allergy results in a rise in the consumption of dairy alternatives. This is another top factor driving the oat milk market. The recent Covid-19 outbreak also resulted in a growing consumer base for oat milk due to the surge in consumer awareness regarding the strengthening of the immune system and maintaining a healthy lifestyle and diet. A recent report by Allied Market Research says that the global oat milk market is anticipated to grow at a CAGR of 13.4% during the forecast period, 2021-2027.
Players in the oat milk market space are primarily looking to introduce new and innovative products to cater to the varied needs of consumers. For instance, Ripple Foods, a U.S-based provider of pea-protein dairy alternative products recently launched a plant-based drink namely Oatmilk + Protein in the U.S. Saudia Dairy & Foodstuff Company (SADAFCO), a leader in high-quality food products introduced Saudi Arabia's first locally produced Oat-based milk, the SAUDIA Oat Milk which boasts a superior taste and texture and caters to health-conscious consumers. Starbucks Corporation, an American maker of ready-to-make coffee also launched a new line of oat milk frappuccinos and a ready-to-drink oat milk cold brew. The Coca-Cola Co., the U.S-based beverage company recently added new oat milk offerings under the name Simply Oat to its portfolio.
ALSO READ : Bizongo expands senior leadership to strengthen its product offering
Ripple Foods Grows its Portfolio of Plant-based Drinks
Oatmilk + Protein was launched by Ripple Foods in May 2022. Comprising gluten-free oats and the company's signature yellow pea protein, and much lesser sugar and more calcium than cow's milk, the drink is a healthier and more nutritious alternative to regular oat milk. According to Laura Flanagan, CEO of Ripple Foods, many consumers are unhappy with the nutritional profile of regular oat milk available in the market as they are low in protein. The newly launched Oatmilk + Protein addresses this issue as it contains three times more protein than regular oat milk and has an unassuming taste and creamy texture that consumers want.
SADAFCO Unveils Oat-based Milk
The launch of the SAUDIA Oat Milk by Saudia Dairy & Foodstuff Company is in line with the company's commitment to cater to the changing needs of consumers and to reduce its impact on the planet. The milk is made for consumers who look to increase their consumption of vitamins and fibers, alleviate their cholesterol levels, and who are lactose intolerant. The new oat milk has a pleasant taste and is much more affordable than other plant-based milk that is available in the market. Patrick Stillhart, CEO at SADAFCO said that more consumers around the globe today look for alternatives to conventional dairy drinks and seek to enhance their lifestyles and reduce their carbon footprint on the planet. They are also more careful about consuming animal products. He said that the company takes the issue of carbon footprint seriously and oat milk is an eco-friendly beverage to produce. Therefore, they chose to add it to their product portfolio. The SAUDIA Oat Milk was introduced in May 2022.
Starbucks' New Offerings
The frappuccinos were introduced by Starbucks in February 2022. They are available in vegan ready-to-go versions and come in two varieties – dark chocolate brownie and caramel waffle cookie. Besides frappuccinos, the company also released a dark chocolate-flavored ready-to-drink oat milk cold brew. The new beverages are distributed via several retailers in the US, including service stations and convenience stores. The launch came at the same time when Starbucks introduced a new line of energy beverages made with caffeine extracted from the coffee fruit.
Coca-Cola Adds Oat Milk to its Range
In April 2021, Coca-Cola Co launched oat milk products under the name Simply Oat which are non-GMO and free from lactose and gluten. The plant-based dairy products comprise oat extract, oat flour, filtered water, cane sugar, natural flavors, and salt. They come in three varieties – original, vanilla, and creamy. The original variety contains 80 calories, four grams of sugar, and two grams of protein for every serving. The vanilla-flavored oat milk comprises 80 calories, seven grams of sugar, and one gram of protein in one serving, and the creamy one is used in coffee beverages and contains 110 calories, four grams of sugar, and two grams of protein for each serving.
Thus, the future of oat milk looks promising with vast opportunities in the space and more consumers looking for unique tastes and health-beneficial beverages.
visit EasyShiksha for skill development.