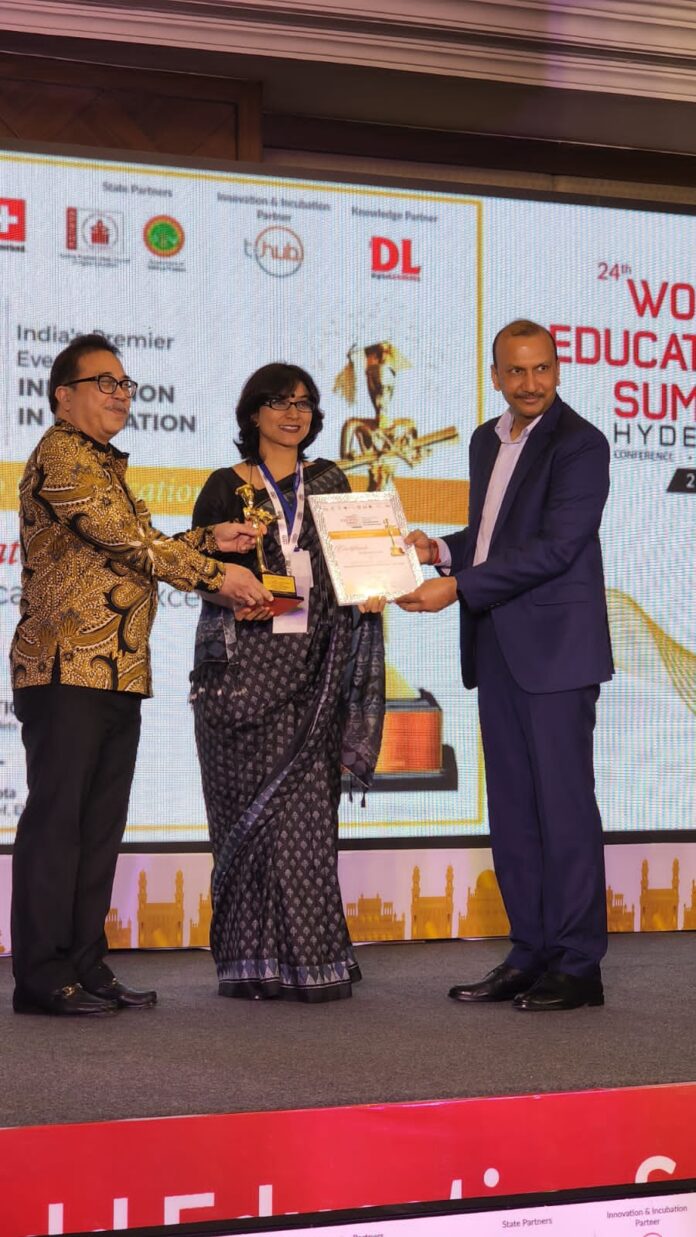 29.07.2022: the leading chain of CBSE schools in India has once again proven that it provides best-in-class education to students by clinching 2 awards at the 24th Edition of the World Education Summit organized by Elets Techno Media. The school won the awards in Best Innovative Practices for Academic Excellence and Best Innovation in STEAM Education categories, respectively.
While receiving the awards, Vijitha Kamath, Chief Academic Officer, Orchids – The International School said, "It is a proud moment for Orchids – The International School to be recognized for Innovative Practices – Academics Excellence, and Innovation in Steam Education.  Developing our future generations as critical thinkers, capable of initiative, new perspectives, and collaborative work requires that they are groomed differently from their early years. Innovation in education is all about redefining, and realigning how we mold our children from their earliest years to adapt to the changing world around them and be the agents of the change that we would like to see in our world." 
ALSO READ – https://news.easyshiksha.com/prarthitha-dashsharma-from-orchids-the-international-school-btm-layout-scores-98-60-in-cbse/
Ms. Paramjeet Salota, Principal of Orchids – The International School, Hyderabad represented OIS as a speaker in a panel discussion amongst eminent educationists and shared her view on the topic "Reskilling and Upskilling Students to Stay Competitive: Best Practices & the Way Forward" with the audience present at the event.
The World Education Summit is an annual gathering, that honors the leaders and innovators of the education industry in India with Unique Awards, recognizing their accomplishments, and celebrating their wins amongst the education fraternity. It underlines Purpose, Innovation, Experience, and Engagement as the tenets of future-proof, profitable educational transformation. Attended by dignitaries from around the world who talk about education in a disruptive world providing timely and insightful analysis of the current state of the education sector channelizing innovation, competitiveness, and survival in a new era.
About Orchids – The International School is one of the leading international K12 school chains in India and started its journey in 2002 with its first branch in Hyderabad. In less than two decades it has grown into 60 branches spread over 11 major cities- Mumbai, Bengaluru, Pune, Hyderabad, Gurgaon, Chennai, Kolkata Nagpur, Nasik, Indore, Aurangabad. Modern physical infrastructure, ensuring personalized attention by following a 1:12 teacher-student ratio, and a carefully curated curriculum provide uniformity in all Orchids schools. Orchids follow CBSE and ICSE curricula infused with international teaching methodologies to provide a strong emphasis on personality development along with academic excellence. Currently, it has over 45000+ students and 3000+ teaching and non-teaching staff.
Visit https://easyshiksha.com/online_courses/ for more informations.