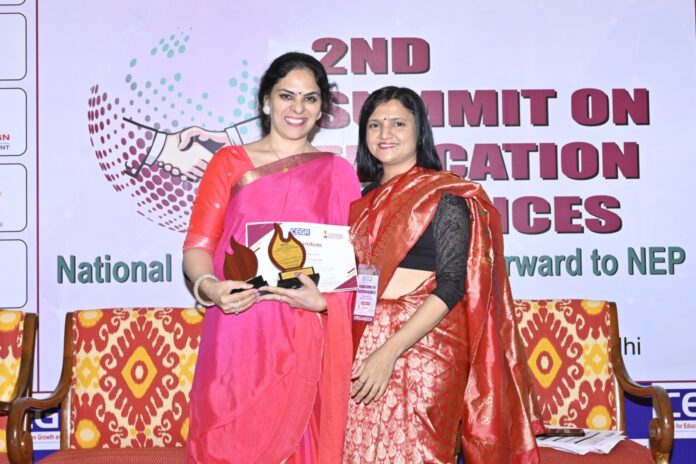 28.09.2022: Orchids – The International School (OIS), the leading chain of CBSE schools in India has once again established its proficiency in providing the best-in-class education system by clinching 2 awards at the Rashtriya Shiksha Gaurav Puraskar Ceremony 2022. Organized by the Centre for Education Growth and Research (CEGR), OIS received the awards for 'Best School in India for Curriculum' and 'Best School Chain of the Year categories.
While receiving the award, Kavita Nagpal, Academics Chief North Zone, Orchids – The International School , said, "We are thrilled to receive two awards for our curriculum and being recognized as the best school chain in India. We focus on a holistic education system by constantly bringing innovative learning solutions. Orchids – The International School is helping its students nurture a variety of skills at an early age. This will help them adapt to a dynamic world and bring about a change that we would like to witness. We are happy that we have been recognized for the circle of knowledge, the loop of learning, the ring of hope and positivity. We train children in the practical application of the concepts taught"
OIS has received several recognition and accolades for its recently launched initiative 'Financial Literacy Program'. It has also implemented STEM education at an early stage through its Robotics Curriculum. The school chain has a special wing called 'Soch' to address students' mental health-related issues.
CEGR regularly organizes several summits, conferences, and webinars on various issues relevant to society, and the recommendations that emerge from such deliberations are circulated to various relevant stakeholders. The Rashtriya Shiksha Gaurav Puraskar Ceremony is held every year to recognize a few individuals and institutions for their consistent and high level of teaching in education and research.
Also Read: Pre-Event Listing of Kukdukoo Art Fest 2022
About Orchids – The International School
Orchids-The International School is one of the leading international K12 school chains in India and started its journey in 2002 with its first branch in Hyderabad. In less than two decades it has grown into 60 branches spread over 11 major cities- Mumbai, Bengaluru, Pune, Hyderabad, Gurgaon, Chennai, Kolkata Nagpur, Nasik, Tumkur, Aurangabad. Modern infrastructure, ensuring personalized attention by following a 1:12 teacher-student ratio, and a carefully curated curriculum provide uniformity in all Orchids schools. Orchids follow CBSE and ICSE curricula infused with international teaching methodologies to provide a strong emphasis on personality development along with academic excellence. Currently, it has over 45000+ students and 3000+ teaching and non-teaching staff.
Orchids' core anthem is "Shaping minds, Touching lives"
Visit EasyShiksha for skill development courses