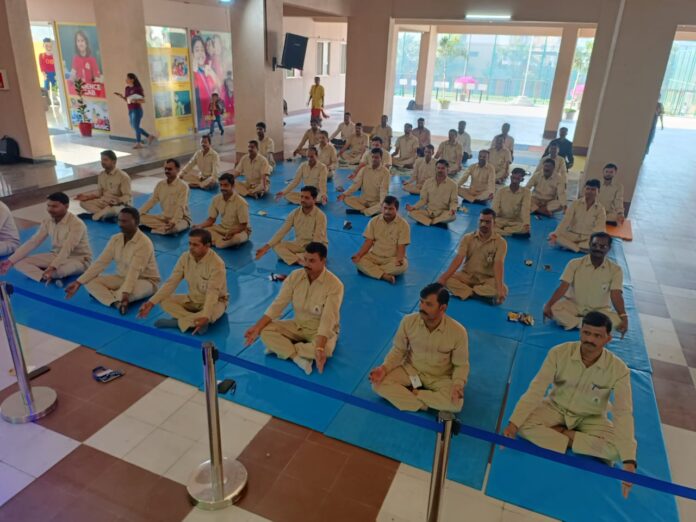 Pune, 15.02.2023: Orchids The International School recently conducted a 'Yoga for Drivers' program at its Tathawade branch in Pune. The program witnessed the participation of around 50 school drivers from different Pune branches of the school. It received positive feedback from all the drivers present.
The 3 hours long session was conducted by Aarti Karve, a Yoga practitioner who taught a series of powerful Yogic practices, including Yoga Namaskar (Yoga for Wellbeing), Nadi Shuddhi (Yoga for Peace), Neck Practices (Yoga for Success), Simha Kriya (Yoga for Respiratory Health), and Shambhavi Mudra (Yoga for Inner Exploration). Speaking on the program, Nikhil Agrawal, Head of the Center of Excellence said, "At Orchids, we promote and educate about healthy living habits not just to our students but also to support staff. We understand that the job of the school bus driver comes with immense responsibility and requires the utmost patience.
Driving safely by following all the safety rules, watching out for rogue drivers, sitting for long hours, breathing polluted air during traffic and driving for long hours, and controlling their emotions leave them mentally and physically exhausted at the end of the day. Thus, we felt stress relieving programs for drivers are required. Exercise and yoga will help reduce stress and lead to healthier lives. Given the positive feedback we got through this program, we are also looking forward to conducting such programs in the future. Their enthusiasm and eagerness were visible as they felt good to be looked after and cared for, making them more cheerful and stress-free while on duty."
Driving is one of the most difficult activities that requires physical as well as mental agility. After driving through heavy traffic and handling boisterous young children, the drivers are hardly in a frame of mind to exercise or go for gym activities. Studies on the work and health of bus drivers indicate that they are at an increased risk of physical and mental occupational ill health.
Thus, the school took this initiative to bring awareness on maintaining good health, especially through Yoga.  The goal of the program was to promote the benefits of overall well-being.  Yoga sessions can help drivers to prevent injuries by improving their flexibility, balance, and posture. This reduces the risk of back pain, neck pain, and other driving-related physical ailments. Periodic motivation classes rewarding drivers for their good deeds can help improve the morale of the drivers. 
Also Read: Modern Public School bags CBSE National Athletic Meet Championship title for second consecutive time
This year Educate yourself and develop your careers with EasyShiksha