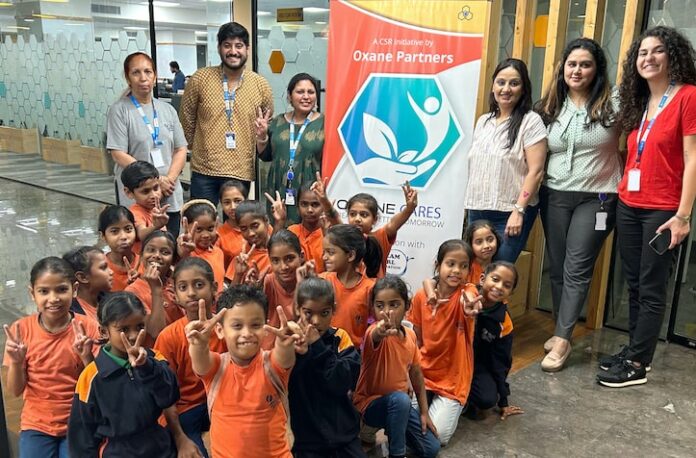 New Delhi, 4 May 2023: Oxane Partners ("Oxane"), a leading technology-driven solutions provider to private markets, collaborated with the Dream Girl Foundation under its CSR initiative 'Oxane CARES' (Corporate Action for Relief and Empowerment of Society). Dream Girl Foundation is a non-profit organization dedicated to providing healthcare and education to underprivileged girls in India and this collaboration is an extension of Oxane CARES' commitment to creating a better tomorrow and making a positive impact on society.
ALSO READ: Round Table India creates facilities at a cost of Rs 26 lakhs in a Govt School in the city outskirts Two classrooms, one staff room, one Head Master Room and a toilet block were inaugurated Round Table India built 7890 classrooms and executed 3347 projects across India
Headquartered in London with the US office in New York, Oxane has a strong, and growing team in its India offices of Gurgaon, and Hyderabad. As part of its commitment to the community in which it operates, Oxane is dedicated to making a positive impact in Indian society through its CSR initiatives. The pillars of Oxane CARES are empowering girl children and education. The importance of improving the lives of underprivileged children by bringing about a positive change in their lives and providing them with the necessary education and health facilities led Oxane to support and collaborate with the Dream Girl Foundation in their mission.
The company encourages its employees' active participation in diverse social causes and works towards supporting the community and the environment. As part of the collaboration, Oxane hosted 20+ children from the foundation at its Gurgaon office for a fun-filled day of engaging activities among its employees and the children. By continuing to support the Dream Girl Foundation, Oxane hopes to contribute to the upliftment of underserved communities and create a better future for underprivileged girls in India.
Mr. Sumit Gupta, Cofounder and Managing Director, Oxane Partners said, "We believe that empowering underprivileged children, especially girls, is crucial for building a better tomorrow for India. Our collaboration with the Dream Girl Foundation is a step towards creating a positive impact on society and making a meaningful difference in the lives of those in need."

Harish Kumar, Trustee of Dream Girl Foundation, expressing his gratitude, said, "We are grateful to Oxane for their support towards our mission of providing education and healthcare to underprivileged girls. With the shared commitment to creating a better future for the society, we are confident that together we can make a significant difference in the lives of these children and the communities."
In addition to their collaboration with the Dream Girl Foundation, Oxane continues to engage in various initiatives contributing to the development of the underserved section of society. Oxane's 'Lunch for Cause' is another such initiative where corporate lunch collections are matched by the firm, and the proceeds are directed towards making meaningful contributions to support social causes and ongoing support to underprivileged communities.
About Oxane Partners
Oxane Partners is a leading provider of technology-driven solutions to the private markets industry. Our solutions transform the way investment firms and banks analyze and manage their investments. We unify our technology with deep domain expertise to provide compelling solutions to the challenges faced by the private markets industry.
Our solutions manage over $400 billion of notional for 100+ clients including global investment banks, private credit, private equity, hedge funds, and alternative asset managers. With offices in London, New York, Gurgaon, and Hyderabad our team of 300+ supports clients in more than 20 geographies globally.
Founded in 2013 by former structured credit investment professionals at Deutsche Bank, Oxane Partners is at the forefront of the digital transformation that is underway in the private markets industry.
This year educate yourself and develop your career with EasyShiksha