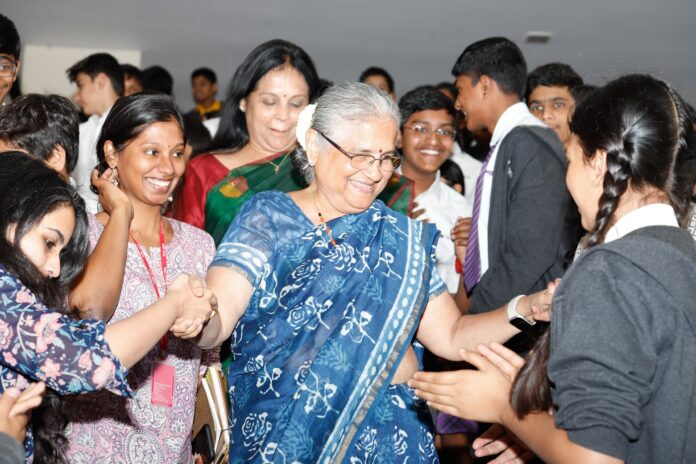 Renowned author and philanthropist Smt. Sudha Murty, who was recently honored with the Padma Bhushan Award, launched her book "The Magic of the Lost Story" and re-launched her best-selling book titled "Grandma's bag of stories" at Ekya Schools, J.P. Nagar. The event was attended by teachers, and students from Grade 5 onwards.
To mark the occasion, a group of talented students from Ekya School, J. P. Nagar, performed a short skit based on excerpts from the book. Children brought the characters to life with their acting skills and scripted, wrote and directed the skit based on the author's book. This inspired Smt. Sudha Murthy to speak more about the book and the inspiration behind it. The author shared her experiences and the story behind the book she launched.
The Q&A session was engaging and interactive, with the students asking thought-provoking questions about the book and the writing process. Smt. Murty shared insights into her writing journey and challenges while writing the book.
"I am truly grateful for the opportunity to launch my latest book with such a talented group of students. Their performance was incredible, and I am honored that they chose to bring my characters to life," said Mrs Murty. "It was also a pleasure to answer their questions and share my writing experiences. I hope to inspire these young minds to pursue their passions and never give up on their dreams." She was quoted as saying.
" It was an honour to have Padma Bhushan Smt. Sudha Murty visit our school and inspire our students with her life experiences. We are thrilled to be a part of the launch of the new book and happy to see the positive response from students," said Dr Tristha, Founder of Ekya School and Provost, CMR University. "We are glad that this event has inspired more children to read and appreciate the power of storytelling."
Also Read: Malaria No More Signs MoU with Government of Odisha to accelerate Malaria elimination efforts
Children also took the opportunity to showcase their talents. Shresht Prabhu of Grade 4 prepared a mosaic portrait of Smt. Sudha Murty using rubiks cube. Some children drew portraits of her and took her autograph. During a lively round of questions about reading and writing, the students surprised Smt Murty with brilliant questions ranging from what inspired her to become an author to what she thinks about how current generations read and write. 
This year Educate yourself and develop your careers with EasyShiksha