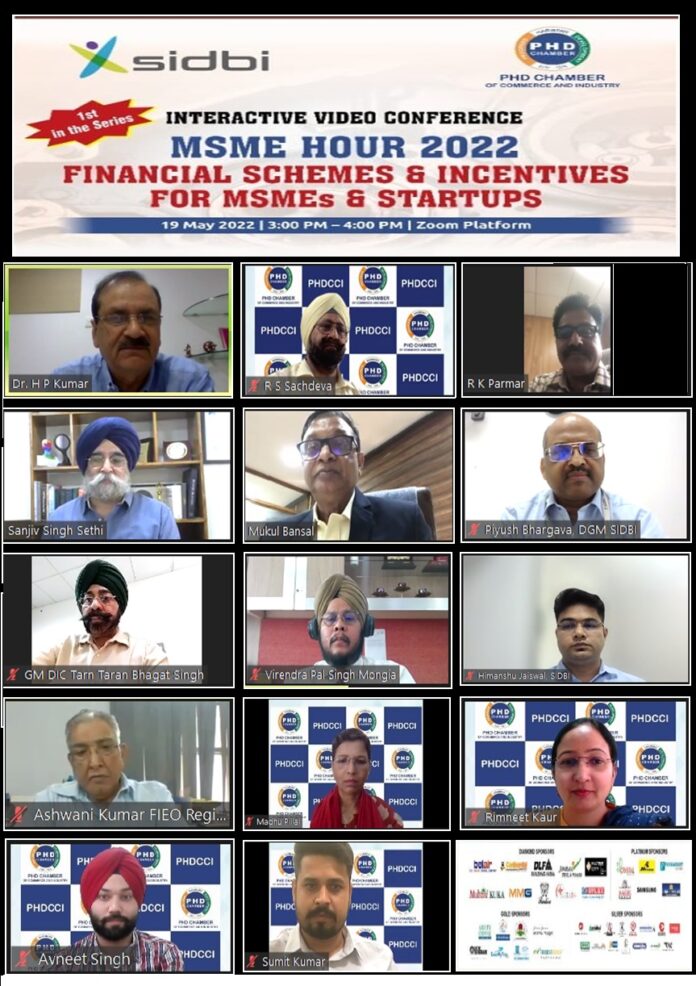 PHDCCI organizes MSME Hour series to spread awareness on financial schemes & incentives/
PHD Chamber of Commerce & Industry organized Interactive Video Conference on MSME Hour 2022 | 1st in the series Financial Schemes & Incentives for MSMEs & Startups on Thursday, 19 May 2022. The objective of the session was to apprise participants on various schemes and incentives of Ministry of MSME and SIDBI for Micro, Small and Medium-sized businesses and Startups.
Mr. Mukul Bansal, Convener, Banking & Financial Services Sub-Committee, Punjab State Chapter, PHDCCI & Chairman, Embee Financial Services Ltd., Chandigarh welcomed all the distinguished speakers and participants. While moderating the session, informed that despite of being one of the largest contributor to the GDP of India, the MSME sector is suffering as a result of rising inflation and a lack of collateral security. He also requested the participants to be transparent in the company's balance sheet.
Mr. R S Sachdeva, Chair, Punjab State Chapter, PHDCCI and MD of Hitech Industries Ltd. while delivering the opening remarks, highlighted that MSMEs, access to finance have always been an issue including cost of raw material and lower demand requires significant attention, which can be facilitated with SIDBI's assistance.
While delivering the Keynote Address, Dr. H P Kumar, Former CMD, NSIC & Advisor PHD Chamber summarized the context into a three point discussion on Credit Growth, Credit Availability to MSMEs, and Credit lending mindset of Banks. He also stated that the percentage growth in credit availability to MSME has remained constant over a decade, i.e. approximately 13 percent of total available credit. He suggested that the norms laid by RBI for NPAs should be relaxed and credit ratings to be assessed by 3rd party rating agencies.
Mr. R.K. Parmar, Deputy Director, MSME DI- Ludhiana, Ministry of MSME, Government India requested the participants to visit the MSME Portal for all available schemes by Government of India for the MSME sector. He gave an overview of few important schemes such as Pradhan Mantri MUDRA Yojana (PMMY) for providing loans up to 10 lakh to the non-corporate, non-farm small/micro enterprises, Credit Guarantee Fund Trust for Micro and Small Enterprises (CGTMSE) Scheme for providing loans upto 1 Cr which will be beneficial for new enterprises & Startups and Prime Ministers Employment Generation Programme (PMEGP) a credit-linked subsidy programme to generate employment opportunities in both rural and urban areas offering subsidies up to 35% on the total project cost covered up to Rs. 10 lakh for service units and Rs. 25 lakh for manufacturing units.
Mr. Piyush Bhargava, Deputy General Manager, SIDBI while setting the context said that SIDBI is dedicated to strengthen the MSME sector through providing various schemes & incentives. He further shared that the 80% of total MSME issues pertains to Formalization. Besides, he also advised the participants to be transparent while disclosing information in their balance sheets and keep the credit record upright. He also suggested that for cluster development an MOU between SIDBI & State Governments will be resourceful.
Mr. Himanshu Sharad Jaiswal, Manager, Chandigarh Regional Office, SIDBI gave a well laid Presentation on various SIDBI Schemes : SIDBI ARISE to provide assistance to Re-energize capital Investments by SMEs, SIDBI STHAPAN for providing assistance for Purchase of capital Assets in New Enterprises , SIDBI 4E Financing Scheme to provide end to end Energy Efficiency Investments in MSMEs and SIDBI PRATHAM SCHEME providing primary assistance to MSMEs based on Hybrid & Alternate security model. 
visit easyshiksha for skill development
Mr. Sanjiv Singh, Co-Chair, Punjab State Chapter, PHDCCI & MD, Gilard Electronics Pvt.Ltd., Mohali while delivering the vote of thanks appreciated SIDBI for offering wonderful schemes for Micro, Small and Medium-sized businesses and Startups. He thanked all distinguished speakers for devoting time to disseminate knowledge on such important subject.
Around 85 participants from pan India including Entrepreneurs, Exporters / Importers, Industrial Associations, Manufacturers/Traders, Senior Management Personnel attended and benefited from the programme.
READ: delta electronics india
The Session was sponsored by PHDCCI's Annual Sponsors – Multani Pharmaceuticals Ltd; Star Wire; PG Industry; Uflex Ltd; DLF Ltd; Continental Carriers Pvt Ltd; Belair Travel & Cargo Pvt Ltd; Radico Khaitan Ltd; Jindal Steel & Power; MMG Group; Paramount Communications; Superior Industries Limited; JK Tyre & Industries Ltd; SMC Investments and Advisors Ltd; Crystal Crop Protection Ltd; Sagar Group of Industries; Samsung India Electronics; Comtech Interio; R E Rogers; AYUSH Herbs Private Ltd; Apeejay Stya Group; DCM Shriram; EaseMyTrip; Blossom Kochhar Beauty Products Pvt Ltd; Oswal Greentech; Trident Group; MV Cotspin Ltd; Synergy Environics Ltd; Ajit Industries Pvt Ltd; P S BEDI & Co.; Indian Farmer &Fertilizers Corporation Ltd; Jindal Steel; Hindware Sanitary; Modern Automobiles; Livit Ltd; Central Coalfields Ltd  ; Axa Parenterals; Bhagwati Plastic and Pipes Industries; J K Insurance Brokers Ltd; DD Pharmaceutical Ltd.