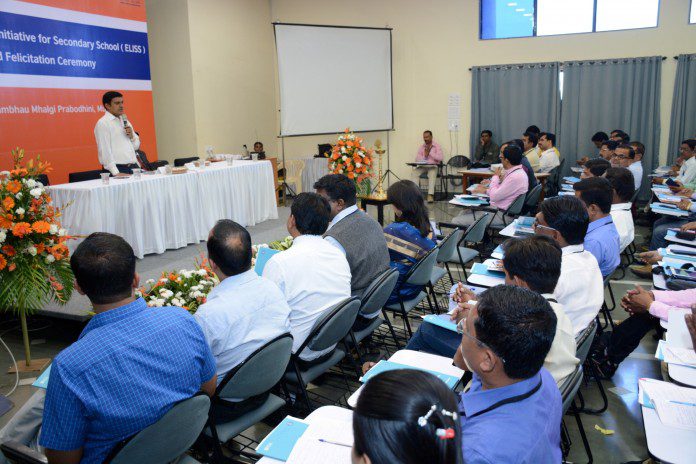 Mumbai, 1st February, 2016:ELISS, End of Year Symposium was organized on 30th January by the British Council to celebrate the three year completion of the project- English Language Initiative for Secondary Schools (ELISS). The Master Trainers' were felicitated by MrNandkumar, Principal Secretary of Maharashtra School Education and Sports Department.

Following the signing of the partnership agreement in July 2013, Rashtriya Madhyamik Shiksha Abhiyan (RMSA) and the British Council have been working together on a four phase project from 2013–2016 to develop the English language teaching skills and language confidence of secondary level English language teachers in government schools across Maharashtra.
Important Announcement – EasyShiksha has now started Online Internship Program "Ab India Sikhega Ghar Se"
Mr Nandkumar, Principal Secretary, School Education and Sports Department, said, "Over the last three phases, the ELISS programme has been successful in raising the confidence among teachers as well as the state government. In the process we are benchmarking ourselves to global standard."
Sharon Memis, Area Director, West India, British Council said on the occasion, "The three years of ELISS in Maharashtra has reaped good response and results. The programme so far has benefited teachers and schools in raising their skills and teacher training abilities. We hope to continue the partnership and our programme."

The English Language Initiative for Secondary Schools (ELISS) aims to establish a sustainable cadre of 480 Master Trainers that will boost the capacity of the RMSA to deliver effective in-service teacher training during and beyond the life of this project. Content will focus on improving the pedagogical skills of approximately 16000 secondary school teachers in student-centered approaches to teaching English. Teacher training will be supported by Continuing Professional Development activities to enable participants to develop strategies to take responsibility for their learning.
RohiniDeshmukhSankpal, a master trainer said, "ELISS and Mentoring Project have provided me with a good opportunity to work as Master Trainer and a Mentor. It has helped me a lot in my CPD (Continuous Professional Development). It has given me a vision beyond the traditional ways of teaching, using text, techniques and methods to share my thinking and ideas with teachers' community and experts."
MinaxiUpadhyay – Principal SurajbaVidyamandir, said "Mentoring has spread awareness among teachers of vernacular medium and English medium the importance to know their area of development and plan it with a smart goal. This has helped teachers to develop their CPD (Continuos Professional Development). Mentoring has motivated teachers for peer observation."
In each phase of the project, the British Council directly trains Master Trainers in classroom practice and training skills for 6days /year for first three years, and these Master Trainers then cascade five days of teacher training/year for first three years to approximately 16,400 secondary school teachers of English across the state. Year four will involve an impact study.
This is reinforced with a programme of activities and resources to develop both Master Trainers' and teachers' awareness of other opportunities available to facilitate their continuing professional development.
Phase 1 of ELISS (2013-14) involved:
• Selection of the 480 Master Trainers based on a written assessment, a group interview and a group task.
• Master Trainers subsequently delivered a five-day training course to teachers from 35 districts in Maharashtra
• In addition, Master Trainers and teachers have had access to CPD ( continuous Professional Development)opportunities and resources. Teaching English Radio was broadcast from February to April on Akashvani.
• It increased their awareness on planning their own continuing Professional Development15 Master Trainers attended the annual Teacher Educator Conference in Hyderabad and 109 Master Trainers, as well as 66 teachers joined Facebook communities jointly administered by RMSA.
Phase 2 (2014-15) involved:
• This consisted of input around classroom methodology and trainer skills development. The materials for this course were specifically written to cater to the identified needs of secondary teachers in Maharashtra. The ELISS materials take into account the recommendations of key Indian government policy documents, such as the National Curriculum Framework (2005) and the National Curriculum Framework of Teacher Education (2009).
• Feedback from the Master Trainers was very positive and many of the Master Trainers were able to describe what they had learned, activities they had tried out in their own lessons and how their learners had reacted and benefited from them.
• the large uptake and increase in activity on WhatsApp and Facebook groups that discuss and share teaching ideas and which are helping to sustain the effectiveness of the training beyond the training room.
Phase 3 again (2015-16) involved:
• focussed on building teachers' skills and knowledge of using learner-centred methodology in their classes
• Effective inclusion of technology in the classroom
• Building Master Trainers' and teachers' ability to reflect critically on their teaching and learning
• Providing encouragement and support for Master Trainers and teachers to plan and take part in professional development activities outside of face-to-face training
• Building capacity of a group of mentors from the pool of Master Trainers to make the impact of the project more sustainable.
Phase 4 (2016-2017) will involve:
In this phase British council will monitor the project and do its impact study. The British Council has brought a UK consultant on board to quality assure the mentor model and make recommendations that inform into the design of the scale up model of mentoring that the State government implements for the whole state of MH.
About the British Council:
The British Council is the UK's international organisation for cultural relations and educational opportunities. We create international opportunities for the people of the UK and other countries and build trust between them worldwide.
The British Council has been teaching English for more than 75 years. We reach 100 million people in over 100 countries and support teachers and learners with comprehensive and innovative learning resources. As the world's English experts we work with governments, institutions, teachers and learners to provide English language learning and teaching solutions that create life-changing opportunities for individuals and their future prosperity.
Empower your team. Lead the industry
Get a subscription to a library of online courses and digital learning tools for your organization with EasyShiksha
Request Now
For information on our work in India, please visit www.britishcouncil.in
Media queries on the project may please be directed to:
Renuka Reuben, Head External Relations and Programmes West India on renuka.reuben@in.britishcouncil.orgor 91 22 67486731
Kainaz Daver, Project Consultant, LinOpinion on Kainaz.Daver@golinopinion.in or 9867474312
ALSO READ: Rotary public school accords farewell to outgoing students
Get Course: Fundamentals of Digital Marketing