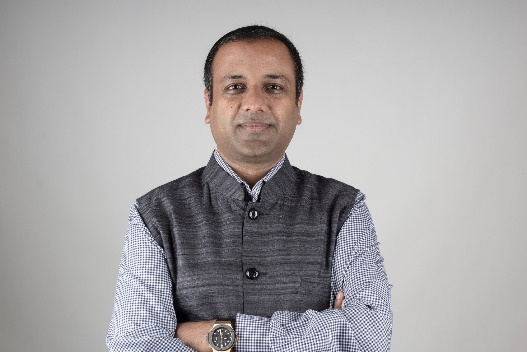 World Youth Skills Day on 15th July on behalf of MindBox India, MyTat, Telecom Sector Skill Council,EduBridge Learning, Coding Ninjas 
Rishi Khemka, Founder and CEO of MindBox India
"With so much overflow of information available today, it has become pivotal for parents to introduce their children to outcome-based learning, especially the ones which feature crucial elements such as coding and design. Owing to the Covid Pandemic, lockdowns and the acceleration of adoption of technology, the Indian edtech market was flushed with courses and programs based on such key areas but what these courses lacked was innovative outcome-based modules. This has further deepened the gaps in students' overall learning. We at MindBox build outcome-based courses targeted specifically toward K-12 students. Owing to this pedagogical model, the child gets exposed to the whole cycle of coding and design. By leveraging STREAM-based projects and a student-centric 1:1 learning methodology, students work on real life projects which also gives clarity to the parent what the child has actually learnt. These interactive learning modules enable us to empower students with 21st-century skills".
About MindBox
Founded in 2013 by Rishi Khemka with ICT Program (B2B Model) for Schools, MindBox was established with a vision to create personalised learning journey for every 6-18 years old students in India and across the globe. The organisation strives to build functional literacy in students and empowers them with the 21st Century skills. It has a dynamic curriculum, designed, and customized for CBSE, ICSE, IGCSE, IB and all state boards. The organisation offers personalised technology lifecycle, including fundamental, coding and design courses to K12 students from all over the globe. Since its inception, MindBox has been able to build a community of 35000+ students and serve 50+ schools from more than 20 countries and look forward to empowering 1,00,000+ students and serving 150+ schools from more than 30 countries by the end of the year. It is India's first STEM Accredited organisation dedicated towards teaching professional design and code learning tools/software to students of the age group 6-18 years. Unlike the rest of the industry players, It's the only organization teaching professional software/tools to school students like Maya, unity, Kodular, blender, G-develop, photoshop, SketchUp, etc.
Vikram Kumar, Co-Founder, MyTat
"The demand for skillsets across new-age technology domains such as AI, ML, Metaverse, IoT, etc., continues to increase. In this VUCA-World, the need for skilling, re-skilling, and upskilling has become a need of the hour. Looking at the dynamic and rapidly changing technology environment today majority of India's workforce will have to continuously bridge skill gaps to be a part of the new-age workforce. It is pivotal for youngsters to realize that technology is not just an enabler but, learning additional skills and new capabilities will help them stay relevant and in demand in the future of work".
About Mytat
Mytat is a trusted career platform empanelled with AICTE & helps to connect key stakeholders in the educational sector such as colleges, corporates, and industry experts with students in colleges and vocational educational institutes to provide access to 100s of jobs. It is a subsidiary of Lrnable Group & is the brainchild of a team of professionals with a collective experience of more than 100 years in Business Strategy, Education, Corporate HR & L&D, and Recruitment. Mytat is an Artificial Intelligence (AI) and Machine Learning (ML) based platform that covers the entire life cycle of a student/candidate. Mytat provides a unified platform to assists students attain real-time industry knowledge and trends in skills requirements & also helps to provide the students with Internships/apprenticeships and other employment opportunities. 500+ organizations such as Amazon, Sapient Nitro, Amdocs, Bank of America, etc have partnered with Mytat for their services & have utilized their assessment and recruitment programs to hire freshers & professionals for multiple job profiles. Apart from the recruitment aspect, Mytat also provides a validated assessment platform that can be used to conduct online exams be it for Schools, Colleges, or even for public sector jobs.
Arvind Bali, CEO, Telecom Sector Skill Council
"The advent of new-age emerging technologies has created a huge demand-supply gap in the technical talent in the country. Our current youth talent has an utmost potential and it is essential that we harness this, through skilling/upskilling/reskilling them, given how these technologies are changing the landscapes across every sector. As per the Indian Telecom Market 2022-23 Report by Telecom Sector Skill Council, in the past year, the demand is over 1 lakh in roles in of 5G, Cloud Computing, AI & Big Data Analytics, IoT, Mobile App-Development and Robotic Process Automation, the demand supply gap is almost 28% and increasing. 5G technology industry experienced a demand-supply gap of about of about 33.6% and this will continue to grow as the possible timeline for rollout of 5G network reaches its final stage. The government has been focusing on the skill empowerment of our growing youth population, to make them job ready and it is for sure that the gap here will narrow down in times to come."
ALSO READ: The Wadhwani Opportunity Knowledge Initiative on World Youth Skills Day
About Telecom Sector Skill Council:
Established under the Societies Registration Act, 1860, Telecom Sector Skill Council is an industry-led apex body, a not-for-profit organization, committed to developing world-class skilled manpower for the telecom industry. The organization is a collaboration by Cellular Operators Association of India (COAI), India Cellular & Electronics Association (ICEA) and National Skill Development Corporation (NSDC) under the aegis of Ministry of Electronics & Information Technology and Department of Telecommunications. TSSC has trained over a million people already and has approximately 600+ training partners with 1000+ training centers across the country and continues to strive forward with a commitment to skill the youth of India.
Visit EasyShiksha for skill development.
Quote by Mr. Girish Singhania, CEO, EduBridge Learning
We are heading towards the 75th year of independence. Till about a decade ago we have extensively relied on the virtues of education to get India on the global map. Just about ten years back, forerunners of this country started viewing the economic situation in a practical light. This is the reason why the government is laying emphasis on skill development together with education. On the occasion of World Skilling day, we should be celebrating the virtue of skilling with gusto! There is great merit in skilling. It will not only make the youth more employable but will also help the nation's GDP to move up favourably.
In times that are dominated by the internet, we EdTech's have the advantage of employing technology to reach out to the youth residing in the most remote parts of the country and deliver them to a fruitful skilling program, that could bag them a winning placement opportunity. A good job will positively help with the overall family income by almost 50%-110%. If education imparts literacy, skilling makes one that much more employable.
On this day we also like to add that skilling is not only limited to the young learners, but also extends to professionals who'd want to better their career path and advance their prospects in the corporate segment. In a world that is riddled with technological advancements, digital literacy assumes utmost importance and hence being digitally updated in quintessential. 
ALSO READ: This World Youth Skills Day enhance your skills with the unique programs offered by these edtech players
Quote by Mr. Ankush Singhla, Co-Founder, Coding Ninjas 
 Skilling youth is the need of the hour for a young and developing country like India, where 40 percent of the population is below 25, thus making Youth Skill Day an event of utter importance for us. This day indicates that we need to arm our younger generation with proper skills to prepare them for future work and employment and contribute to the country's growth. We at Coding Ninjas believe that skilling, upskilling and reskilling are the ways to economic prosperity. The data shows that India needs an unprecedented skilling programme for its workforce to achieve economic growth targets and ensure ample employment opportunities. In this scenario, marking Youth Skill Day is not just customary but a requirement to call the youth and motivate them to acquire skills for their bright future. Also as the National Education Policy has recognised coding as an important skill, we are committed to supporting the younger generation to get upskilled by learning to code and excel in the IT field, where the job demands are huge for a qualified workforce to realise the potential.
Explore more about World Youth Skills Day, CEDP Skill Institute celebrates "Kaushal Pakhwada"
so are we ready to celebrate World Youth Skills Day on 15th July