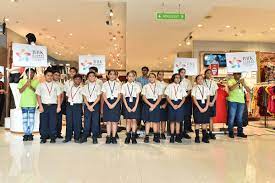 Mumbai, 12th September 2022: RBK International School, Bhayandar, is conducting an 'International Week Display' event which is one of the largest, annual extra-curricular educational events on campus, starting on Monday, 12th September, and having its culmination on 17th September 2022. Titled 'RESFEBER – The restless race of a traveler's heart. The week-long celebration intends to celebrate the spirit of oneness and the feeling of belonging to one world and being truly International. Including participation from all the stakeholders of the school, the event focuses on celebrating the differences and uniqueness in cultures across the globe. The event provides information on the different continents of the world including Antarctica, Australia, Asia, Europe, North America, and South America. The celebration involves participation from the students from Pre-Primary to A Levels.
Each continent comes with its unique identity in terms of religion, language, population, and geographical features. RESFEBER aims at making the students aware of these diversities. It also encourages them to accept and be more appreciative of the differences that exist around the world.
ALSO READ : JD Institute of Fashion Technology holds Orientation Day for newly admitted students
Stating the importance of conducting such events in school Ms. G Vani Reddy, Principal of RBK International School, Bhayandar said, "It is not only about the presentation put forward in the final event, a lot of life skills are learned during the process of preparation. While celebrations like these broaden the perspective of the learners, making them aware of the current events happening around them also help in enhancing their confidence, giving them a platform to research, explore, put forward their points, and work in groups."
The event has in store many fascinating and lesser-known facts about the origin of the names of these continents and pertinent information about other international organizations like the International Telecommunication Union (ITU), United Nations Educational, Scientific and Cultural Organization (UNESCO), United Nations International Children's Emergency Fund (UNICEF), World Tourism Organization (WTO), International Organization of Migration (IOM), World Bank Group (WBG) and many more. This will also share light on different career prospects that learners may pursue in the future.
About RBK International School, Bhayandar:
RBK International School, Bhayandar established in the year 2011 is a Complete Cambridge International School, maintaining a continuum from kindergarten to AS/A levels and providing a broad holistic and international education to our students, building up a strong foundation for their bright future.
Visit EasyShiksha for skill development courses.