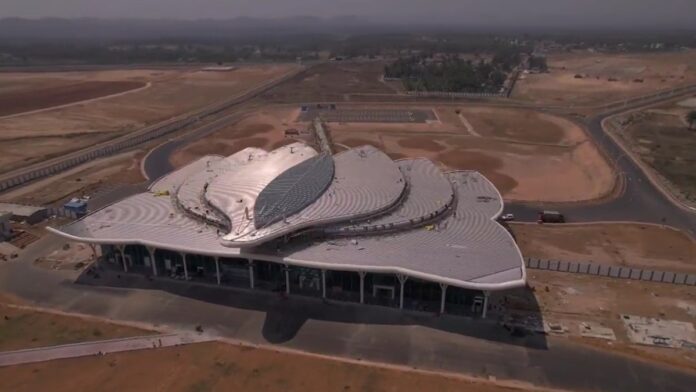 Gurugram, February 27, 2023: RITES Ltd, the leading transport infrastructure consultancy and engineering firm, is the consultancy partner for the Shivamogga airport in Karnataka, which has been inaugurated by Hon'ble Prime Minister Shri Narendra Modi today.
Features of the airport:
• 268.05 hectares site area; 3050m x 45m runway length; 4223 square m terminal building size
• 300 per hour passenger handling capacity
• Designed to operate Boeing 737 and Airbus A320
• Energy-efficient building material and glass
• Solar power generation up to 1000KWP
• LED electrical fittings inside the terminal building & peripheral roads
In 2020, RITES signed on and prepared the Detailed Project Report (DPR) for this greenfield project under the UDAN (Ude Desh ka Aam Nagarik) Scheme. Subsequently, RITES provided expertise for design of the airport, including its airside facilities (runway, taxiway, apron etc.), its cityside facilities (passenger terminal building, ATC, fire station & associated buildings) and other allied services. RITES provided technical assistance during the construction of the airport, apart from support for aerodrome licencing for the commencement of commercial operations from the airport. The airport will boost connectivity, commerce, and tourism in the region. Shivamogga is a gateway to several tourist and heritage sites of South India.

Highlighting RITES' role in the project, Mr. Rahul Mithal, Chairman & Managing Director, RITES Ltd, said, "RITES continues to play its role in helping build best-in-class infrastructure. From the conceptualization of the Shivamogga airport to its construction phase, RITES is proud to have offered its expertise for bringing this project to life. Besides boosting connectivity, the airport will serve as a catalyst for the local economy, aiding both tourism and trade."
As a consultant, RITES has been associated with various domestic airports such as Srinagar, Amritsar, Shimla, Chandigarh, Gwalior, Chakeri, Kushinagar, Ahmedabad, Chitrakoot, Amaravati (Belora), Agartala, Vijayapura, Hyderabad etc. RITES has also helped develop airports in Mauritius, Botswana, Bhutan, Nepal, Seychelles, and Rwanda.
Also Read: Let's Eduvate organized national level online 'Eduviz Quiz' competition
About RITES Limited:
RITES Limited is a Miniratna (Category – I) Schedule 'A' Public Sector Enterprise and a leading player in the transport consultancy and engineering sector in India, having diversified services and geographical reach. The company has an experience spanning 48 years and has undertaken projects in over 55 countries in Asia, Africa, Latin America, South America, and Middle East region.
This year Educate yourself and develop your career with EasyShiksha