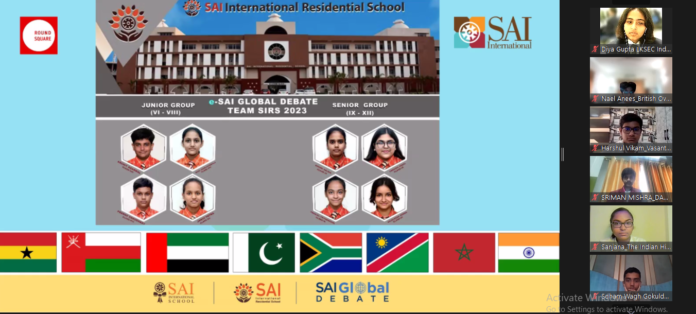 National January 30, 2023: SAI International School, one of the leading CBSE board school in the country hosted the 3rd edition of the SAI Global Debate on Saturday, January 28, 2023 to intensively engage young learners in instilling the 21st century skills of critical thinking, communication & collaboration. This mega online debate competition received overwhelming participation from over 45 schools & 8 countries across the globe such as Dubai, South Africa, Morocco, Ghana, Namibia, Oman (Muscat), Pakistan & India– with 3 schools each from Dubai & Pakistan; 2 schools from South Africa, over 26 schools from India and one school each from Morocco, Namibia, Ghana & Muscat.
SAI Global Debate, a brainchild of Late Dr. Bijaya Kumar Sahoo, Founder-Chairman, SAI International Education Group fosters a community of confident communicators & critically enlightened global citizens, equipped to shape a more inclusive, peaceful, and sustainable future for all.
This world class debating forum laid special focus on fostering awareness and allowed in-depth discussions on Political Border Security & SDG Aware Schools/ Curriculums as the broader themes followed this year. The opening ceremony was graced by Keynote Speaker Mr. Paul Ellis, Head of Teaching, & Learning, Cambridge Assessment International Education and Dr. Silpi Sahoo, Chairperson, SAI International Education Group, Bhubaneswar, Odisha.
Mr. Paul Ellis greeted the national & international participants as per their time zones & addressed them by saying, "Debates are not arguments, they're more like creative conversations." He shared insightful tips to help the participants make balanced arguments by focusing on facts, anecdotes, rhetorical questions, emotive language & statistics and concluded by saying, "We never lose, we either win or we learn."
While addressing the schools from across the world, Dr Silpi Sahoo, said, "It is heartening to see such a large and enthusiastic group of young adults engaged in global issues, coming together to find solutions to problems through constructive debate and an exchange of ideas."
Several critical thinkers & orators from national & international schools across the world, engaged in rigorous rounds of deliberations under 3 debating formats, namely Argumentative, Turncoat & Extempore in six breakout rooms simultaneously. They were judged upon content, accuracy, clarity, body language, expression, and many more.
Mr. Adrian Johnson, Renowned Storyteller, Former Poet Laureate Birmingham, UK graced the closing ceremony of the Global Debate, expertly articulating his views on how clarity of thought, expressions & body language plays an imperative role in both storytelling & debates. He said "When critical thinkers work together to create responses to stories, they practice problem-solving, self-reliance, respect for diversity, and the habit of cooperation."
This edition of the SAI Global Debate aptly resonated with the essence of how 'debate equals voice, and voice equals power.' The viewpoints voiced out by all the global citizens, already seemed like the beginning of a positive change we are about to witness in the near future.
Also Read: ALLEN Digital's Early Bird-fee Benefit Till Feb 4
About SAI International Education Group:
SAI International a leading educational group began a pioneering revolution in the K-12 and undergraduate educational scenario of Odisha. The group is led by the Founder& Mentor, Lt Dr. Bijaya Kumar Sahoo, a passionate Edupreneur, pursuing his dreams for the enhancement of education sector. It encompasses SAI International School, SAI Angan, SAI International College of Commerce and SAI International Residential School. The group strives to be one of the finest centers of learning and knowledge in the country, creating world class leaders endowed with Indian values and global outlook.
Visit EasyShiksha for skill development.