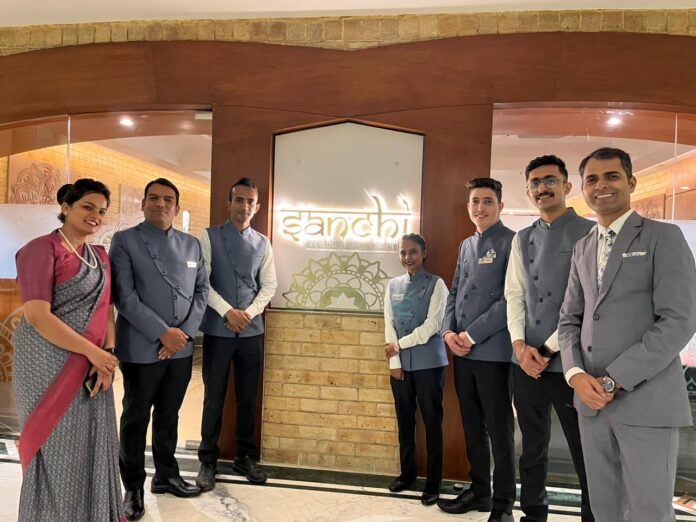 Indore, 18th December 2022: Sayaji Indore relaunched their very own Pan Indian Luxury Fine Dine Restaurant, Sanchi with an abundance of new culinary delights to complement the smashing new décor and aesthetics. Sanchi has been a restaurant known for its niche North West frontier cuisine with the rich taste of dry fruits and spices from different parts of the country. It is the third opening in a row that Sayaji Indore has done in the past month keeping in mind the demand of the City.
Sanchi is a destination to indulge in to Pan Indian cuisine that will take you on a gourmet trail to faraway lands. This stylishly modern restaurant will offer a long list of Indian dishes that pairs perfectly with for a special occasion or a casual family dining. Along with offering best in class Indian Food from various parts of the country Sanchi has a specially curated Cocktail & Mocktail menu to suffice the taste buds of our guest. This special beverage are a perfect course of delight for Indian flavours enriched with spices. 
Also Read: Walter Sisulu University Fuels Data Infrastructure Innovation with Huawei OceanStor Storage
Delicious dishes such as Badami Murgh Shorba, Peeli Mirchi & Zafrani Paneer Tikka, Kebabs, Dal-e-Sanchi, Bengali Prawn Curry, Shish Rang Dum-Biryani amongst others will be served with great courtesy and a flavourful ambience.  Mr. Prasad Rao, Director of Operations Sayaji Indore commented during the re-launch "Sanchi holds a special place in its diners' heart and I am certain it will exceed their expectations. With this relaunch we are actively working towards delivering revamped services and providing delightful food experiences to our guests".
Visit EasyShiksha for skill development courses