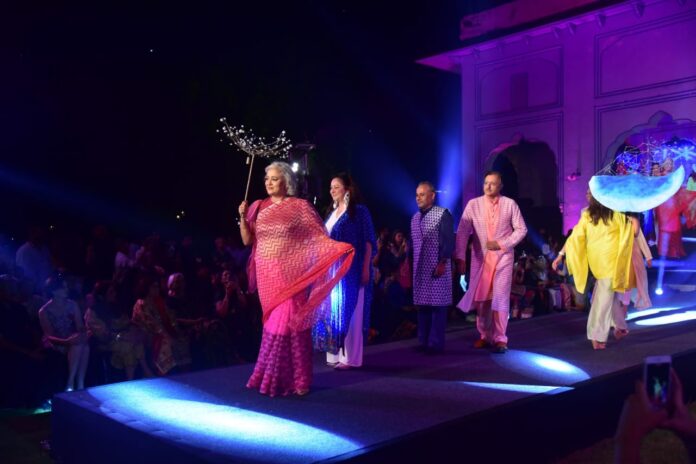 Jaipur, 4 August 2022: ARCH College of Design and Business organized a unique fashion show during
the Global Educators Fest 2022 in which principals from reputed schools and educational institutions
walked the ramp. Dressed in costumes designed by the students of ARCH, the teachers displayed
their modelling skills and graced the show with their elegance. Abdul Rashid Ahmed, Minister of
State for Education, Maldives and Lakshya Raj Singh, Mewar of Udaipur and Trustee, Maharana of
Mewar Foundation and Charitable Trust were also present on the occasion and encouraged the
teachers while walking on the ramp.
Under the Design Culture Initiative, ARCH partnered with Global Educators Fest 2022 and provided
another platform to its students to showcase the design talent and creativity. Redefining the
creativity, the engaging show was conceptualized by Archana Surana, Founder & Director, ARCH
College.
Under the guidance of Archana Surana, the students of ARCH created an apparel collection on Indo-
Western theme which was especially designed keeping in mind the dignity and style of the teachers
and mentors. There was exclusive use of Rajasthani block print blended with exquisite fusion of
Indian and Western costume styles, in the entire collection. ARCH's budding designers used cotton
and blended fabrics to showcase 10 collections.
Archana Surana, Director and Founder, Arch College of Design and Business, said, "We are very
excited to partner with Global Educators Fest. We believe that our teaching fraternity is constantly
working towards shaping the future of the society and this fashion show is our way to show our
respect towards them. This is our endeavour to allow them to take a break from work and showcase
their other aspects of their personality."
READ MORE –  How to skill the talent in digital skillsets

This is the fourth edition of the Global Educators Fest. This year's theme is 'Transforming School
Curriculum: Empowering Learning for Life' where teachers from across the country will sit together
to brainstorm new priorities, pedagogy, technologies and assessment strategies. This annual event is
organized under the leadership of Ravi Santalani at the flagship of ScooNews.
About Arch College of Design and Business
ARCH was set up in the year 2000, under the aegis of the ARCH Educational Society to impart
industrially and globally relevant, specialized education in Design. Through the 21 years of its
existence, Arch has grown into a strong community of 6000 professionals, alumni, students, teaching
faculty and support staff, from all over the world—Sweden, Japan, Spain, UK, USA, Canada, Nepal,
Iran, Korea, Kuwait, Dubai, Colombia, Brazil, etc. The design academy offers a wide gamut of
industry oriented courses of international standards with university certification. Experienced faculty
members are involved in the development of curriculum, to ensure that these courses offer the right
combination of practical and theoretical skills, with the latest techniques, processes and thinking
supported by an understanding of the socio-cultural context and industry needs. In 2010, Arch
launched AIEED – is the All India Entrance Examination for Design. It is a one of its kind exam which can be taken by students and designing aspirants from all parts of India to get admission.
visit EasyShiksha for skill development.