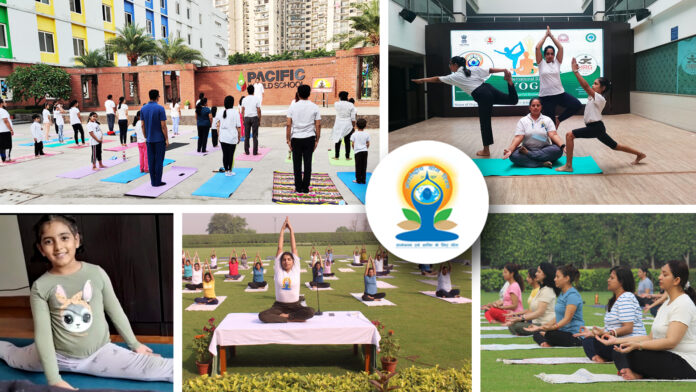 The International Yoga Day has brought India under a common umbrella of festivities and carnivals to celebrate one of the oldest systems of channelising inner wellness and mindful breathing, Yoga. The schools in Delhi-NCR upped the ante and organised various events to promote Yoga among students and encourage them to inculcate it as an invincible part of their longtime routine.
Among the ones who celebrated Yoga Day with merriment was DPS RNE. As students' artistic talent is at its prime at a young age, DPS RNE came up with an amalgamation of various events as a part of Yoga week celebrations like Essay Writing, Poster Making, and Evening Yoga sessions. It was to amp up student engagement at every level and encourage them to do Yoga from early on. On the main day, a grand spectacle event was put up that saw the participation from teachers, Admin staff, and students. Ms Pallavi Upadhyay, Principal, DPS RNE, drew everyone's attention to the conclusion of the Yoga Day celebrations with her wise insights and hailed the theme 'Yoga for Humanity' of this year.
Another prestigious education institution, MRG School created a Yoga-centric atmosphere underlining the theme of this year's International Yoga Day, which is 'Yoga for Humanity'. Ms Nisha, the Physical Education teacher of the school directed students to perform different yoga asanas. The asanas were demonstrated step-by-step by Ms Ipshita and Ms Yukti to make them easily comprehensible for students and parents.
Top Personal Development Online Courses
More Courses With Certification
Emboldening the ideological philosophy of yoga, the Pacific World School welcomed Mr Niraj Maheshwari, a trained yogi from the Morarji Desai National Institute of Yoga to illuminate students about the numinous impact of Yoga on a human's mind, body and spirit. He also apprised the crowd through the various evils that are destroying our bodies, and how the officious desire to succeed has made people vile and ignoramous. Alongside that, parents and their wards practised yoga poses and also engaged in meaningful discussions about this year's yoga theme.
The Shriram Wonder Years, in the wake of International Yoga Day, had also pledged to encourage students to take up Yoga as a part and parcel of their lives. They have professed that Yoga is not just a physical exercise done for fitness, it frees humans from material bondage and elevates them to a higher level of consciousness each day.
ALSO READ : Distributed Cloud: The Priority Tech Trend and What This Means for Businesses
Ed-tech startup The Class of One (TCO1) organised a virtual Yoga session to enlighten students about the importance of Yoga and its positive effects on mind, body, and soul. A special Yoga trainer took the classes and was floored by students' flexibility while performing asanas. The TCO1 kids shared their videos doing Yoga poses and gleefully enjoyed them. The TCO1 took the initiative to pay tribute to the ancestral heritage of the Indian civilisation, Yoga and make it an essential part of children's routine from a young age. "Yoga is the best possible method to empower our spiritual cells and attain a mode of equanimity, that is not only physically relieving but also equips us to deal with life's challenges." Divya Jain, Founder, TCO1 said.

visit EasyShiksha for skill development