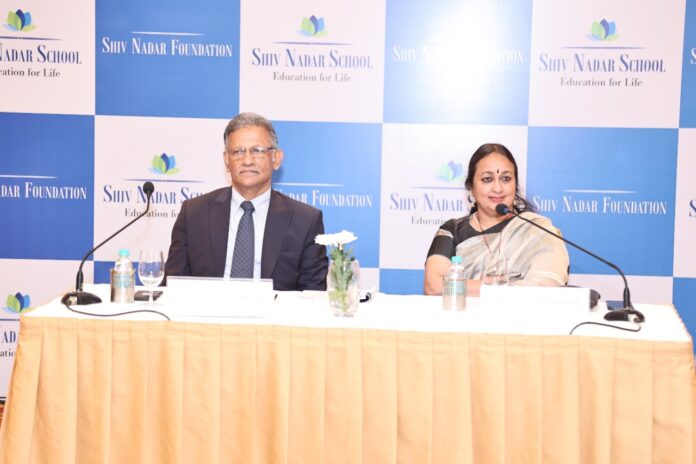 First K-12 school in Chennai by the Foundation; three existing schools in Delhi NCR, which are top-ranked.
Academic session to commence from June 2023 onwards for students from Nursery to Grade 4

Chennai/October 17, 2022: Shiv Nadar Foundation, a philanthropic venture of Mr. Shiv Nadar, Founder, HCL – a US$ 12.1 billion leading global conglomerate, has announced the launch of its iconic K-12 school chain – Shiv Nadar School in Chennai, which is envisioned to be an international school with traditional values. Reaffirming the Foundation's deeply-rooted commitment to education, the school is affiliated with the International Baccalaureate (IB) Board and would offer world-class education for the holistic development of young learners. Around 150 students would be enrolled in the first year of operations and the intake will progressively increase every year.
The academic session for Nursery to Grade 4 will begin from June 2023 onwards, and the registration details are available at 
Mr. Shikhar Malhotra, Trustee of Shiv Nadar Foundation and Chairman of Shiv Nadar School said, "Tamil Nadu will always be special since it is the birthplace of Mr. Shiv Nadar, and thus makes it an ideal location for starting an international school. Shiv Nadar Foundation pursues the philosophy of 'Creative Philanthropy,' which envisages the creation of institutions that are built to last and continue to impact future generations. We already have two educational institutions in the higher education space set up in the city, and starting a school in the K-12 space was a natural step in integrating the learning journey. After successfully running three Shiv Nadar Schools in Delhi NCR, we are thrilled to launch the fourth one in Chennai."
Col. Gopal Karunakaran (retd), CEO of Shiv Nadar School, said, "We are delighted to launch Shiv Nadar School in Chennai. We will offer students a holistic learning experience, where academic excellence is combined with pursuit of the arts – music, theatre, dance and visual art, excellence in sport, problem solving and project-based learning, and leadership – all essential elements of building an intellectually, socially and emotionally balanced citizen of tomorrow. Our school practices envision building a learning community of teachers, students and parents, through new age progressive educational methods. The International Curriculum is led by exceptional educators, from India and abroad, and will be supported by outstanding academic infrastructure. Shiv Nadar School in Chennai would benefit from the best practices and teaching methodologies that evolved at our three schools in Delhi-NCR over the last ten years."
Campus Infrastructure and Facilities: The school is spread across a 14-acre campus at the lush-green Damodar Gardens, near the Adyar river and the famous Elliot's Beach. The site is well-known in Chennai for its greenery and tree cover and the school is taking all possible measures to ensure that the ecological balance is not disturbed and rather enhanced with more trees and plants. It is designed by award-winning architects from Vastu Shilpa Consultants, a firm founded by Padma Bhushan awardee Mr. B.V. Doshi, who is known for designing ecologically, sustainable architecture. The campus would enable learners the spirit of inquiry, a love for nature and an environment for community building.
With separate junior, middle school and senior blocks, the School is designed to be a green campus, using sustainable and recyclable building materials. It also includes a state-of-the-art science lab, play area, facilities to explore a variety of art forms both visual and performing arts, multi-purpose indoor sports complex, sports field for athletics and field games and various exhibition spaces. It will also include a splash pool, a library, a dining hall, an auditorium, an open-air amphitheater, a swimming pool and a playground. A full-fledged K-12 international campus with state-of-the-art facilities will be ready by 2024.
Also Read: UNDP partners with Arya.ag and Friends of Women's World Banking to improve incomes of 10,000 households
Shiv Nadar Foundation made its foray into K12 urban private school education in 2012 and currently runs three schools in Delhi-NCR in Faridabad, Noida, and Gurugram, respectively. Shiv Nadar School is ranked among the top schools in NCR.
About Shiv Nadar School:  The Shiv Nadar School is a not-for-profit initiative of the Shiv Nadar Foundation in K12 private education to deliver educational excellence and provide education for life. With three campuses in the NCR, The Shiv Nadar School provides students an environment that challenges them into discovering their talent and skills, while aiming to nurture ethical, respectful, happy, and purposeful citizens of society. 5050 students and their parents, along with a team of 600 educators, are a part of the Shiv Nadar School family.  
 About Shiv Nadar Foundation :  Established in 1994 by Shiv Nadar, Founder, HCL – a US$12.1 billion leading global technology enterprise, the Foundation is committed to the creation of a more equitable, merit-based society by empowering individuals through transformational education, and to bridge the socio-economic divide. Over the last 27 years the Foundation, has directly touched the lives of over 36,000 alumni and students through its marquee institutions in literacy, K12 and higher education. Today, the Foundation has a community of over 100,000 constituents, which includes not only globally dispersed alumni and students but also faculty members, corporate executives, and extended families.
The Foundation has invested ~US$1.1 billion in its seven landmark institutions and initiatives across education and art. Currently close to 14,000 students and over 2,000 faculty are part of the Foundation along with more than 22,000 strong globally dispersed alumni community.
The Foundation's students have gone to study at some of the best institutions globally including the Ivy League in the US and top universities in other countries including Australia, Singapore, China and UK. Students are also working in major corporations, including Goldman Sachs, Honda, HP, Schindler, and several others both in India and across other geographies. Faculty across the Foundation institutions are drawn from the best Indian and international universities, with a strong focus on research and innovation.
Visit EasyShiksha for skill development courses